La France accueillit le Championnat du Monde Superbike dès sa première saison, en 1988. Fabrizio Pirovano s'imposa alors sur Yamaha, au Mans, lors de ce qui fut l'unique course du week-end. En 1989, les courses furent organisées au Paul Ricard, qui n'accueillit le WorldSBK que cette année-là, et furent remportées par Stephane Mertens et Giancarlo Falappa. L'épreuve revint au Mans en 1990, année d'un superbe doublé à domicile pour Raymond Roche. Ce dernier devint un peu plus tard dans la saison le premier Champion du Monde Superbike français.
En 1991, le tout nouveau circuit de Magny-Cours fut le théâtre d'un double de l'Américain Doug Polen, qui devança Roche à chacune des deux courses. Dans la seconde épreuve, Polen s'imposa avec 27,54 secondes d'avance, un chiffre qui reste aujourd'hui parmi les plus grandes avances d'un vainqueur en WorldSBK.
Après plus de deux décennies d'absence, Magny-Cours retrouva sa place sur le calendrier pour accueillir la dernière manche de la saison 2003. À la fin d'une année dominée par Ducati, le Champion Neil Hodgson s'imposa sur Ruben Xaus et Chris Walker dans la première course. Il chuta ensuite à deux tours de l'arrivée dans la deuxième épreuve et laissa Xaus s'imposer devant James Toseland et Walker pour un autre podium 100% Ducati.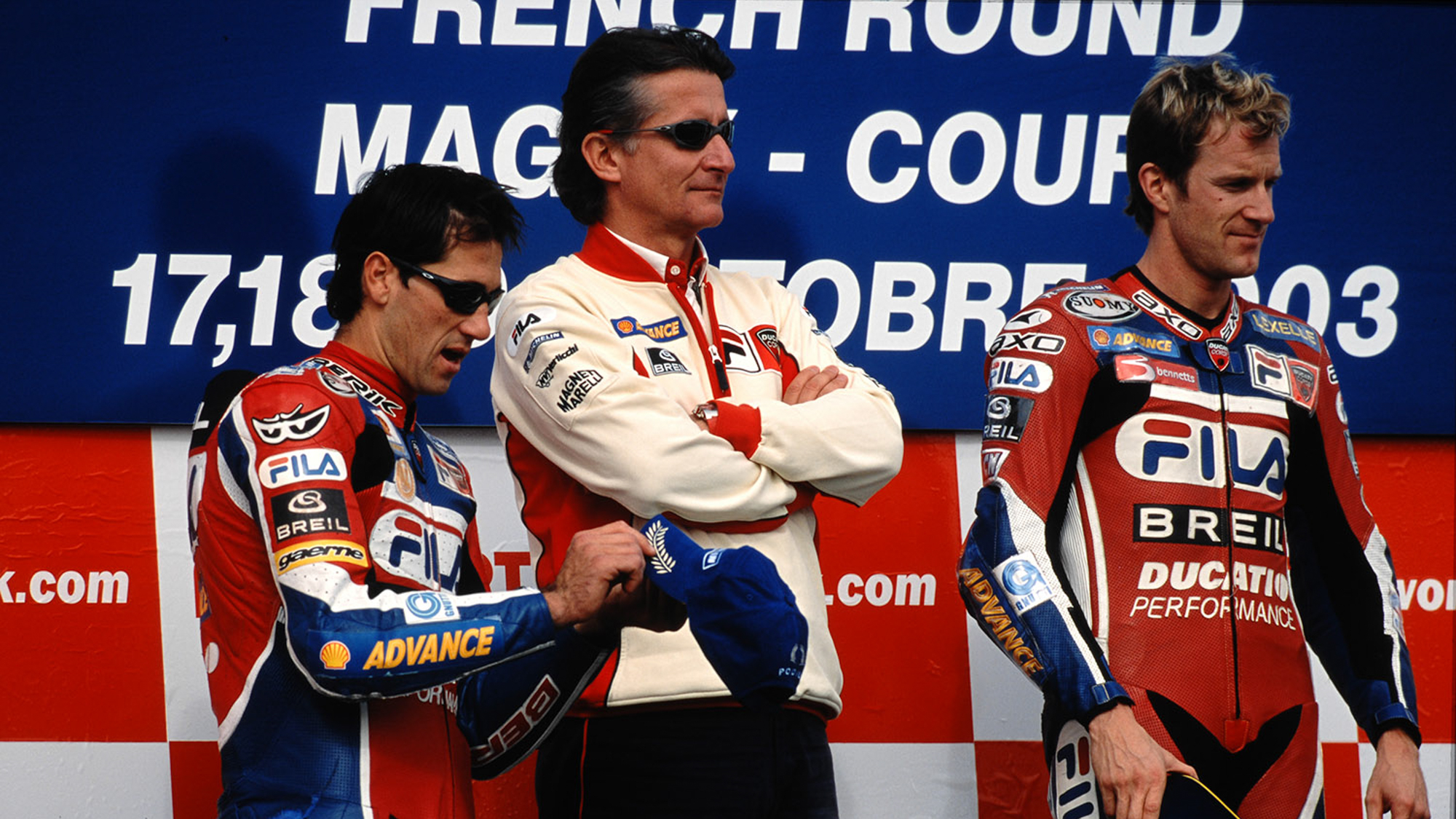 En 2004, la manche française fut un tournant du championnat. Régis Laconi et James Toseland, coéquipiers chez Ducati, étaient arrivés avec seulement quatre points de différence tandis que Chris Vermeulen n'était que 13 points derrière. Toseland remporta la première course, Laconi finit troisième et Vermeulen abandonné. Le Britannique contrôla ensuite la seconde course pour remporter le titre mondial avec neuf points d'avance sur Laconi. À 23 ans, Toseland était et demeure le plus jeune Champion du Monde Superbike.
En 2005, Troy Corser s'était déjà emparé du titre à Imola lorsque le Championnat du Monde prit la direction de Magny-Cours pour la dernière manche de la saison. Chris Vermeulen décrocha la pole position avec une demi-seconde d'avance sur Lorenzo Lanzi et remporta ensuite la première course avec huit secondes d'avance. Lanzi finit par s'imposer dans la deuxième course, la dernière de l'année.
En 2006, les courses de Magny-Cours furent beaucoup plus disputées, avec au moins quatre ou cinq pilotes en lice pour la victoire. Dans la première épreuve, Toseland, parti 11e, s'imposa dans un groupe comprenant Haga, Corser et Bayliss. Ce dernier, qui avait déjà remporté le titre de cette année-là, s'offrit une douzième victoire face à Haga, Toseland, Corser et Muggeridge.
La finale de 2007 fut mémorable et eut de nouveau lieu à Magny-Cours. Toseland visait un second titre mondial face à Biaggi et Haga mais Lanzi tombé peu après le départ, faisan perdre du terrain à Biaggi et Toseland, qui se retrouvait en queue de peloton. Haga s'imposa tandis que Biaggi et Toseland finirent sixième et septième. Toseland n'avait plus que vingt points d'avance avant la dernière course, au cours de laquelle il commit plusieurs erreurs avant de terminer sixième. Le pilote anglais décrocha cependant le titre, avec deux points d'avance sur Haga, qui avait aussi remporté la seconde course.
En 2008, Magny-Cours devint l'avant-dernière manche de la saison plutôt que la dernière. Bayliss n'avait besoin que de quatre points pour décrocher son troisième titre mondial et le fit avec aisance dès la première course. Afin de ne pas prendre de risques, il laissa passer Fonsi Nieto et se contenta d'une troisième place pour confirmer son sacre. Il put prendre davantage de risques lors de la deuxième épreuve et s'imposa sur Haga.
En 2009, Ben Spies mena la première course du départ jusqu'à l'arrivée mais commit une erreur dont Haga aurait pu profiter. L'Américain reprit cependant la première place pour passer en tête du classement général avec 2 points d'avance sur le Japonais. Spies, qui avait rattrapé 88 points de retard au long de l'année, eut un problème tehcnique dans la deuxième course et finit quatrième alors que Haga s'imposa pour reprendre la tête du championnat. Spies allait ensuite décrocher le titre à Portimao à la fin de son unique saison en WorldSBK.
Magny-Cours reprit le rôle de dernière manche en 2010. Cal Crutchlow s'échappé dans la première course et Max Biaggi enmpêché en suite le doublé du Britannique tout en s'assurant le titre mondial.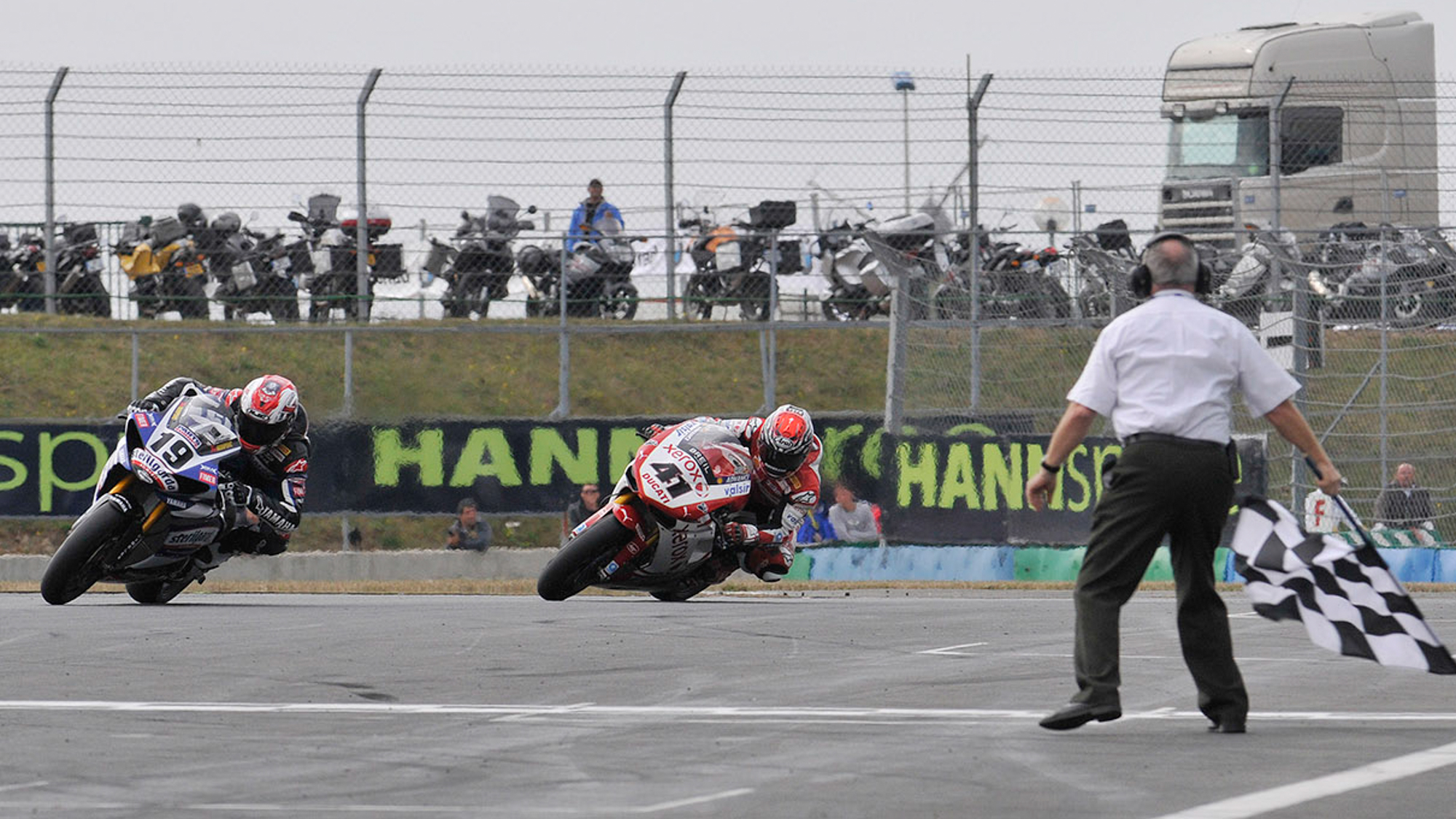 2011 fut l'année de Carlos Checa. En France, l'Espagnol signa un superbe doublé avec Althea Ducati mais Magny-Cours n'était plus la manche de clôture cette année-là.
Magny-Cours accueillit la dernière manche du Championnat du Monde Superbike pour la dernière fois en 2012. Biaggi, alors leader, tomba dans l'épingle d'Adelaïde lors d'une première course remportée par Sylvain Guintoli devant Marco Melandri et Tom Sykes. Il s'agissait de la dernière victoire de Ducati jusqu'à celle qu'a remportée Chaz Davies cette année au MotorLand Aragón.
Sykes se rattrapa en 2013 avec un doublé qui lui allait plus tard lui permettre de remporter le titre mondial à Jerez.
Aprilia remporta ensuite les deux courses de Magny-Cours en 2014, lorsqu'il s'agissait de l'avant-dernière manche. Guintoli partit en tête dans la première course, sous la pluie, mais fut rattrapé et doublé par son coéquipier Marco Melandri, qui allait cependant laisser la victoire à son coéquipier en fin de course. Dans la seconde épreuve, Sykes connut des difficiultés et Guintoli aura pu faire un énorme pas en avant avec une seconde victoire mais Melandri décidé cette fois-ci de garder la première place, ayant déjà bien aidé le Français et souhaitant faire plaisir à ses sponsors. Une décision sans conséquence pour Guintoli, qui finit la saison avec un splendide doublé au Qatar, son seul doublé en date, pour décrocher le titre mondial.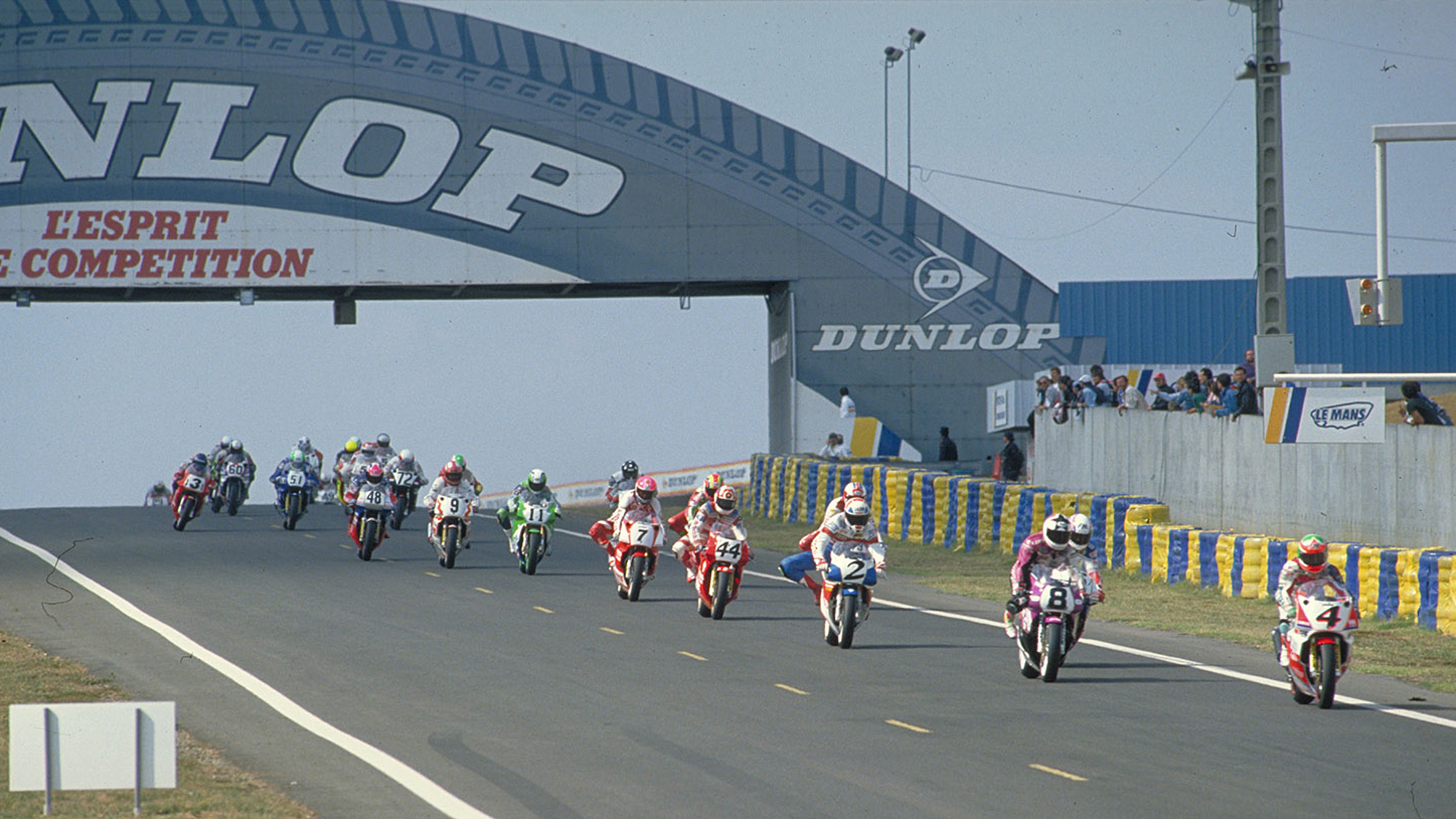 France staged its first World Superbike event in the first ever season,

1988

. Fabrizio Pirovano won aboard his Yamaha at Le Mans, in what turned out to be the only race to take place that weekend. In

1989

, the races were staged for the only time at Paul Ricard on the south coast, as Stephane Mertens and Giancarlo Falappa picked up the victories. The historic Le Mans circuit reappeared on the calendar in

1990

, when local hero Raymond Roche achieved a superb double. Later that season, he would become the first French World Champion in WorldSBK.
In

1991

, the all-new Magny-Cours circuit opened its doors. It was a year synonymous with Doug Polen; sure enough, the American did the double as he won from Roche in both races. In Race 2, Polen's margin of victory was 27.54 seconds which remains one of the largest winning margins in World Superbike history.
After more than two decades of absence, Magny-Cours was back on the calendar as the final round of

2003

. In the year of the dominant Ducati, that year's title winner Neil Hodgson won the first race from Ruben Xaus and Chris Walker. In Race 2 - just as another Fila Ducati double was on the cards - Hodgson lost the front end with two laps to go, handing victory to Xaus. James Toseland and the aforementioned Walker completed the podium, so it was another 100% Ducati rostrum after all.
In

2004

, the French Round proved pivotal in deciding the championship outcome. Ducati team-mates Regis Laconi and James Toseland entered proceedings separated by just four points in favour of the Frenchman, while Chris Vermeulen on a Honda was only a further 13 points in arrears. Things got off well for Toseland, who won Race 1, with Laconi third and Vermeulen out of the race. The British rider remained in control in Race 2 and would go on to win his first title, nine points ahead of Laconi; at the age of 23, Toseland became the youngest Champion. The record still stands.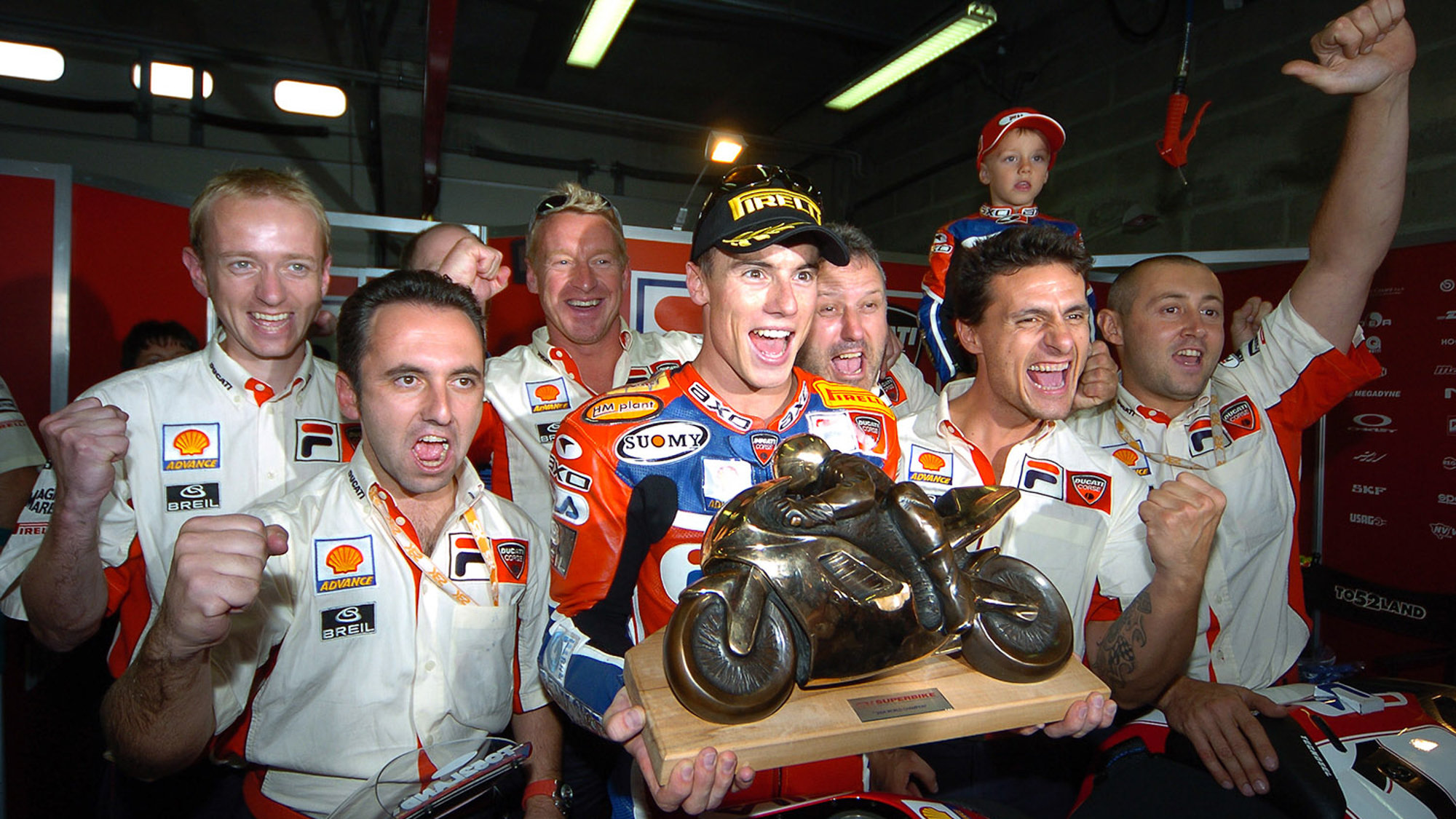 With the

2005

title having been won by Troy Corser at Imola, the World Championship moved onto its final round at Magny-Cours with Chris Vermeulen looking to make amends by going out on a high. He grabbed pole from Lorenzo Lanzi by a massive half-second gap, then went on to win Race 1 by more than eight seconds. Lanzi had the last laugh in Race 2, winning the final race of the campaign.
In

2006

, the Magny-Cours races threw up real treats. In both encounters, groups of four or five riders contended for the win in typical World Superbike fashion, with continuous changes of position. In Race 1, the protagonists were Haga, Corser, Toseland and Bayliss. Victory went to Toseland, who had fought up from 11th place. Later in the afternoon it was Bayliss, Haga, Toseland, Corser and Muggeridge who went to battle. Australian Bayliss had already wrapped up the championship for the second time, ending the year in superb fashion with his 12th victory of the season.
The finale of

2007

was truly memorable, once again being staged at Magny-Cours. Toseland was pushing for a second title as he looked to see off the challenges of Biaggi and Haga, but Race 1 featured high drama; Lanzi fell shortly after the start, delaying Biaggi and Toseland and meaning the English rider was now fighting from the back of the field. Haga won, with Biaggi sixth and Toseland seventh. Heading into the final race, the margin between the leading riders was down to 20 points; a seemingly reassuring advantage, but not when considering what happened in the second race. En route to the title, Toseland made several mistakes. He finished sixth, eventually just two points ahead of Haga who also won the second race.
In

2008

, Magny-Cours was no longer the final venue on the calendar, but the penultimate round. Bayliss took control of the situation. He required only four points to seal his third world title in Race 1, which he did with ease. Avoiding any issues, he gave up a place to Fonsi Nieto which saw the Australian clinch the crown by finishing third. With the championship in his pocket, Bayliss was not so cautious in Race 2; he sat in the wheel tracks of Haga until passing with six laps to go, thus taking the win.
Magny-Cours

2009

saw Ben Spies lead from start to finish in Race 1, apart from a mistake on the last lap. It looked as though Haga would win, but American Spies grabbed back the top spot to ensure he retook the championship lead from the Japanese rider with a two-point advantage; this was part of the remarkable recovery which saw Spies claw back 88 points over Haga during the season. However, luck abandoned Spies in Race 2; he slowed due to technical problems and could only manage fourth place as Haga won and headed the standings again. Spies would go on to win the world title in Portimao at the end of his only season of World Superbike.
After two years off the finale date, Magny-Cours was again the last round on the calendar in

2010

. Cal Crutchlow pulled away to win Race 1, while there was a challenge in Race 2 from Max Biaggi who prevented an English double. The Roman had already picked up the title that year, making this a perfect 2010 swansong.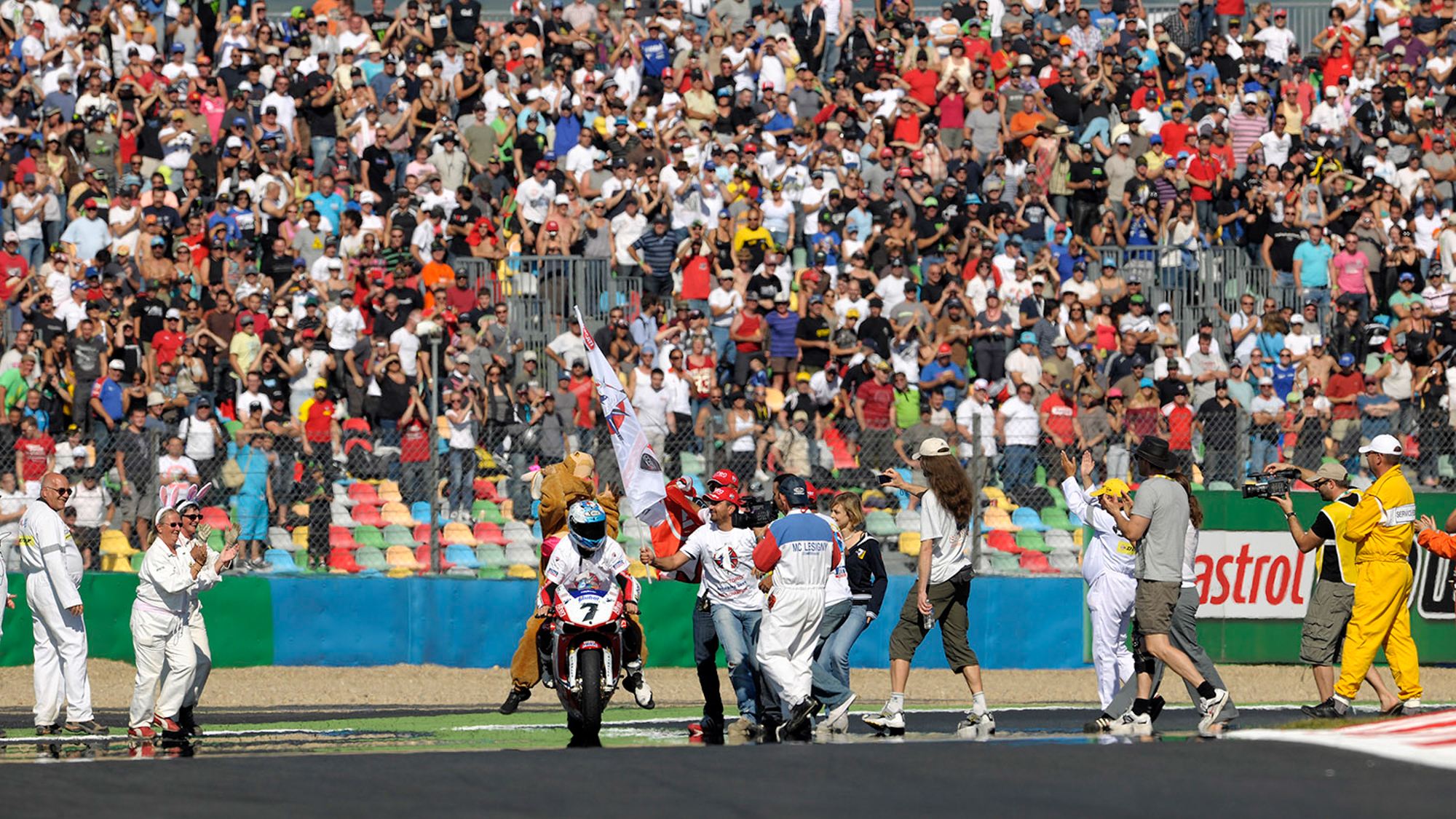 2011

was the year of Carlos Checa. France was no exception, as the Spaniard achieved a mighty double on his Althea Ducati. However, on this occasion Magny-Cours was not the final round on the schedule.
For the last time to date, Magny-Cours hosted the last races of the World Championship season in

2012

, and witnessed a truly dramatic ending. Championship leader Biaggi fell at the Adelaide hairpin in Race 1 before Jonathan Rea's race also ended on the sidelines. Sylvain Guintoli won (this was the last Ducati victory before Chaz Davies triumphed at Aragon in 2015) from Marco Melandri and Tom Sykes. Amid high tension, Race 2 commenced on a damp track. Sykes headed for victory as Biaggi was running ninth; this would have been enough to seal the title for Sykes, but problems for riders ahead meant Biaggi rose to sixth which gave him the title over Sykes by the narrowest margin ever seen: half a point.
Sykes made amends in the best possible fashion in

2013

, doing the double at Magny-Cours before going on to seal the title in the Jerez season-closing round.
Magny-Cours was also the penultimate round of the season in

2014

. Aprilia won both races, but not without some tense moments. In the rain of Race 1, Guintoli took the lead but was caught and passed by team-mate Melandri. Over the final laps, Melandri was shown a 'sad smiley' sign on his pit board; he duly slowed and waved Guintoli through for victory. The same was expected in Race 2. Sykes hit trouble and a Guintoli double would have greatly helped the Frenchman's title ambitions. However, on this occasion Melandri decided that yielding for two races in a row would be 'Too much for my personal sponsor'. Nevertheless, Guintoli would go on to do the double in Qatar (his only double thus far) to emphatically clinch the world title.
Michele Merlino