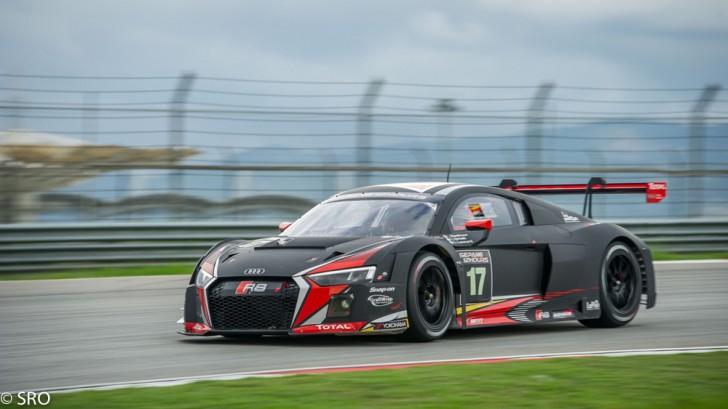 par Laurent Mercier (Endurance-Info.com)
L'édition 2015 des 12 Heures de Sepang a été pour le moins mouvementée avec deux interruptions pour cause de pluie puis une longue période sous safety-car. Les conditions changeantes ont fait le jeu des Audi R8 LMS qui ont trusté les trois marches du podium avec un doublé du Belgian Audi Club Team WRT devant le Phoenix Racing. Les deux équipes rivales aux Total 24 Heures de Spa ont bien croisé le fer et la concurrence a eu du mal à suivre.
La victoire s'est jouée à 40 minutes du terme lorsque Laurens Vanthoor a trouvé l'ouverture sur la voiture soeur de Christopher Mies. A l'issue des 228 tours de course, l'Audi R8 LMS partagée par Stéphane Ortelli, Laurens Vanthoor et Stuart Leonard a devancé l'autre Audi belge confiée à Enzo Ide, Christopher Mies et Christopher Haase, l'écart sous le damier étant de 8.3s après 12 heures. Pour son retour à la compétition, Laurens Vanthoor a été flamboyant au volant de la nouvelle Audi, Stéphane Ortelli a montré si besoin en était qu'il était toujours performant quand il fallait aller au charbon et Stuart Leonard a bouclé des chronos de bonne facture pour ses débuts avec WRT. Stéphane Ortelli referme la parenthèse WRT avec une victoire supplémentaire. Pourtant, la seconde Audi du team dirigé par Vincent Vosse a bien donné le change en dépit d'un ravitaillement qui reste sous investigation après la course. Les quelques secondes perdues lors de l'ultime arrêt ont pesé lourd dans la balance. L'Audi du Phoenix Racing partagée par Niki Mayr-Melnhof, Markus Winkelhock et Nicki Thiim a longtemps occupé la tête avant de baisser la garde devant les Audi/WRT. Il aura manqué une minute à l'équipage de la #16.
La McLaren 650S GT3 a une nouvelle fois montré sa fiabilité avec une course sage pour Caldarelli/Parente/Hamaguchi/Watson. Habitué au GT Asia Series, le FFF Racing by ACM n'a pas raté ses débuts en endurance avec une belle 4ème place à un tour des vainqueurs et la victoire en Pro-Am.
Les Bentley Continental GT3 ont connu des hauts et des bas, la meilleure des deux autos du M-Sport Bentley terminant au 5ème rang à 2 tours grâce à Soulet/Soucek/Buhk. Un problème de roue lors d'un ravitaillement a fait perdre du terrain au trio de la #8. Partie de la voie des stands suite à un changement de moteur, la #9 de Abril/Smith/Kane a pris la 10ème place à 11 tours après avoir passé un long moment dans son stand.
Victorieux en 2013 et 2014, le Clearwater Racing pouvait légitimement faire la passe de trois avec sa Ferrari 458 Italia GT3 confiée à Gimmi Bruni, James Calado, Matt Griffin et Mok Weng Sun. L'Italien a vite pris la poudre d'escampette dès le départ mais un contact avec une Lotus attardée a mis à mal la marche en avant de la Ferrari grise. C'est ensuite une crevaison à l'arrière gauche qui a ralenti la #1 avant une deuxième crevaison plus grave puisque la suspension a été endommagée. L'abandon était inévitable. Quant à la Ferrari/Singha Motorsport de van Dam/Rizzo/Bhakdi/Pier Guidi, elle a joué les premiers rôles grâce à un excellent Carlo van Dam avant de descendre dans la hiérarchie pour finalement terminer au 8ème rang derrière la Mercedes SLS AMG GT/Team AAI de Taniguchi/Yoshimoto/Tanigawa/Chen, 2ème en Pro-Am.
La Lamborghini Huracan Super Trofeo/Topspeed Racing de Bo/Rump/Munro/Yaz s'est imposée en GTC devant la Porsche 997 Cup/Team NZ PTE et l'Audi R8 LMS/B-Quik.
Sport Garage, seule équipe française au départ, a rallié l'arrivée au 19ème rang avec sa Ferrari 458 Italia GT3 confiée à Romain Brandela, Georges Cabanne, Jean-Paul Buffin et Gerald Tan Wee Jun.
Sur les 24 concurrents au départ, 22 ont été classés.
At the wheel of their #17 Belgian Audi Club Team WRT Audi R8 Blancpain GT Series-drivers Laurens Vanthoor, Stéphane Ortelli and Stuart Leonard claimed the win in one of the most difficult editions of the Sepang 12 Hours ever. 30 minutes from the end of the race Vanthoor took the lead away from Christopher Mies, driving the second of the Belgian Audi Club Team WRT cars. Mies and team-mates Ide and Haase eventually finished second, in front of long-time leader, the #16 Phoenix Racing Audi. It is the first time that the new Audi R8 LMS filled all steps of the podium. The other classes were dominated by the #23 Giti Topspeed Racing Lamborghini and the #86 Wing Hin Motorsport Toyota, winning GTC and Touring Car classes respectively. The extreme weather conditions on the Sepang International Circuit caused two interruptions.
The Sepang 12 Hours has lived up to its reputation of being a gruelling endurance race, run in both extreme heat and extreme humidity. Extended and sometimes heavy rainfall suspended the race twice, but those red flag-situations set up a nail-biting finish of what must be the most difficult endurance race on the Asian continent. It certainly has its place in the new Intercontinental GT Challenge, which starts next season.
Thirty minutes before the end the gap between leader Christopher Mies in the #150 Belgian Audi Club Team WRT Audi and WRT team-mate Laurens Vanthoor was less than a second. With an audacious passing move on the outside of Mies, the Belgian retook the lead he had lost during the last pitstop. In his first official race after his accident in Misano ten weeks ago Laurens Vanthoor shared his win in Sepang with his long-time mentor Stéphane Ortelli (in his last race as an Audi factory driver) and Stuart Leonard, who drove his first race with the Audi R8. The Belgian Audi Club Team WRT made it a double with the #150 Audi R8 of Christopher Mies, Christopher Haase and Enzo Ide finishing only eight seconds behind the winner. Audi R8- and Blancpain GT Series-drivers occupied the three steps of the podium, with Markus Winkelhock, Nicki Thiim and Niki Mayr-Melnhof in the #16 Phoenix Racing Audi finishing in third. They had taken the lead of the race in the second hour, but lost their advantage due to the red flag-situations. During the last safety car-period they lost the lead when WRT proved to be quicker at the driver changes.
The menace from the Ferrari cars never really materialized, although the #11 Singha Motorsport Team 458 and the #1 Clearwater Racing machine led during the opening laps of the race. The latter lost a lot of time after contact with a backmarker and a double puncture, eventually retiring with too much damage. The Singha Ferrari was among the front-runners but rapidly dropped down the order when the rain made its appearance after four hours of racing. It eventually finished in eighth. The car that made the Audi teams' life the most difficult proved to be the #55 FFF Racing Team by ACM McLaren, which only lost contact with the leading pack in the final stages of the race. It still won the Pro-Am category, finishing fourth overall, just in front of the first of the Bentleys, the #8 M-Sport Continental.
The polesitter in the GTC class, the #69 Team Fydis Aylezo Lamborghini, had an unfortunate opening hour of the race, when the car caught fire during the first pitstop. The Huracan was able to continue, but lost a lot of time. The other Lamborghini, the #23 Giti Topspeed Racing car took the lead and dominated the rest of the race, and eventually won with a five lap advantage over the #7 Team NZ Motorsport Porsche and the #26 B-Quick Racing Audi.
The Toyota-Subaru duel in the Touring Car division was cut short when the #602 Jim Hunter Motorsport Subaru hit mechanical trouble early on. Afterwards, the drivers of the more developed #86 Wing Hin Motorsport Toyota could keep the almost standard GT-86 of the GTO Racing Team behind, which did well in finishing second in class.
_____
Quotes
Stephane Ratel (Founder and CEO of SRO Motorsports Group): "

I've said in the past that I wanted the Sepang 12 Hours to become the Asian equivalent of the Total 24 Hours of Spa, but maybe I should have been careful with what I wished for! Seriously now, the Sepang 12 Hours has been an excellent prologue to the 2016 Intercontinental GT Challenge, it is clear that we can bring high-level GT3 racing to the four corners of the planet.

"
Laurens Vanthoor (#17 Belgian Audi Club Team WRT Audi): "

I have had a difficult time after my accident in Misano, but the fact that I had to work hard to get back into shape gave me extra motivation to do well here. I also wanted to win here because it was probably the last race with my friend Stéphane Ortelli. It was a hard race, but our efforts paid off.

"
Christopher Mies (#150 Belgian Audi Club Team WRT Audi): "

Because we had lost some time during the penultimate pitstop, the only way to get back in front of Laurens was to not change tyres during the last pitstop. We took the lead, but I knew it would be almost impossible to hold on to that first place. Still, we brought a good show for the fans.

"
Markus Winkelhock (#16 Phoenix Racing Audi): "

I am pretty disappointed, because we came here to win. We built a great advantage, twice, but we lost it due to the safety car-interventions. Than there was a misunderstanding over the pitstop under safety car, and that is where we lost our last chances to take the win.

"
James Munro (#23 Giti Topspeed Racing Lamborghini, 1st GTC): "

We did not expect to be this competitive. Our main goal was to show the strengths of the Giti Tyres and they proved to be excellent for endurance racing, lasting longer than our competitors. Once we were in the lead, we focused on our race, to be sure to make no mistakes in the difficult conditions.

"
Kenny Lee (#86 Wing Hin Motorsport Toyota, 1st Touring Car): "

As a Malaysian team we have some experience with driving in the rain, but never have we experienced conditions like these. With the spray thrown up by the GT3-cars the visibility was very low. It was unfortunate that the Subaru had problems early on, but it gave us the possibility to control the race and give the quicker GT-cars enough room to get past. We are all very proud to have won our category in our home race, and we are looking forward to be back next year.

"
Vincent Vosse (Belgian Audi Club Team WRT team manager): "

I am obviously very happy to take the double here. This is the result of great teamwork. I especially want to thank Stéphane Ortelli. Not only for this race, but for all he has done for the team. He's been with us since the beginning, and he still is a very competitive driver, who still has the same hunger to win. I am convinced that he will be on the top step of the podium many more times.

"