La situation est inédite, aucun vainqueur du Dakar ne sera présent au départ de l'édition 2016 à Buenos Aires (Argentine) samedi 2 janvier. Cyril Despres est désormais engagé sur quatre roues au volant du Peugeot 2008 et Marc Coma officie en tant que directeur sportif du rallye. La place de n°1 est donc libre et les candidats sont nombreux.
L'heure est peut-être venue pour une remise en question de la domination des KTM qui ont vu la concurrence se rapprocher ces dernières années. La marque autrichienne avait réussi à conserver sa suprématie avec la présence de ses deux pilotes, Cyril Despres et Marc Coma.
Mature et expérimentée, l'équipe Honda fait figure de principale favorite. Leader de l'équipe japonaise, Joan Barreda, seulement 17ème en 2015 suite des problèmes techniques, est un sérieux prétendant à la succession de Marc Coma. Il sera entouré de Paulo Gonzales, deuxième de la précédente édition. Les deux pilotes pourront également compter sur leurs coéquipiers, Michael Metge, Paolo Ceci et Ricky Brabec, pour conquérir une victoire qui échappe à Honda depuis plus de 20 ans. Côté japonais toujours, Yamaha table sur une autre valeur sûre en confiant le premier rôle à Helder Rodrigues, membre régulier du Top 5 depuis 10 ans, mais aussi sur Alessandro Botturi, récent vainqueur du Rallye de Merzouga.
KTM ne sera toutefois pas en reste avec la présence des deux révélations de l'année dernière, Toby Price (3ème) et le champion du monde de la saison de rallye raid Matthias Walkner. La marque autrichienne compte également dans ses rangs Jordi Viladoms (2ème en 2014) et la surprenante Laia Sanz (9ème en 2015). Sans oublier Olivier Pain, David Casteu, Stefan Svitko ou encore Ivan Jakes qui ambitionnent un Top 10.
Le Team Husqvarna, dont la moto a été conçue sur la même base que la KTM, aligne deux pilotes habitués au Dakar, Pablo Quintanilla (4ème en 2015) et Ruben Faria (2ème en 2013).
Antoine Meo, Pierre-Alexandre Renet, Ivan Cervantes, champions du monde d'Enduro, tenteront de créer la surprise et de se frayer un chemin parmi l'élite pour leur première participation.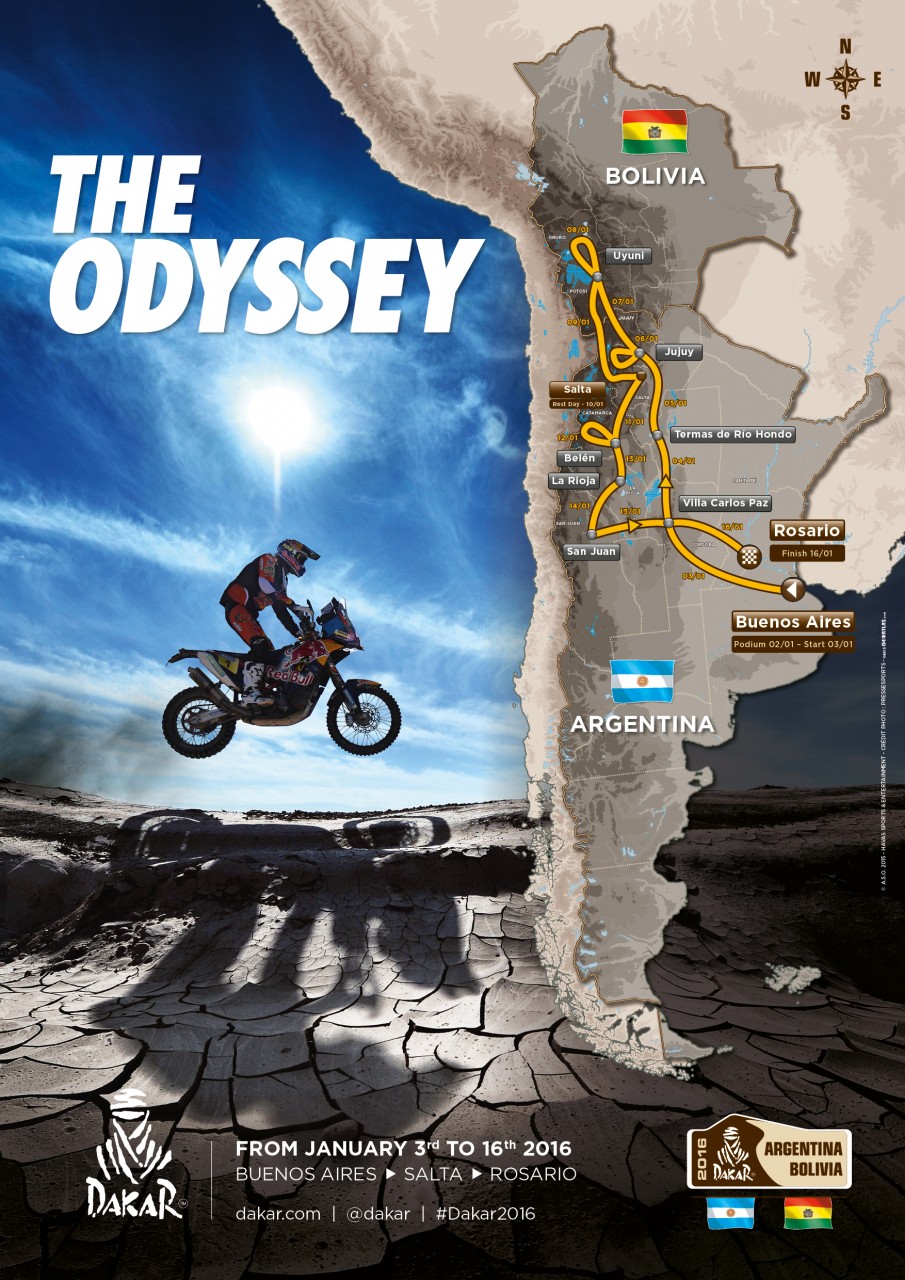 For the first time in Dakar history, the entry list for the 2016 event – which starts in Buenos Aires, Argentina, on Saturday, January 2 – does not include a former winner. Cyril Despres has been enrolled by Peugeot to drive the 2008 DKR, while Marc Coma has become the rally's Sporting Director. They leave a long list of riders looking to fill the void…
This evolution might also see the end of the recent domination of KTM which has succeeded in shrugging off its rivals competitors in recent years thanks to Despres and Coma.
The experienced Honda squad seems ripe to pick up the gauntlet, led by Joan Barreda who, despite coming a lowly 17th due to technical issues in 2015, stands out as a possible successor to Coma. He will be partnered by Paulo Gonzales (2nd last January), along with Michael Metge, Paolo Ceci and Ricky Brabec as the Japanese brand seeks to claim its first Dakar victory in more than 20 years.
Meanwhile, Yamaha's bid is spearheaded by the consistent Helder Rodrigues, a regular top-five finisher over the past decade, teamed with the recent Merzouga Rally winner Alessandro Botturi.
KTM can't be ruled out, however, and the Austrian bike maker will be represented by two riders who impressed on the 2015 event, namely third-placed Toby Price and the defending cross-country rally world champion Matthias Walkner. Its line-up will also include Jordi Viladoms (2nd in 2014), the surprising Laia Sanz (9th in 2015) and top-10 hopefuls Olivier Pain, David Casteu and Stefan Svitko.
The chances of Team Husqvarna, whose bike is designed along similar lines to the KTM, will be defended by Dakar regulars Pablo Quintanilla (4th in 2015) and Ruben Faria (2nd in 2013).
The event's specialists will also need to look out for three Dakar rookies, Enduro world champions Antoine Meo, Pierre-Alexandre Renet and Ivan Cervantes.