Wikipedia: Drifting is a driving technique where the driver intentionally oversteers, causing loss of traction in the rear wheels or all tires, while maintaining control from entry to exit of a corner. A car is drifting when the rear slip angle is greater than the front slip angle, to such an extent that often the front wheels are pointing in the opposite direction to the turn (e.g. car is turning left, wheels are pointed right or vice versa, also known as opposite lock or counter-steering).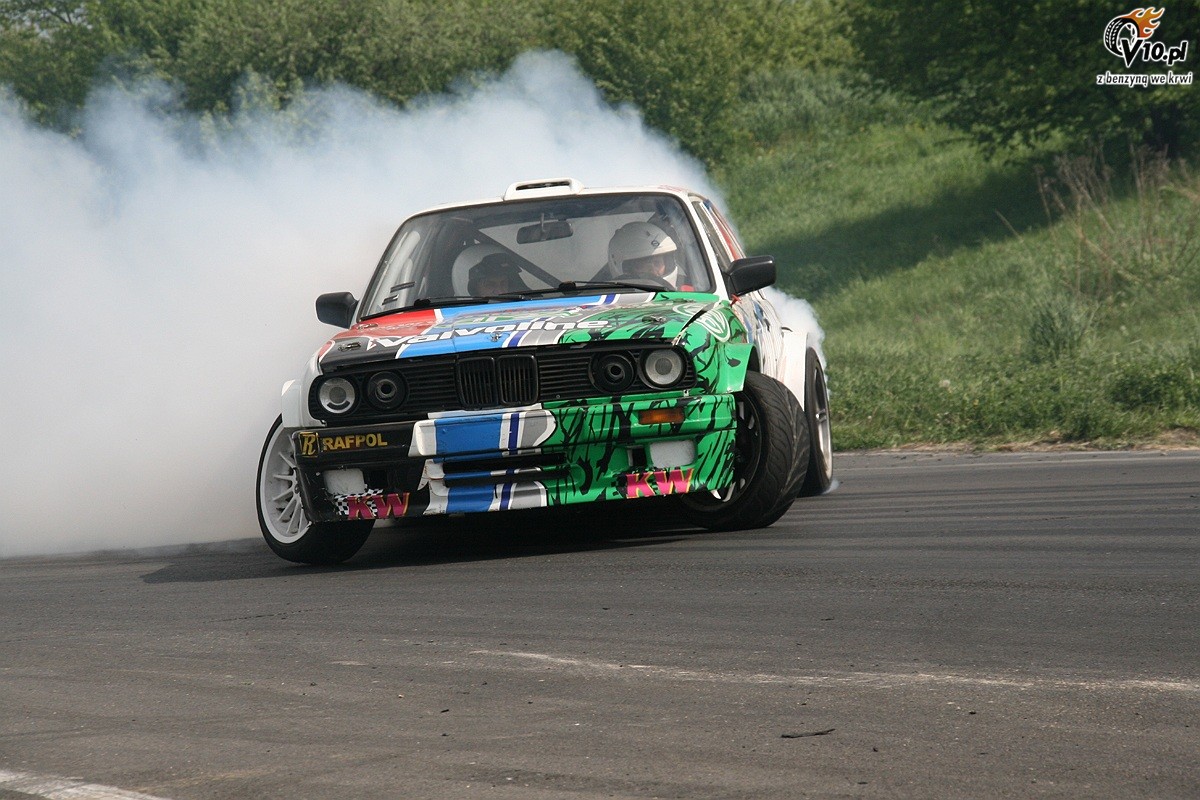 As a motorsport discipline, professional drifting competitions are held worldwide and are judged according to the speed, angle, showmanship and line taken through a corner or set of corners.
Although the origin of drifting is not known, Japan was one of the earliest birthplaces of drifting. It was most popular in the All Japan Touring Car Championship races. Motorcycling legend turned driver, Kunimitsu Takahashi, was the foremost creator of drifting techniques in the 1970s. This earned him several championships and a legion of fans who enjoyed the spectacle of smoking tires. The bias ply racing tires of the 1960s-1980s lent themselves to driving styles with a high slip angle. As professional racers in Japan drove this way, so did the street racers.
Keiichi Tsuchiya, known as the "Drift King" (ドリキン Dorikin?), became particularly interested by Takahashi's drift techniques. Tsuchiya began practicing his drifting skills on the mountain roads of Japan, and quickly gained a reputation amongst the racing crowd. In 1987, several popular car magazines and tuning garages agreed to produce a video of Tsuchiya's drifting skills. The video, known as Pluspy, became a hit and inspired many of the professional drifting drivers on the circuits today. In 1988, alongside Option magazine founder and chief editor Daijiro Inada, he would help to organize one of the first events specifically for drifting called the D1 Grand Prix. He also drifted every turn in Tsukuba Circuit in Japan.