Cette 4e étape du Dakar 2016, une boucle de 429 km autour de San Salvador de Jujuy, était présentée comme un premier « juge de paix » du rallye avec des pistes rapides tracées sur l'altiplano argentin à une altitude moyenne de 3500 mètres d'altitudes.
Et puis surtout, ces 429 km n'étaient que la première partie d'une étape-marathon qui s'achèvera demain, en Bolivie. Ce soir, les véhicules seront mis en parc fermé, sans assistance. Les pilotes devaient donc gérer mécaniques et pneumatiques.
Pénalisé d'une minute hier pour excès de vitesse en zone limitée, Joan Barreda s'est finalement élancé en 5e position ce matin. Comme la veille, il a devancé tous ses rivaux au guidon de sa Honda CRF 450 Rally/Michelin. Mais comme la veille, l'Espagnol a été pénalisé après l'arrivée, de cinq minutes cette fois.
Paulo Gonçalves a donc hérité de la victoire devant son compatriote Ruben Faria (Husqvarna, +2min35s) et l'intrépide Argentin Kevin Benavides (Honda, +2min37s). Barreda échoue au pied du podium, mais devance les deux pilotes officiels KTM, Matthias Walkner et Antoine Meo.
Leader hier soir après la pénalité de Barreda, Stefan Svitko (KTM) a concédé plus de six minutes et se retrouve 4e du général derrière les Honda de Gonçalves, Benavides et Barreda.
En Autos, Stéphane Peterhansel a remporté sa 33e victoire d'étape Autos sur le Dakar (sa 66e au total). Il devance Carlos Sainz (+11s) et Sébastien Loeb (+27s). Le Team Peugeot-Total a nettement dominé cette journée avec trois Peugeot 2008 DKR/Michelin sur le podium du jour, groupées en moins de 30 secondes après 429 km chronométrés ! Et la quatrième Peugeot, celle de Cyril Despres, a conclu dans le top-five.
Seul le double vainqueur Nasser Al-Attiyah (4e, Mini, +4min57s) est parvenu à s'immiscer parmi les Lionnes. Les autres pilotes X-Raid, Nani Roma, Orlando Terranova, Mikko Hirvonen et Vladimir Vasyliev ont terminé à plus de sept minutes du vainqueur. Chez Toyota, Yazeed Al-Rajhi a pris la 6e place, devant Leeroy Poulter. Giniel de Villiers s'est classé 11e à 8min43s.
Au général, Sébastien Loeb est toujours leader du Dakar devant Stéphane Peterhansel (+4min48s) et Nasser Al-Attiyah (+11min09s). Les 10 premiers (trois marques différentes) se tiennent en 20 minutes.
Today's 429km competitive loop over fast trails at an average altitude of 3,500 metres near San Salvador de Jujuy, Argentina, was expected to be the first true test of the 2016 Dakar.
The stage formed the first half of a marathon leg that will eventually take competitors into Bolivia on Thursday. In the meantime, the bikes and cars are parked up in parc fermé with no overnight work allowed, meaning the riders and drivers had to take good care of their respective machines and tyres today.
After taking a one-minute penalty for excessive speed through a restricted zone on Tuesday, Joan Barreda started fifth on road this morning but went on to post the fastest time once again on his Honda CRF 450 Rally/Michelin. However, the Spaniard was awarded another time penalty after the finish line, this time amounting to five minutes.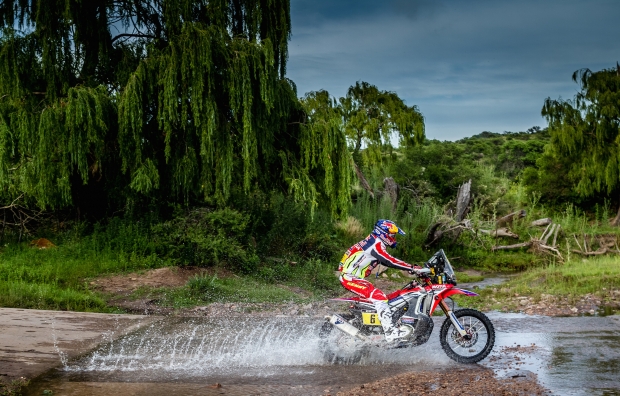 That handed the stage victory to Goncalves, ahead of fellow Portuguese rider Ruben Faria (Husqvarna, +2m35s) and the quick Argentine Kevin Benavides (Honda, +2m37s). Barreda ended up fourth, followed by KTM's Matthias Walkner and Antoine Meo.
This morning's provisional leader Stefan Svitko (KTM) dropped more than six minutes and fell to fourth overall, behind Honda trio Goncalves, Benavides and Barreda.
Meanwhile, Stéphane Peterhansel notched up his 33rd Dakar stage win on four wheels (his 66th in total) to beat Peugeot-Total team-mates Carlos Sainz and Loeb by 11 and 27 seconds respectively after 429 timed kilometres. The French team's fourth man Cyril Despres was fifth.
The ex-biker was preceded by Nasser Al-Attiyah (Mini, +4m57s), but X-Raid's Nani Roma, Orlando Terranova, Mikko Hirvonen and Vladimir Vasyliev all conceded more than seven minutes. Yazeed Al-Rajhi and Leeroy Poulter were sixth and seventh, with their Toyota team-mate Giniel de Villiers further back in 11th spot (+8m43s).
Loeb still tops the overall order, ahead of Peterhansel (+4m48s) and Al-Attiyah (+11m9s). The provisional top 10 – which features three different makes – is covered by 20 minutes.