La spéciale de 327 km entre Jujuy et Uyuni, second partie de l'étape-marathon, restera comme la plus haute jamais organisée sur le Rallye Dakar. Les concurrents ont évolué à une altitude moyenne de 4000 mètres pour atteindre 4600 mètres au km 215, le point culminant du rallye.
En Motos, les « Katoche » ont mis un terme à la domination Honda en plaçant quatre KTM 450 Rally/Michelin aux avant-postes.
Vainqueur du Prologue samedi dernier, l'Australien Toby Price est passé en tête à tous les WayPoints du jour pour s'imposer avec 2min21s d'avance sur son équipier Antoine Meo et 2min33s sur Stefan Svitko.
Cette performance permet à Price de remonter sur le podium provisoire du général derrière le Portugais Paulo Gonçalves, toujours leader sur sa Honda/Michelin malgré une 8e place (+8min56s) aujourd'hui, et le régulier Stefan Svitko, 2e au guidon d'une KTM « privée ».
L'autrichien Matthias Walkner (KTM) a pris la 4e place devant Joan Barreda (Honda) et Pablo Quintanilla (Husqvarna). Parfait depuis le départ, l'Argentin Kevin Benavides (Honda) a concédé plus de 11 minutes et perdu sa 2e place du général. Les cinq premiers du classement provisoire se tiennent en moins de trois minutes.
L'étape Autos fut écourtée de quelques kilomètres en raison de violents orages en fin de spéciale. Parti en 3e position, Sébastien Loeb a pointé en tête à tous les WayPoints et remporte sa 3e victoire d'étape sur ce Dakar, égalant la performance de Vatanen en 1987 pour ses débuts.
Carlos Sainz (Peugeot) a terminé à seulement 22s de son équipier, alors que Stéphane Peterhansel a offert un nouveau triplé à Peugeot/Michelin (+3min). Encore une fois, Nasser Al-Attiyah (4e) est le premier non-Peugeot, mais il a encore cédé plus de trois minutes et perd sa place sur le podium du général au profit de Carlos Sainz.
Sur le total de l'étape-marathon (429+321, soit 750 km), l'écart entre les champions du monde WRC Sébastien Loeb et Carlos Sainz est de... 11 secondes !
Le sud-Africain Leeroy Poulter (5e, Toyota) a réalisé une belle étape et devance le Finlandais Mikko Hirvonen (6e, Mini), son compatriote Giniel de Villiers (7e, Toyota) et l'Américain Robby Gordon (8e) de retour au premier plan au volant de son Hummer. Le top-ten du jour, groupé en 10 minutes, est complété par Ten Brinke (Toyota) et Terranova (Mini). Cyril Despres (Peugeot) a perdu plus d'une heure en raison de problèmes mécaniques en fin de spéciale.
The 327km competitive run between Jujuy and Uyuni formed the second half of the event's first marathon stage which took competitors to an average altitude of 4,000 metres, peaking at 4,600m at Km215, a record for the Dakar.
On two wheels, Honda's recent domination was broken by KTM/Michelin which saw four 450 Rallys top the day's order.
Their ranks were led by last Saturday's Prologue winner Toby Price who was fastest up to all the Way Points. The Australian ended up 2m21s and 2m33s clear of his team-mate Antoine Meo and Stefan Svitko respectively.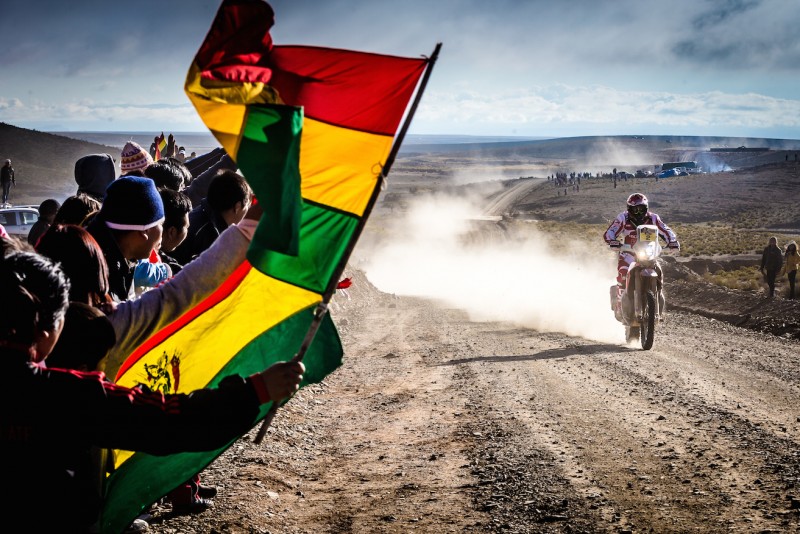 Price's speed has put him back inside the top three overall, behind Goncalves – who still leads for Honda/Michelin despite coming eighth today (+8m56s) – and the consistent KTM privateer Svitko.
Austria's Matthias Walkner (KTM) is now fourth, ahead of Joan Barreda (Honda) and Pablo Quintanilla (Husqvarna).
The strong run to date of Argentina's Kevin Benavides (Honda) was spoiled when he dropped more than 11 minutes today to fall from second to fifth overall, but still less than three minutes from the leader.
The car competitors saw their jaunt come to a premature end when bad storms broke out towards the end of the stage. Loeb, who was running third on the road, was quickest at all the Way Points on his way to his third stage victory on his Dakar debut, equalling Vatanen's performance – also for Peugeot – when he was a rookie in 1987.
Carlos Sainz (Peugeot) was only 22 seconds slower, while Stéphane Peterhansel (+3m) made it another one-two-three finish for the French make.
Once again, Nasser Al-Attiyah (4th) was the best-placed non-Peugeot driver, despite dropping more than three minutes and losing his footing on the podium to Sainz.
Over the entire marathon stage (429km +321km = 750km), the gap between the ex-WRC champions Loeb and Sainz was only 11 seconds!
Leeroy Poulter (5th) had a good day for Toyota to beat Finn Mikko Hirvonen (6th, Mini), fellow South African Giniel de Villiers (7th, Toyota) and the USA's Robby Gordon (8th).
Today's top 10 was covered by 10 minutes and was rounded out by Ten Brinke (Toyota) and Terranova (Mini). Cyril Despres (Peugeot) dropped more than an hour with a technical problem shortly before the finish.