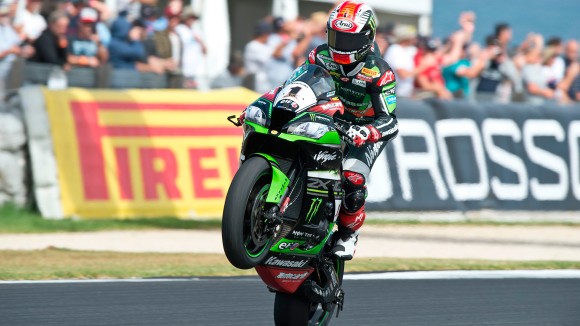 Le Champion en titre Jonathan Rea a remporté le premier doublé à Phillip Island depuis Carlos Checa en 2011. Son principal adversaire pour le titre, Chaz Davies, a chuté dans le dernier tour en tentant de suivre le rythme du pilote Kawasaki.
C'est pourtant Tom Sykes qui prend le meilleur départ depuis la pole position devant son coéquipier et la Ducati de Davide Giugliano. Tenté de prendre l'ascendant sur Tom Sykes, Jonathan Rea conserve sa deuxième place alors que Michael van der Mark passe Davide Giugliano pour la troisième position. Le pilote Honda se montre alors insistant sur le Champion en titre au virage 2 avant de revoir ses objectifs à la baisse et de se contenter de cette troisième place devant le duo Ducati mené par Chaz Davies.
Nicky Hayden réduit l'écart avec le groupe de tête et rejoint les deux Ducati pour se mêler à la lutte pour le podium et la victoire. Observateur sur quelques tours, le Champion du Monde MotoGP 2006 tente une première attaque au premier virage sur Davide Giugliano, mais le pilote italien réplique aussitôt et maintient son rival américain en sixième position. À 12 tours de l'arrivée, Sykes élargit au quatrième virage, laissant ainsi la porte ouverte à son coéquipier pour prendre la tête de la course. Michael van der Mark et Chaz Davies en profitent aussi, le pilote Honda se permettant même de s'emparer du commandement d'un groupe de sept pilotes complété par la Yamaha de Sylvain Guintoli.
Jordi Torres, pilote Althea BMW qui s'élançait depuis la 12e position sur la grille en raison d'une blessure au coude, est le chef de file du groupe des poursuivants. Devant, Giugliano tente un dépassement un peu trop optimiste sur Sykes et touche sa roue arrière. Cette manoeuvre profite ainsi à Nicky Hayden et Sylvain Guintoli qui place la nouvelle Yamaha YZF R1 en cinquième position. Le groupe de tête est alors divisé en deux parties avec Van der Mark, Rea, Davies et Hayden suivis par Guintoli, Giugliano et Sykes. À ce moment, Nicky Hayden est le pilote le plus rapide en piste. Jonathan Rea décide de prendre l'avantage sur Michael van der Mark et tente de creuser l'écart accompagné par Chaz Davies. Van der Mark n'abandonne pas et tente de suivre le rythme.
Davies tente un premier assaut au virage 4 obligeant la Kawasaki à s'écarter. Rea réplique quelques virages plus tard et ferme toutes les portes. Au quatrième virage, lieu de nombreux dépassements, Davies veut prendre sa revanche de la première course et porte une attaque sur le Champion en titre. Un peu trop optimiste, le pilote Ducati part à la faute et laisse toute chance de victoire s'envoler.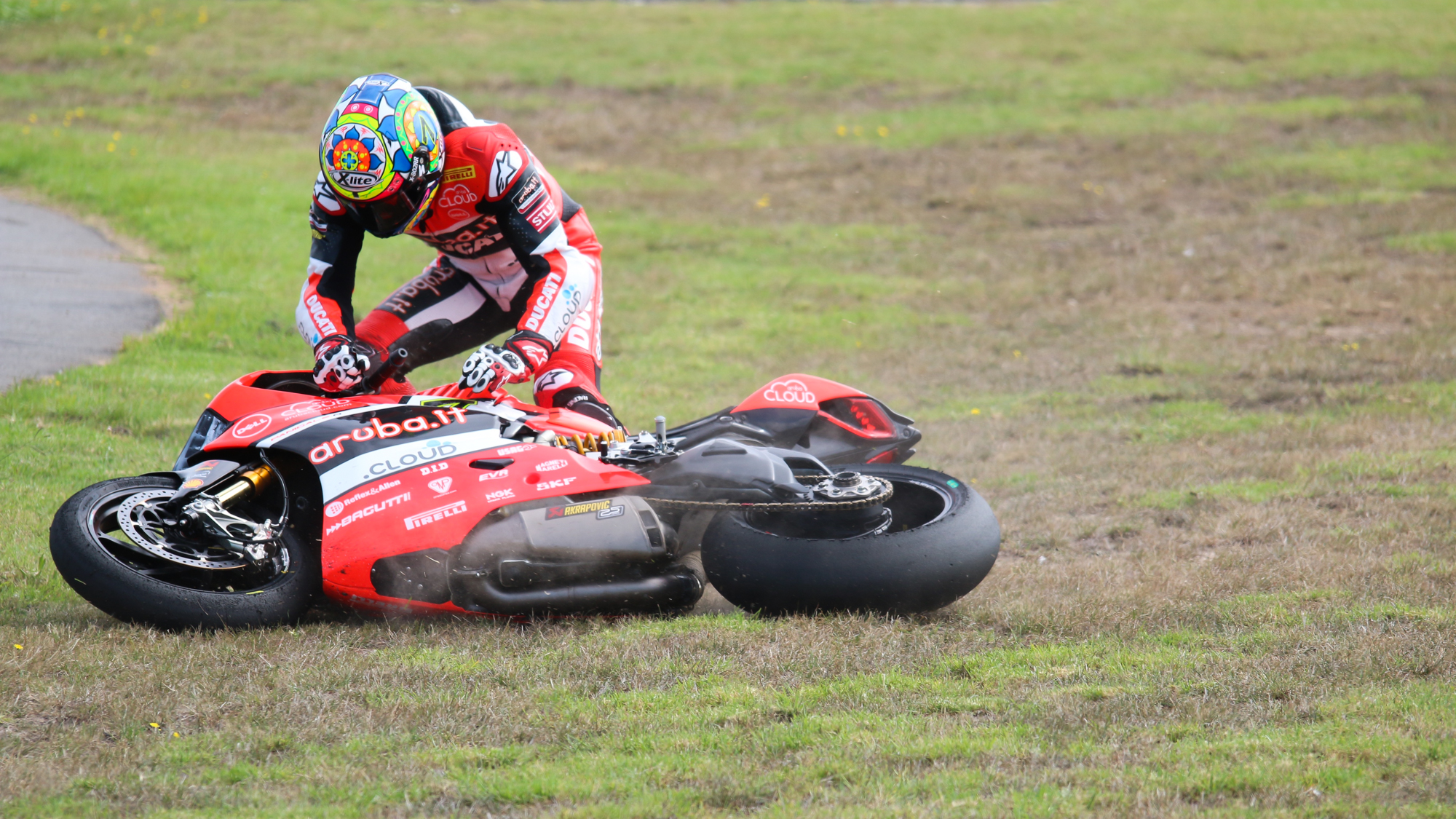 Rea se retrouve seul en tête devant Van Der Mark et son coéquipier Nicky Hayden. L'Américain, souffrant d'un problème à l'avant hier, semble avoir résolu ce problème. Dans le sillage de la Ducati de Davide Giugliano, le pilote Honda ne pourra rien faire. Giugliano prend l'avantage dans le dernier virage et relègue Hayden au pied du podium.
Le paddock WorldSBK se rendra en Thaïlande sur le tracé de Buriram pour la prochaine manche, tracé sur lequel Rea avait signé son premier doublé de la saison 2015. Le Champion en titre tentera de réitérer cet exploit face à tous ses adversaires qui tenteront de l'empêcher de devenir le premier pilote Champion du Monde deux fois consécutives.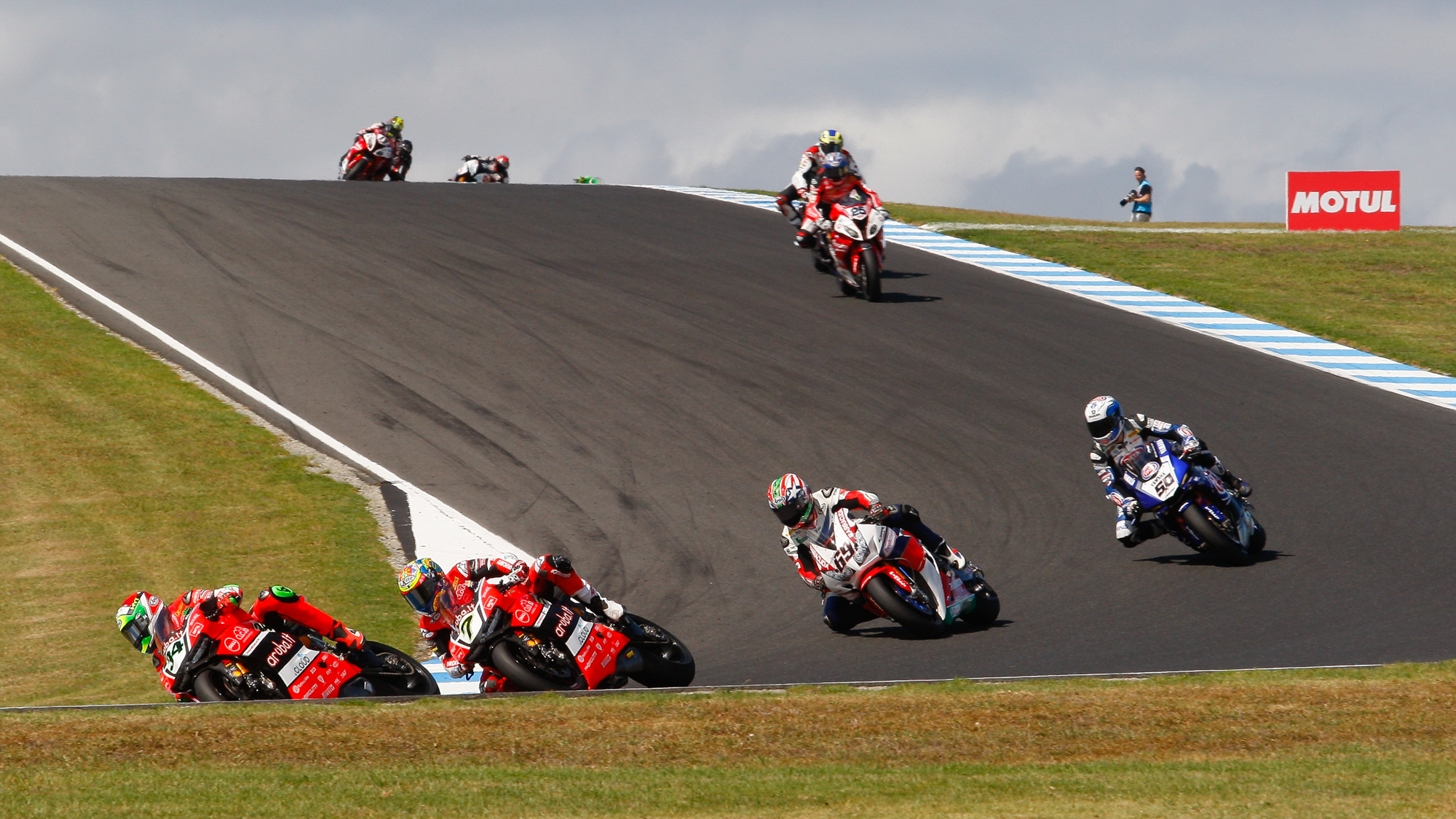 Reigning Champion Jonathan Rea took the first double win at Phillip Island since Carlos Checa in 2011 today as key title rival and last year's runner up Chaz Davies fought hard on the final lap, in the end losing the front into Turn 4.
It was Tom Sykes on his ZX-10R who got the best launch off the line from pole, with teammate Jonny Rea taking Ducati's Davide Giugliano by the time the WorldSBK field first launched through the Southern Loop. After briefly challenging for the lead, Rea then settled into second as Michael Van Der Mark made a move to take P3 from Giugliano. The Flying Dutchman then had a look down the inside of Rea into T2 before thinking better of it and holding position, the two Ducatis then lead by Chaz Davies close behind and ready to pounce.
Nicky Hayden, initially staring down a gap to the front group, then clawed back the time to the Ducati in front of him and tagged onto the front group. After a few laps staying with those in front, the Kentucky Kid then made a move into T1, Giugliano initially pushed back into P6 until the Italian fought back later in the lap. Hayden took him back once again, before the Ducati rider managed to cut back inside again and claim P5.
With 12 laps to go, Sykes ran wide into T4, opening the door for teammate Rea to go through for the lead. Michael Van Der Mark and Chaz Davies needed no invitation to follow the reigning Champion through and with Michael Van Der Mark then taking the lead from Rea into T1, the young Honda rider then kept the position and led the group of seven riders now joined by Yamaha's Sylvain Guintoli.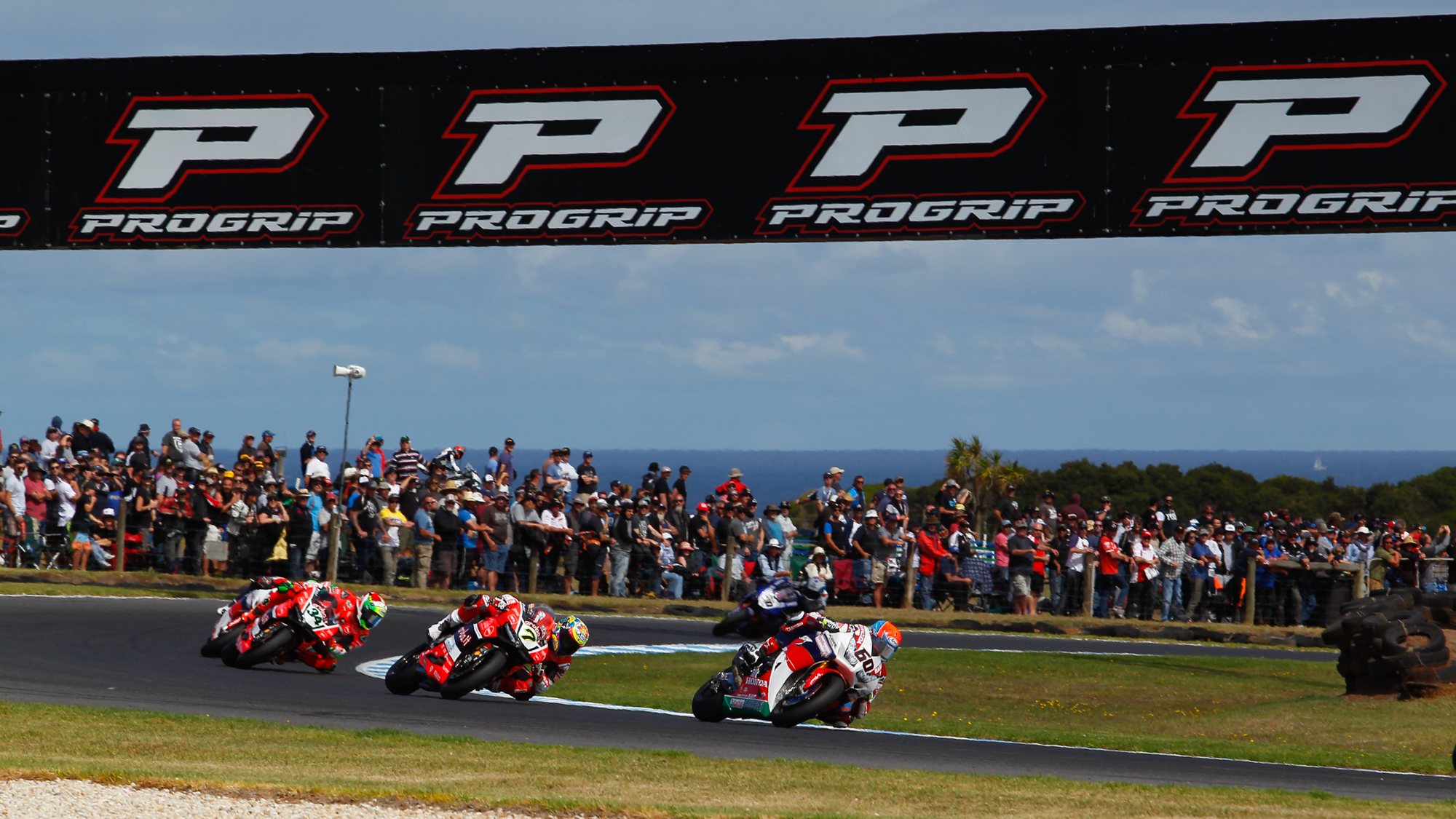 Althea BMW rider Jordi Torres, starting from P12 after an injury in testing, was the rider leading the charge to catch up by the time Giugliano attempted a pass on Sykes and clipped the Yorkshireman's back wheel. Pushing both the Kawasaki in front and his own Ducati wide, the move from the Italian saw Nicky Hayden and Sylvain Guintoli given the green light to take them both, the Frenchman's opportunism to grab the position pushing the new Yamaha YZF R1 into the top 5. With the leaders then split into two groups: Van Der Mark, Rea, Davies and Hayden followed by Guintoli, Giugliano and Sykes, Nicky Hayden was the rider setting the best lap times before Rea took Van Der Mark for the lead. That made the field close up once again before Rea and Davies made an initial break for it, Van Der Mark trying to stay with them, and the battle in the final laps seemed the decisive factor in which of yesterday's podium sitters in Race 1 would be on the top step today.
Davies then took Rea into T4, pushing the Kawasaki rider wide, before Rea fought back into T1 and blocked the line for his rival in any attempt to repass him into the Southern Loop. Turn 4 looked set to be the scene of another attack on the final lap after that first successful rehearsal, and sure enough Ducati rider Davies tried the move again, unwilling to settle for another P2 after being beaten by big title rival Rea in Race 1. Davies, determined to at least try, found himself sliding off the track into the gravel as the ambition of the move outweighed his stopping distance, sadly seeing the chance of victory slip away.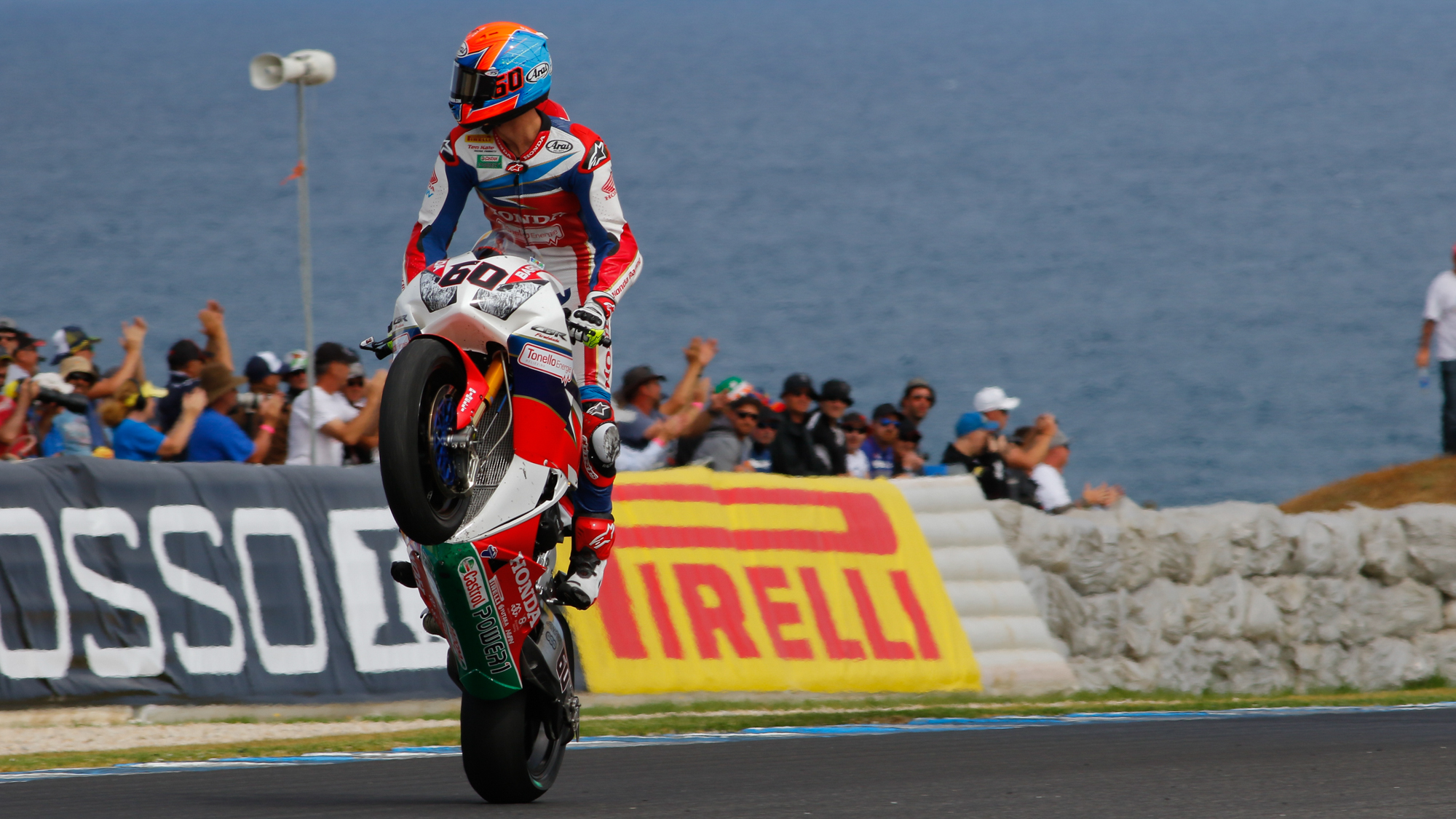 That left Rea out in front of Van Der Mark and the Dutchman's American teammate Nicky Hayden hanging onto third, the Kentucky rookie having improved his management of the Pirelli tyres significantly since his first race and setting very competitive lap times. Stalked by Ducati rider Giugliano throughout the next few corners, it seemed the MotoGP Legend was set for his first podium on his first race weekend in WorldSBK, until Giugliano somehow found space to go past with a spectacular move to just pip the American to the podium.
Buriram is now the next stop for WorldSBK as the paddock heads north to Thailand, the scene of Rea's first double of 2015, and those chasing the reigning Champion will be sure to fight hard once again as they try and stop the Northern Irishman in his bid to be the first back to back Champion of the new Millenium.