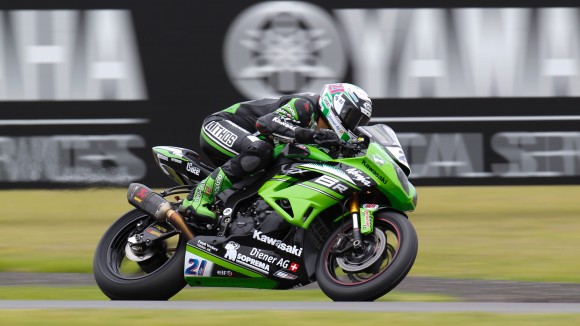 Le débutant suisse, Randy Krummenacher, s'est emparé de la victoire WorldSSP à Phillip Island devant l'ancien pilote STK600 Federico Caricasulo et l'invité Anthony West qui complète le podium.
Le pilote Honda, PJ Jacobsen, prend le meilleur départ depuis la deuxième place sur la grille, laissant le duo Puccetti, Krummenacher et Sofuoglu, se battre face à Caricasulo durant le premier tour. Le groupe de tête se détache. Jules Cluzel, qui a connu un week-end difficile pour son retour en course, signe un excellent départ depuis la huitième position, pour pointer en tête en seulement quelques tours.
Anthony West, wildcard, se joint au groupe de tête malgré avoir manqué la toute première Tissot-Superpole 2 hier. L'Australien parvient même à prendre la tête du groupe et à se battre pour une place sur le podium, avant devoir concéder deux places de pénalité. Heureusement, le pilote local obéit rapidement à cette sanction et se retrouve derrière les pilotes de tête.
Au neuvième tour, Jules Cluzel fait un passage par le bac à graviers et laisse la porte ouverte au Champion Sofuoglu et West pour la victoire. Décidé à décrocher la victoire, West ne lâche rien face au pilote turc, mais perd l'avantage. Le pilote australien est alors délaissé par le pilote Puccetti.
La pluie vient alors perturber les hostilités sur les deux premiers secteurs, mais Sofuoglu continue d'accroitre l'écart sur les poursuivants. Le pilote Kawasaki bat ses meilleurs temps malgré les conditions. Krummenacher suit la même dynamique que son coéquipier jusqu'au moment où celui-ci rencontre un problème de pneus au quinzième tour et chute au virage 6.
Anthony West, qui a déjà remporté des courses aussi bien en WorldSSP qu'en Moto2, se retrouve à la lutte face à Federico Caricasulo dans les derniers tours pour la deuxième marche du podium. Dans le dernier tour, alors que Krummenacher s'envole vers la victoire, West mène les hostilités face à l'Italien. Caricasulo prend toutefois l'avantage à l'aspiration dans la dernière ligne droite et bat l'Australien sur ses terres avec seulement 0.014 seconde d'avance.
Krummenacher mène désormais le Championnat après sa première course WorldSSP, mais il est certain que son coéquipier n'a pas dit son dernier mot et viendra prendre sa revanche en Thaïlande.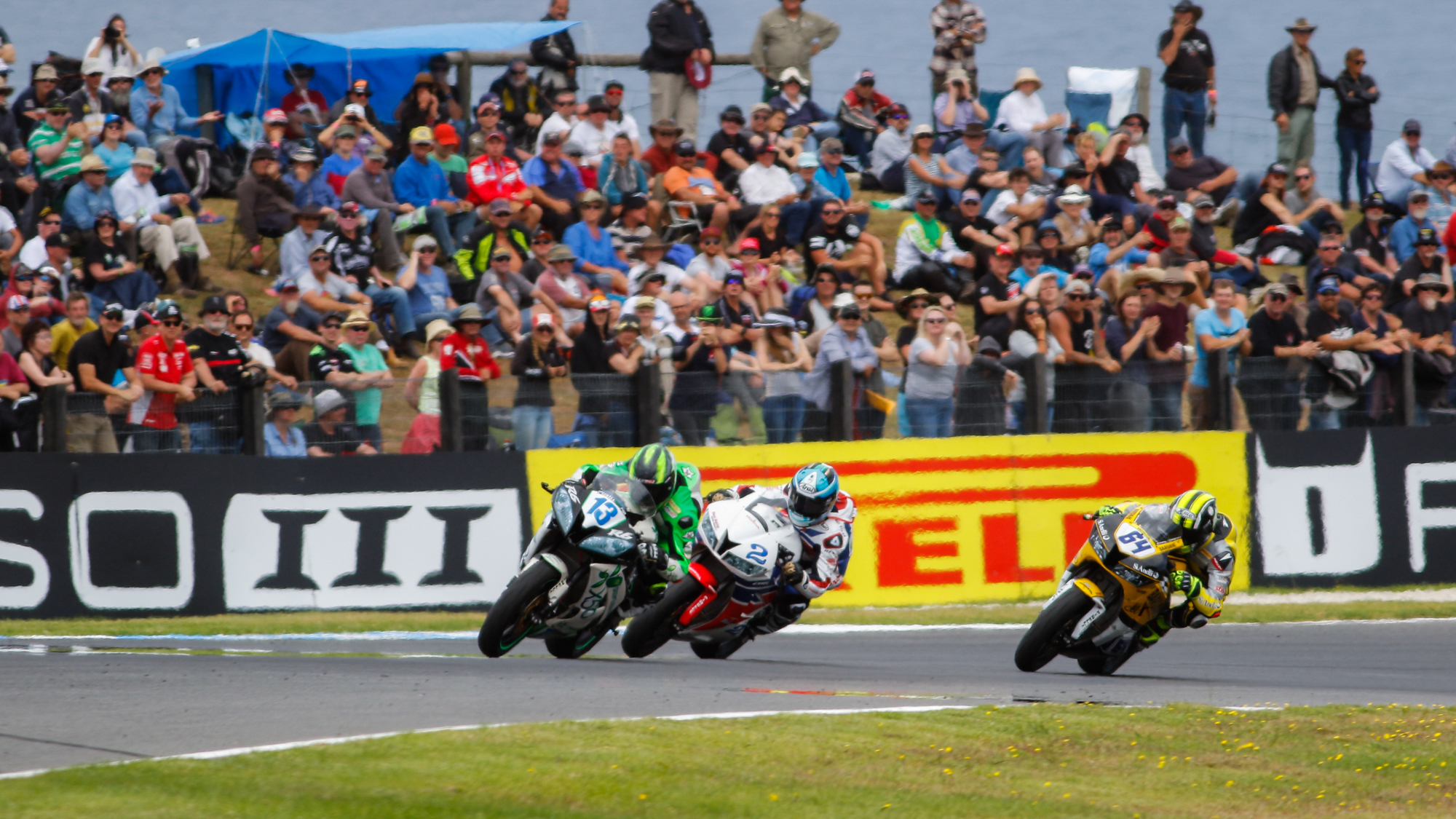 Swiss rookie Randy Krummenacher has taken victory in the WorldSSP race at Phillip Island, beating STK600 graduate Federico Caricasulo and wildcard Anthony West to the top step of the podium.
Honda's PJ Jacobsen got the best start from P2 on the front row of the grid, leaving the Puccetti pair of Krummenacher and Sofuoglu to squabble with Caricasulo around the first couple of corners until the long train of the lead group started to break away. MV Agusta rider Jules Cluzel, who has suffered a difficult weekend on his return to the WorldSSP grid after being ruled out of the end of 2015 due to injury, got an incredible start from P8 and hit the front only a couple of laps later as the real battle began and the breakaway group started to pull away.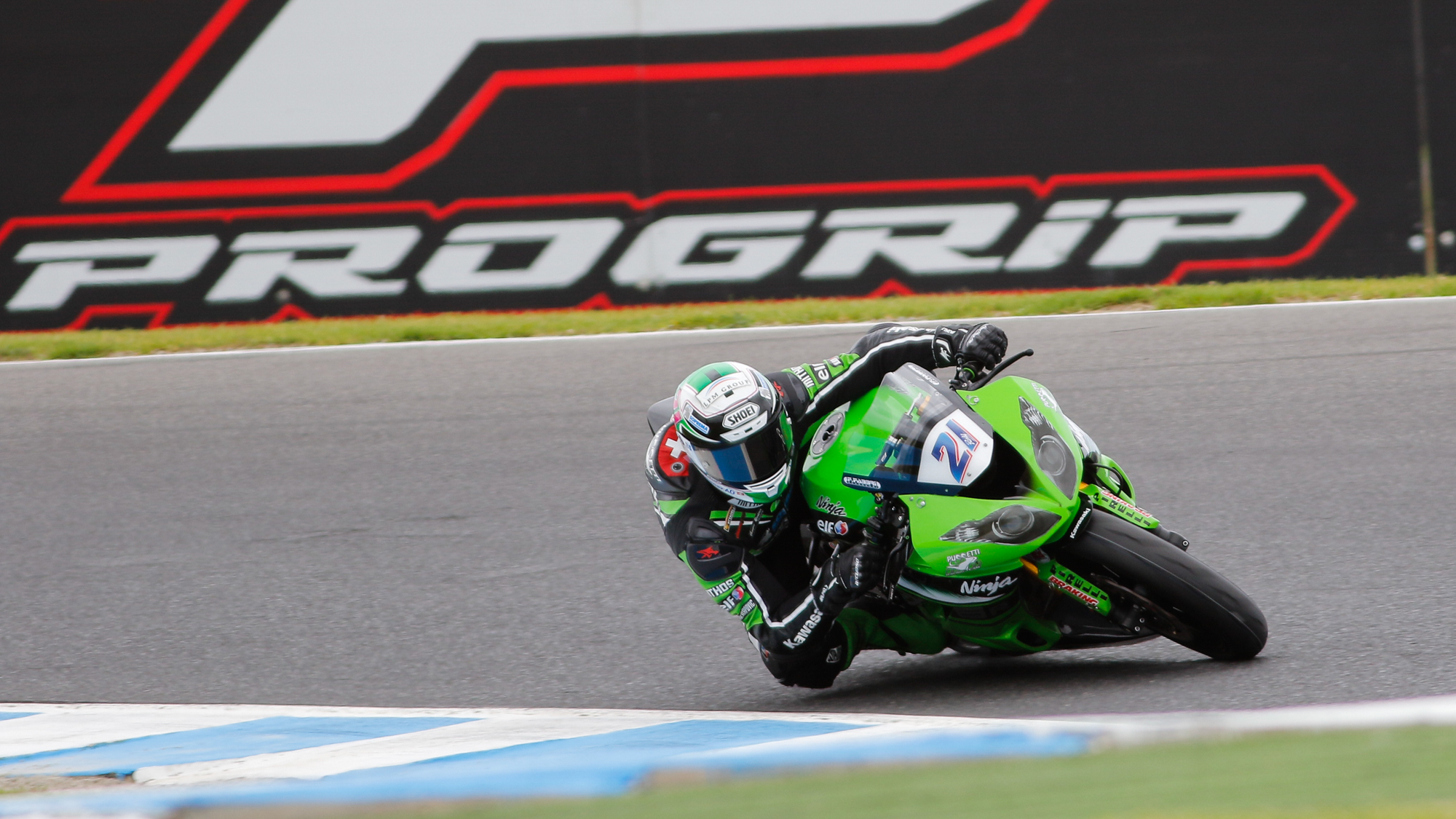 Wildcard Anthony West was another rider who gained a lot off the start, joining the lead group after just missing out on entry to the first ever Tissot-Superpole 2 yesterday. The Australian managed to keep the lead pace of the front group, battling for podium positions, before taking the lead of the race just after being informed that he had to drop two positions for an earlier infringement. Luckily seeing the sign and obeying the ruling, the Aussie rider dropped back from the lead and back into the battle behind. That battle saw some hard moves making sure none of the riders could escape at the front.
On lap 9, Jules Cluzel ran into the gravel and opened the door for a duel between reigning Champion Sofuoglu and wildcard West. Not wanting to let the Turkish rider escape, West fought hard before eventually having to concede the pace advantage of the Puccetti rider, who began to pull away and create a gap to the group behind.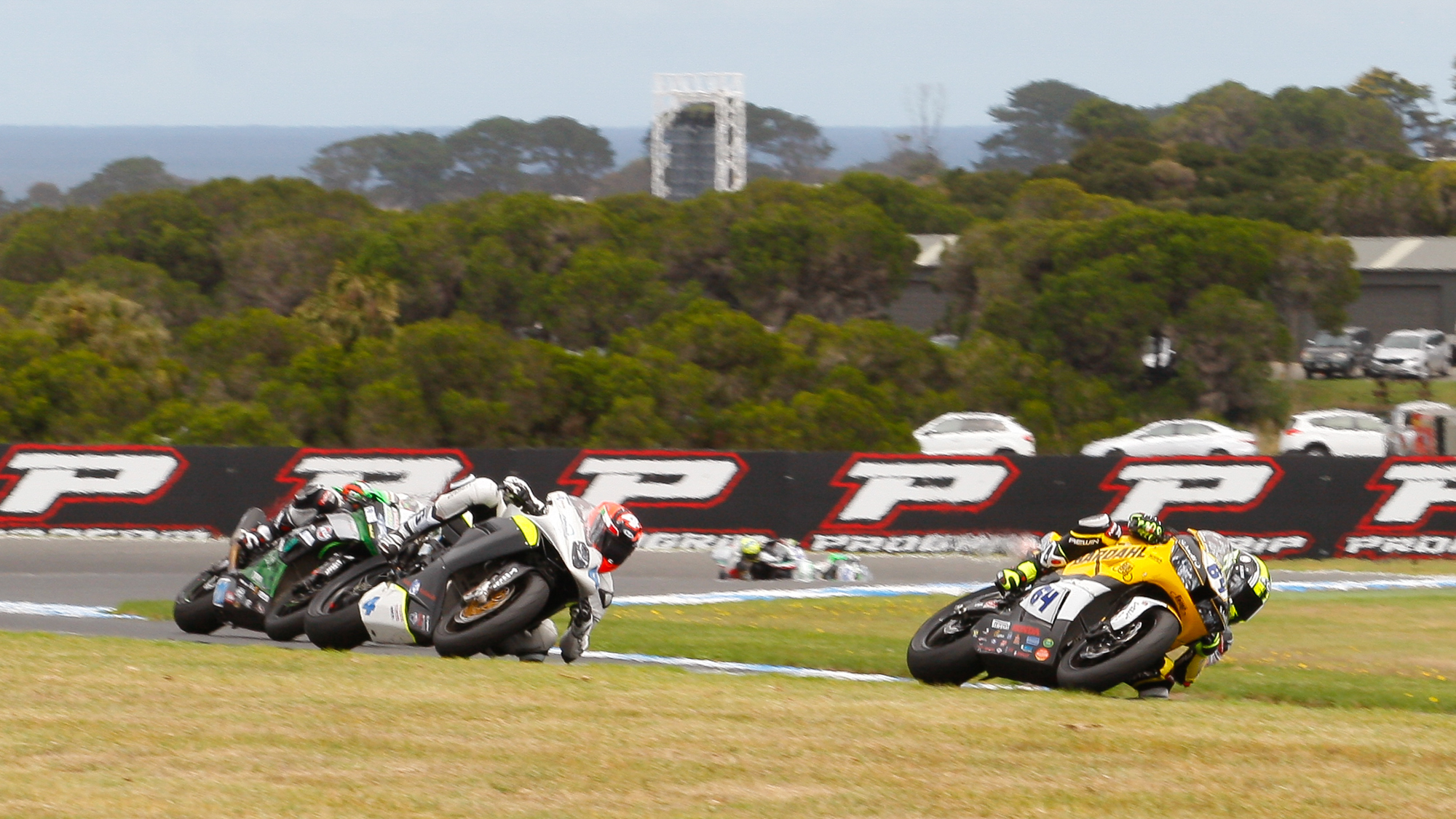 Rain
began to fall lightly in the first two sectors, but Sofuoglu continued to make a gap to those behind, the Turkish rider dropping his times even as conditions worsened. Krummenacher then began to respond, until reigning Champion Sofuoglu had a tyre problem on Lap 15, lowsiding into the gravel at Turn 6. That left teammate Krummenacher to inherit a well-deserved lead after managing the conditions perfectly and still staying ahead of the chasing pack.
Wildcard Anthony West, who has previously won in races in both WorldSSP and Moto2, was left in a battle over the last few laps with Caricasulo, positions switching and both riders fighting hard over what had become a chance at P2 in the race. On the final lap, as Krummenacher crossed the line more than two seconds clear of the rest of the field, the Australian and the Italian went head to head, with West riding as defensively as possible and maintaining his grip on P2 for the majority of the lap. Caricasulo ran out of other options once the riders were through Turn 11, the result then dependent on the run to the line and getting good drive out of the final corner, all eyes on the line.
West, with track position as they straightened up for the final push to the finish, tucked in for the dash to the line as Caricasulo took the slipstream. Almost side-by-side down the first part of the straight, it was the Italian rookie who made it over the line in front, his bike crossing the line only 0.014seconds ahead of that of wildcard West.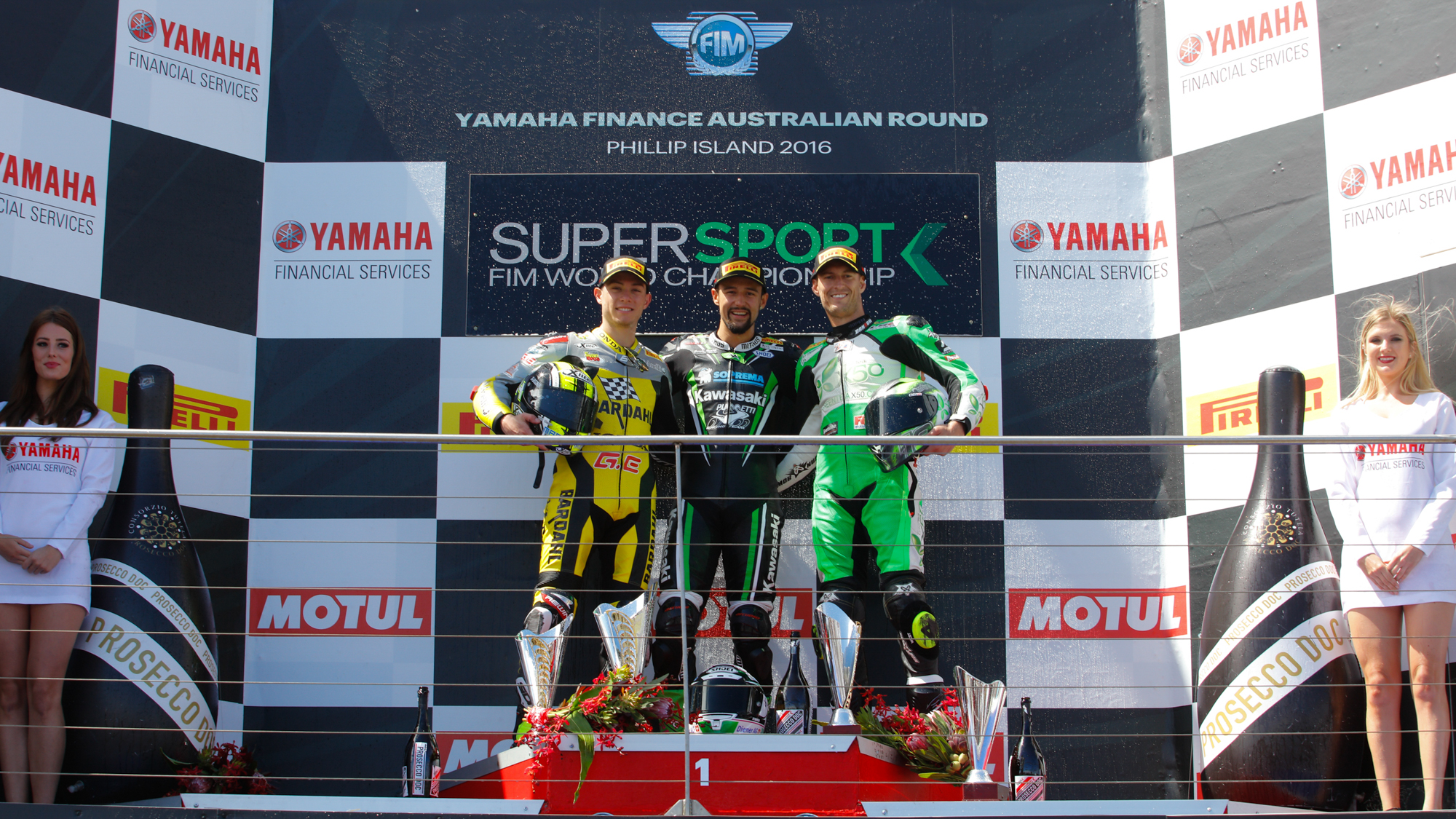 Krummenacher now leads the Championship after his first race in WorldSSP, but teammate and reigning Champion Sofuoglu is sure to hit back soon, looking to turn his incredible pace in practice into a win next time out in Thailand.