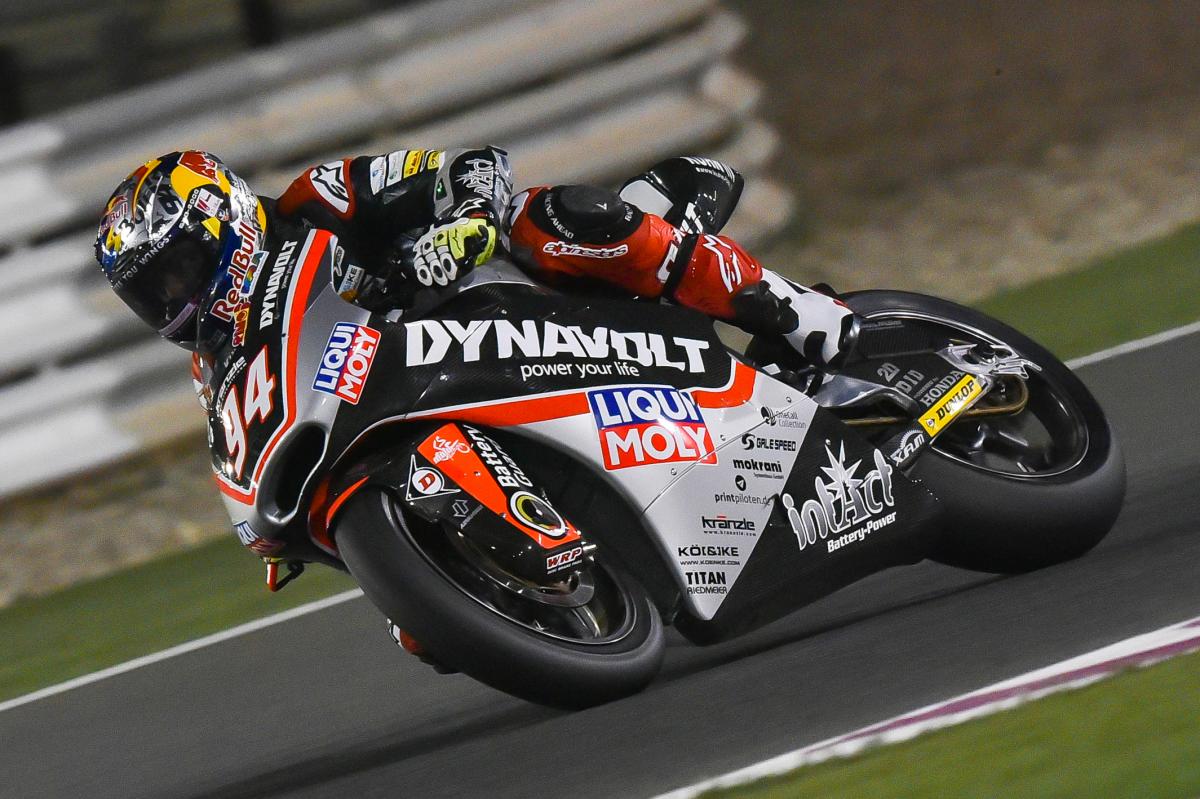 Jonas Folger sera en pole position au Qatar après avoir battu Sam Lowes et Álex Rins en qualifications.
Vainqueur à Losail l'an dernier, Jonas Folger (Dynavolt Intaact GP) sera en pole position cette année pour viser un nouveau succès sur l'épreuve qatarie. Présent aux avant-postes dès le début des essais libres, le pilote allemand s'est rapidement installé en pole provisoire avec un chrono de 1'59.052, qui est le nouveau record absolu du circuit et qui lui a valu la sixième pole position de sa carrière.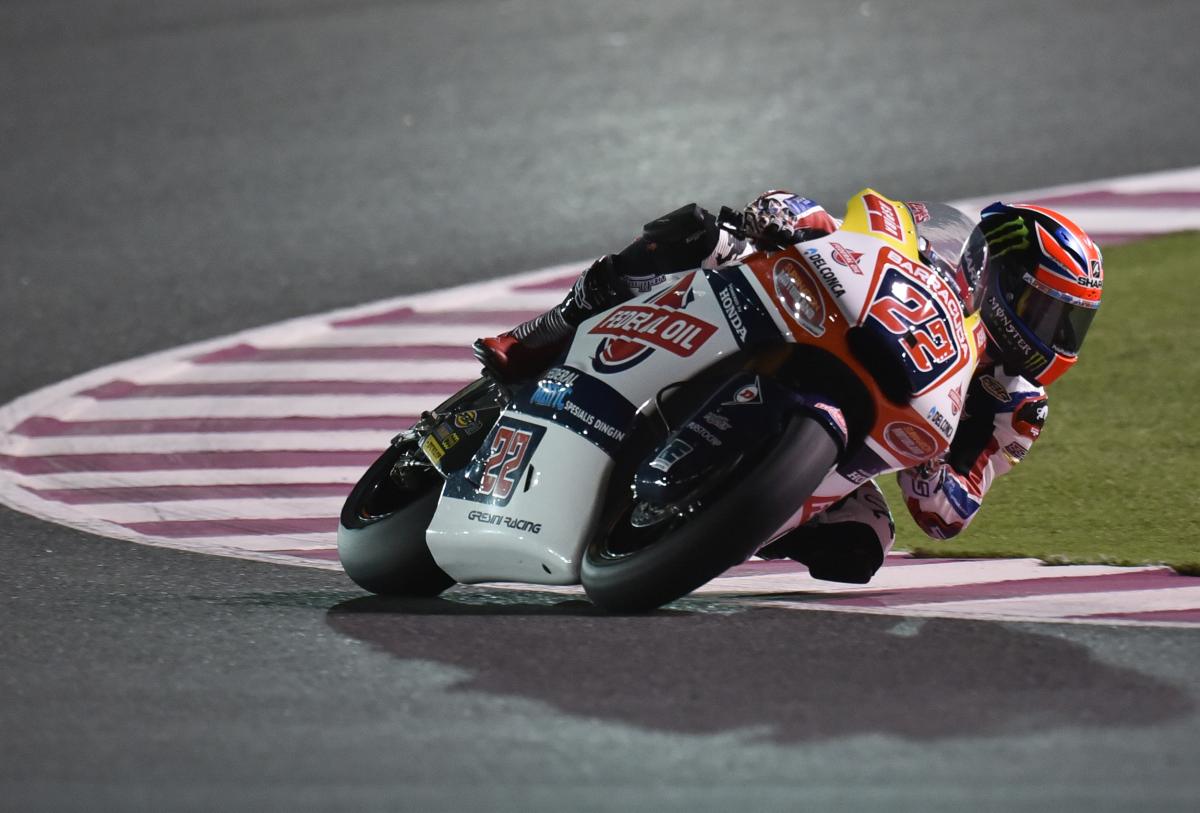 Sam Lowes (Federal Oil Gresini Moto2) a de son coté signé le deuxième temps et terminait à moins d'un dixième de seconde de la pole tandis qu'Álex Rins (Páginas Amarillas HP 40) a conservé la troisième position après sa chute dans le virage n°2.
Johann Zarco (Ajo Motorsport), le Champion en titre, est lui aussi passé sous l'ancien record absolu du circuit mais devra se contenter de partir en tête de la deuxième ligne, en compagnie de Franco Morbidelli (Estrella Galicia 0,0 Marc VDS) et de Sandro Cortese (Dynavolt Intact GP).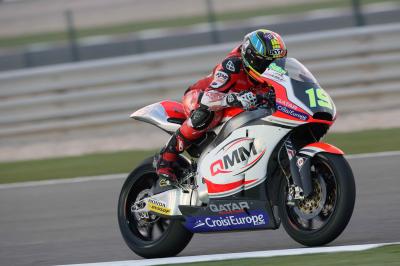 Tombé dans le virage n°2 en fin de séance, au même endroit que Rins, Lorenzo Baldassarri (Forward Team) devait mener la troisième ligne, devant Marcel Schrötter (AGR Team), troisième Allemand classé dans le Top 9, et Takaaki Nakagami (Idemitsu Honda Team Asia). L'Italien s'est cependant luxé les deux épaules et ne pourra pas participer à la course.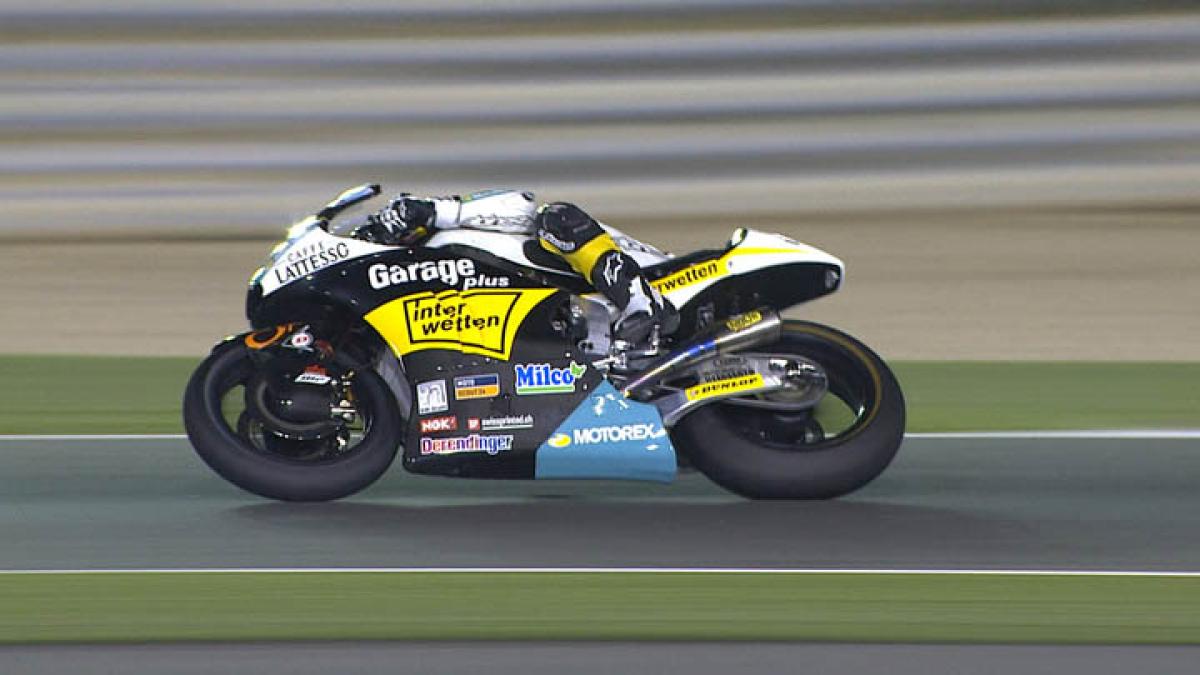 Tom Lüthi (Garage Plus Interwetten) ne sera que dixième sur la grille de départ alors qu'il avait été parmi les plus rapides en début de semaine et a échoué à 0.858s de la pole position. Il retrouvera en troisième ligne l'Anglais Danny Kent (Leopard Racing), de retour dans la catégorie après avoir été titré en Moto3™ en 2015, et Axel Pons (AGR Team).
Le départ de la course Moto2™ sera donné dimanche à 19h20, heure locale. Un rendez-vous à suivre en direct sur motogp.com.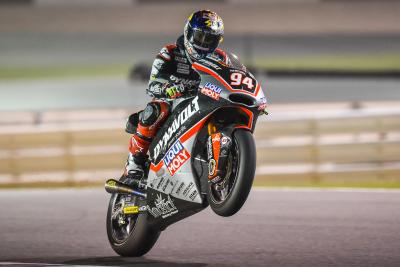 Times began to fall almost immediately in the desert, Folger securing pole position in front of Lowes and Rins.
Almost as soon as riders in the Moto2™ World Championship hit the Losail International Circuit, times began to plummet. Sam Lowes' (Federal Oil Gresini Moto2) best time from Friday practice, a new lap record, was bested by Jonas Folger (Dynavolt Intact GP) on the German's third lap.
The top ten contenders were able to consistently lap in the 1'59s lap after lap, even as traffic increased towards the end of the session. As has been the trend in Moto2™ in recent years, early banker laps proved invaluable as two of the top three riders set their fastest time within their first five laps.
On pole for just the second time in his intermediate class career, Jonas Folger's early lap proved unbeatable as the German set a new pole record with a 1'59.052. Folger's previous pole came at the French GP in 2014, starting on the front row a further three times in 2015.
0.072s behind the German was Lowes, the Brit unable to repeat his 2015 pole but still improving his best time to a 1'59.124. Lowes will be looking to add to his five previous podium finishes in the intermediate class. Throughout the weekend Lowes has been quick over multiple laps as well as one offs, frequently setting his best times at the end of longer runs.
Completing the front row is Alex Rins (Paginas Amarillas HP 40), setting a 1'59.354 on his third lap. The Spaniard was unable to improve after he suffered a bike crunching crash at Turn 2, his Kalex tumbling through the gravel after losing the front. His team worked feverishly to repair the bike, sending him back out with just five minutes remaining.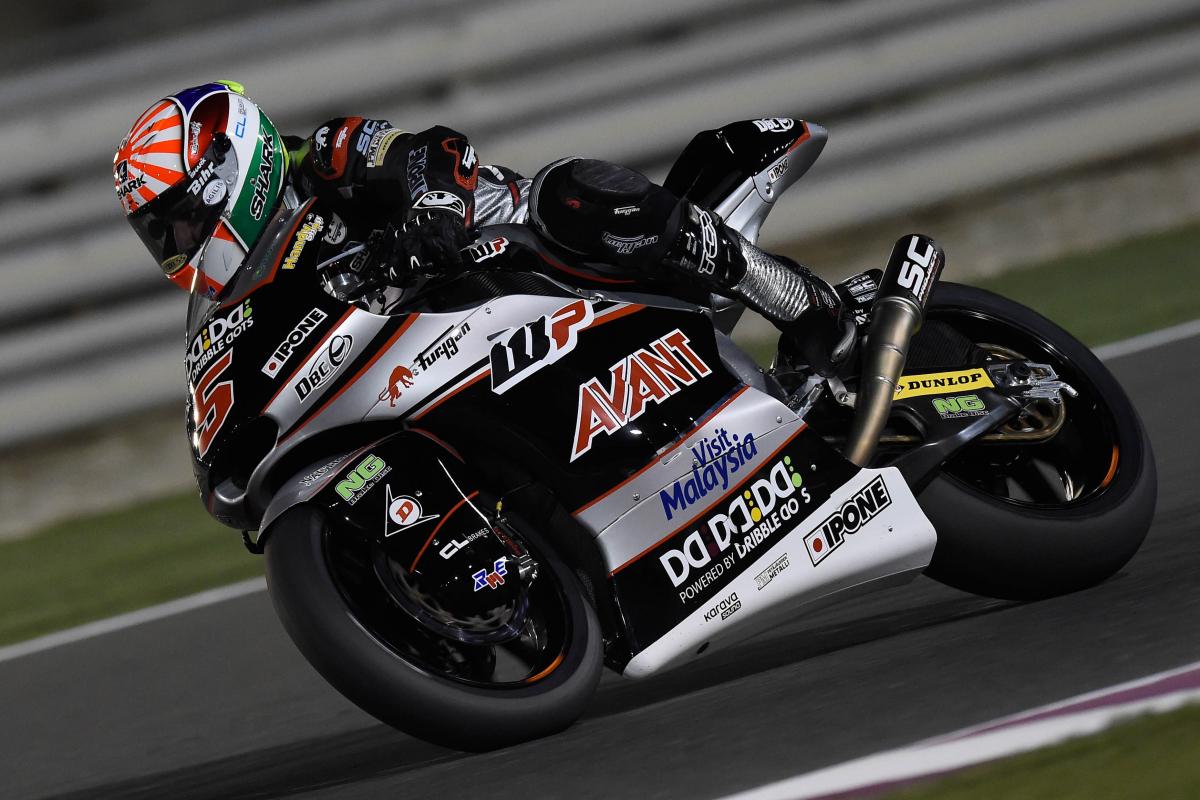 Reigning Moto2™ World Champion, Johann Zarco (Ajo Motorsport) wrestled his way up to fourth on his last lap, only 0.065s off a front row start. No defending Moto2™ champion has ever taken victory in the opening race of the year, the Frenchman aims to change that on Sunday.
Fifth was Franco Morbidelli (Estrella Galicia 0,0 Marc VDS), the Italian initially struggling during testing and practice with his new team. But when it mattered the Italian was able to produce a 1'59.509 and end 0.457s back on pole. One thing is certain for Sunday's race; Morbidelli's aggressive all or nothing style will see him towards the front for at least part of the race.
Sandro Cortese (Dynavolt Intact GP), Lorenzo Baldassarri (Forward Team), Marcel Schrotter (AGR Team), Takaaki Nakagami (Idemitsu Team Asia) and Tom Luthi (Garage Plus Interwetten) completed the top ten.
There was an early involving both Luca Marini (Forward Team) and Ratthapark Wilairot (Idemitsu Team Asia) at Turn 16. Both were unhurt but Marini's session was reduced to just five minutes.
Mattia Pasini (Italtrans Racing Team) also suffered his second fall of the weekend at Turn 1. Rins was not the only victim of Turn 2, Lorenzo Baldassarri falling at the same corner with one minute remaining. Baldassarri was taken to the medical centre for checks after his crash. He was declared unfit due to dislocating both his shoulders.
The first race of the year will take place at 19:20 Local Time for the Moto2™ World Championship on Sunday the 20th of March. With the top five split by half a second, who will win is still anyone's guess.
Full results from Moto2™ Qualifying can be viewed here.