Le Champion World Superbike 2013 remporte sa première victoire de la saison sur le Chang International Circuit.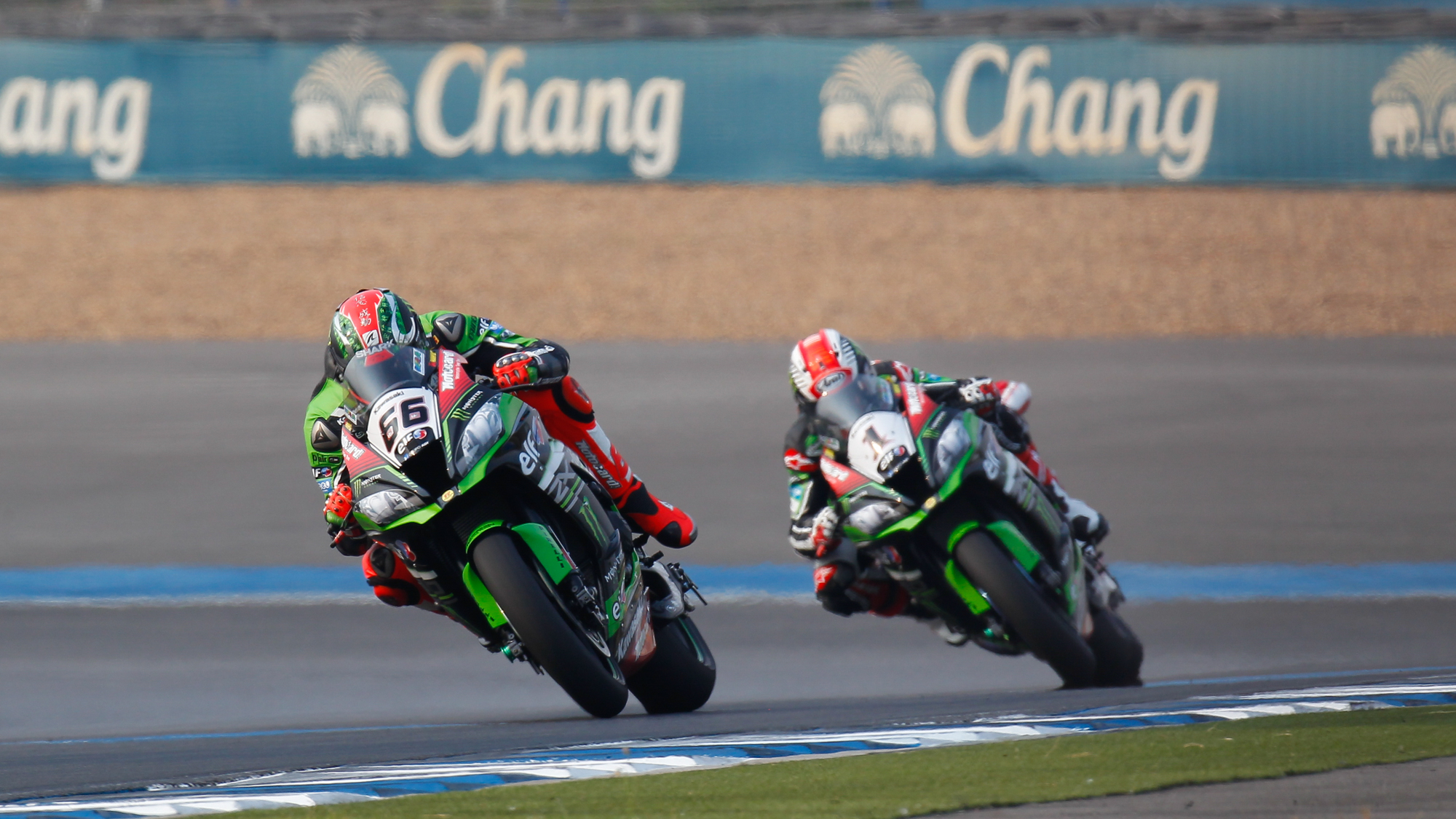 Au terme d'une course disputée jusqu'au dernier virage, Tom Sykes remporte la deuxième course du Motul Thai Round à Buriram. Jonathan Rea et Chaz Davies complètent le podium.
Tom Sykes vire en tête dès le premier virage devant la Honda de Michael van der Mark. Jonathan Rea prend immédiatement l'ascendant sur le néerlandais pour revenir dans le sillage de son coéquipier. En quelques virages, le duo Kawasaki creuse déjà l'écart. Michael van der Mark et Chaz Davies tentent de suivre le rythme imposé par les deux leaders, en vain : Rea compte près de 1.7 seconde d'avance après sept tours bouclés.
Les deux Yamaha officielles sont embuscade à l'avantage de Sylvain Guintoli devant Alex Lowes, Nicky Hayden et Davide Giugliano.
En tête, le Champion en titre se calque sur les trajectoires de son coéquipier et reste en observateur. À onze tours du drapeau à damier, Davies s'empare de la troisième position et tente de combler l'écart sur ses deux rivaux. Derrière, Alex Lowes est une nouvelle fois victime de malchance et doit abandonner. Hayden en profite pour prendre le commandement du groupe des poursuivants devant Guintoli et Torres.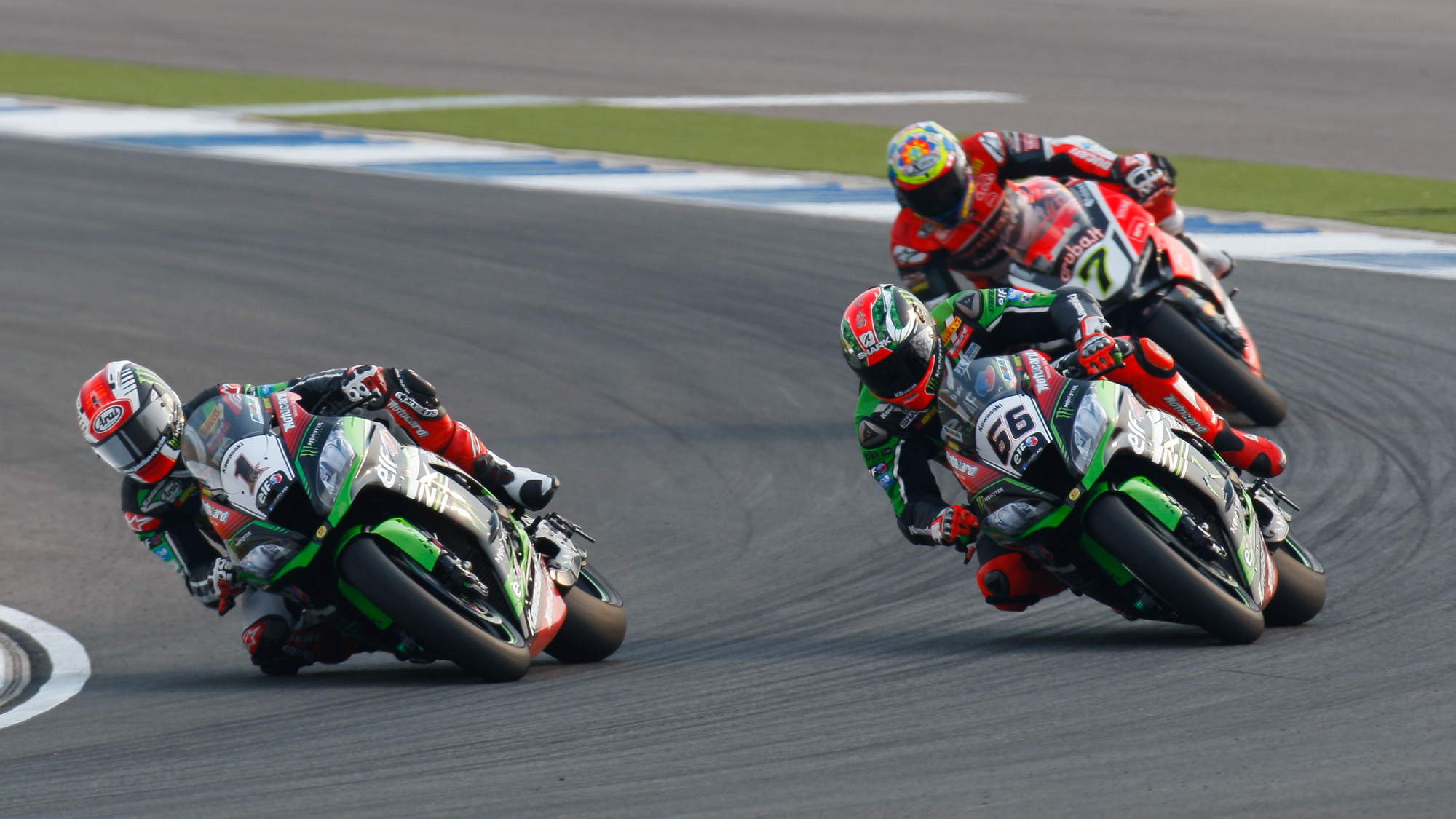 La lutte qui oppose les deux pilotes Kawasaki profite à Davies qui parvient à les rejoindre. À l'entame du treizième tour, Rea tente de prendre l'ascendant sur Sykes, mais le Champion en titre élargit la trajectoire et doit laisser passer son coéquipier et la Panigale R de Davies. À ce moment de la course, c'est pourtant Rea qui est le plus rapide en piste. Il reprend d'abord la deuxième place à cinq tours de l'arrivée et se retrouve dans la roue de Sykes.
Rea porte une première attaque dans l'avant-dernier, mais Sykes ne l'entend pas de cette oreille et réplique aussitôt. Le Champion WorldSBK 2013 tente de maintenir les assauts de son coéquipier sous le regard de Davies. Sykes ferme toutes les portes et réussit à se frayer un chemin jusqu'à la victoire. Rea et Davies complètent le podium devant le duo Honda, Van Der Mark et Nicky Hayden. Sylvain Guintoli place la Yamaha YZF R1 en 6e position devant le duo Althea BMW Markus Reiterberger et Jordi Torres. Lorenzo Savadori et Davide Giugliano complètent le top 10 de cette deuxième course.
Sylvain Barrier termine en 17e position derrière Josh Brookes et Karel Abraham.
Le paddock WorldSBK se donne désormais rendez-vous pour la première manche européene au MotorLand Aragon, lieu de la première victoire de Chaz Davies sur Ducati la saison dernière.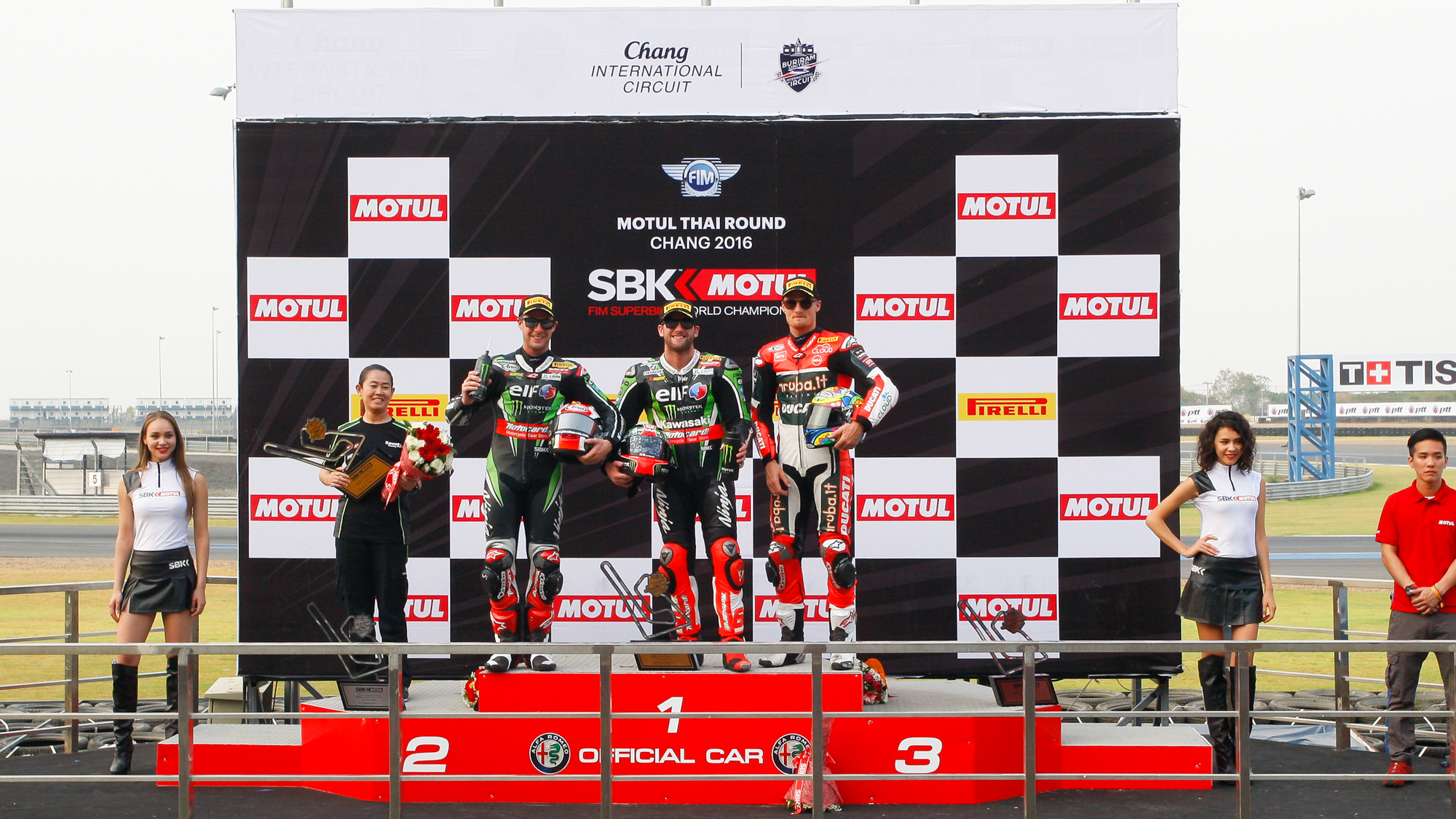 Three-way battle sees the number 66 triumph over teammate Rea
Kawasaki Racing Team's Tom Sykes has taken an incredible victory in a three-way fight for the win at Chang International Circuit in Thailand. The Yorkshireman was locked in a battle with teammate and reigning Champion Jonathan Rea and Aruba.it Racing – Ducati's Chaz Davies for most of the race, with some of the most electrifying maneuvers of the last few seasons exchanged between the three.
After an incredible start from both Kawasaki riders from P2 and P3, the first drama came when Honda rider Michael van der Mark and Ducati's Chaz Davies made contact on the first lap as they tousled for position, before van der Mark led them off to chase the Kawasaki Racing Team pair of Sykes and Rea. Davies then pounced on van der Mark, with the Honda rider struggling in some corners, and the Welsh Ducati rider was able to close the gap to Sykes and Rea, joining the three-way battle that rolled all the way to the line, with some incredibly close racing seeing the three riders leave nothing on the track. It was Sykes who came out on top, crossing the line just ahead of his teammate Rea, with Davies slotting into third after an incredibly tense last lap.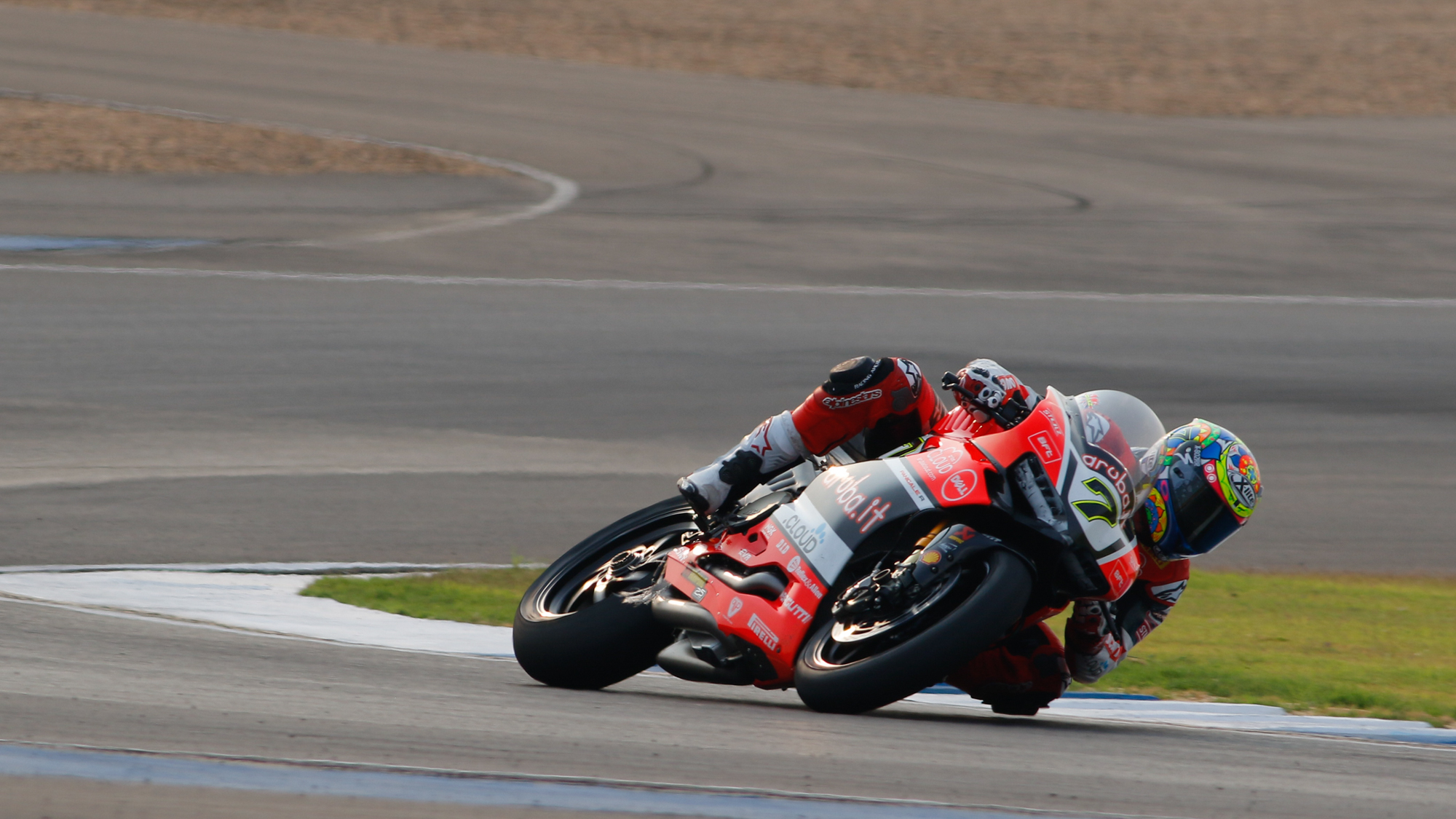 Van der Mark crossed the line in fourth to see himself off the podium for the first time in 2016, with the Dutchman going on an incredible run at the start of the year. After a mechanical problem in Race 1 saw his Honda teammate Nicky Hayden retire, the number 69 Honda crossed the line in Race 2 in 5th to keep both the Fireblades in the top 5.
Sylvain Guintoli brought the new YZF R1 home in seventh for another good result on the Japanese manufacturer's return to WorldSBK, ahead of the Althea BMW pair of Markus Reiterberger and Jordi Torres. Rookie Lorenzo Savadori brought Aprilia home in the top ten once again in P9, with that top ten completed by Ducati rider Davide Giugliano, who missed the Round through injury in 2015 and had a difficult second race at Chang International Circuit.
After seeing his teammate Rea dominate much of the 2015 season, the first strike in the fight back for Tom Sykes has landed in Thailand in Race 2, with the next chance for the reigning Champion to take back the win coming at MotorLand Aragon, the scene of the Davies' first Ducati win last season.