Márquez sera en pole à Austin pour la quatrième année consécutive et partira devant Jorge Lorenzo et Valentino Rossi.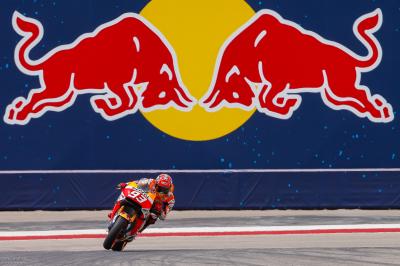 Invaincu au Texas depuis 2013 et dominateur depuis le début du week-end, Marc Márquez (Repsol Honda Team) a remporté une quatrième pole position consécutive au Circuit des Amériques, la soixantième de sa carrière, et ne compte désormais plus que deux poles de moins que Jorge Lorenzo (Movistar Yamaha MotoGP), détenteur du record toutes catégories confondes (62 pole positions) et seul pilote à avoir menacé sa pole position.
S'il avait commencé la séance avec ce qui était jusqu'alors le meilleur chrono du week-end et près de huit dixièmes de seconde d'avance sur Márquez, le Champion en titre a été battu par ce dernier dès le tour suivant, de 0.425s, et est ensuite, après avoir changé de pneus, revenu à 0.069s de son rival. Lorenzo manquait donc la pole d'un rien mais pourra être satisfait d'avoir pu inquiéter Márquez, habituellement intouchable sur le sol américain.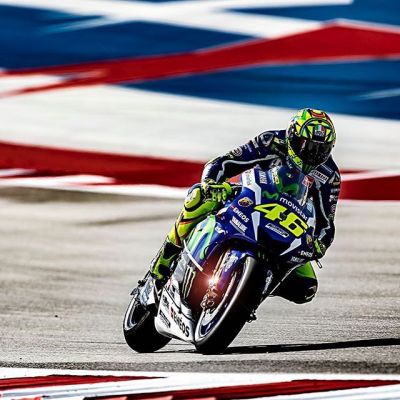 Son coéquipier Valentino Rossi (Movistar Yamaha MotoGP), qui comptabilise 61 pole positions et donc une de plus que Márquez, complètera la première ligne après avoir fini à 0.456s de ce dernier.
Andrea Iannone (Ducati Team) s'est qualifié en quatrième position et était, avec 0.725s de retard sur la pole, le seul autre pilote à moins d'une seconde du leader. L'Italien partagera la deuxième ligne avec Maverick Viñales (Team Suzuki Ecstar) et Cal Crutchlow (LCR Honda).
Andrea Dovizioso (Ducati Team), qui avait fini deuxième de l'épreuve en 2015, Dani Pedrosa (Repsol Honda Team) et Aleix Espargaró (Team Suzuki Ecstar), auteur d'une belle opération après avoir été deuxième en Q1, seront quant à eux en troisième ligne après avoir pris l'avantage sur Scott Redding (Octo Pramac Yakhnich), Bradley Smith (Monster Yamaha Tech3) et Loris Baz (Avintia Racing), qui participait à la Q2 pour la première fois et sera douzième sur la grille de départ, devant Pol Espargaró (Monster Yamaha Tech3) et Héctor Barberá (Avintia Racing).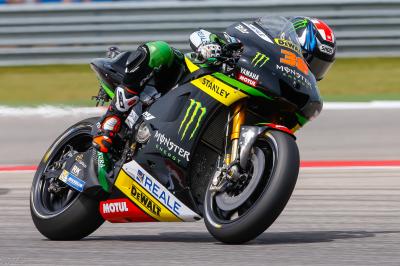 Souffrant d'une fracture du cinquième métatarsien du pied droit suite à sa chute de vendredi, Jack Miller (Estrella Galicia 0,0 Marc VDS) avait déclaré forfait avant les qualifications et espèrera récupérer au plus vite afin de faire son retour à Jerez, deux semaines après l'épreuve texane.
Marc Marquez remained undefeated at the Circuit of the Americas, securing pole position ahead of Lorenzo and Rossi.
The MotoGP™ World Championship headed out for a titanic 15 minute Q2 session. All eyes were on Marc Marquez (Repsol Honda Team) as he was expected to again walk the field at a track that he has made his own. The Spaniard opted for the softer option front and rear while Jorge Lorenzo (Movistar Yamaha MotoGP), Dani Pedrosa (Repsol Honda Team) and Cal Crutchlow (LCR) went with the medium front option.
It was Lorenzo who struck first, immediately setting a 2'03.613, the fastest lap of the weekend up to that point. Not only was this the fastest lap of the weekend, but it was also Lorenzo's first 2'03s, having only previously managed mid 2'04s.
But Marquez responded immediately and dropped to a 2'03.188, just over a second off his own pole record and 0.425s faster than Lorenzo's time. After their first runs were complete, Lorenzo was the only rider within a second of Marquez.
Their battled continued as Lorenzo dropped his time to a 2'03.257, 0.069s behind Marquez and the closest a rider had been to him throughout the entire weekend. Neither rider would be able to improve their time, despite getting tantalisingly close on multiple occasions.
This meant for the fourth consecutive year, Marc Marquez secured pole position at the Red Bull Grand Prix of the Americas. Not only did he continue his domination of the Texas track, but Marquez also claimed the 60th pole position of his career and will have his first back-to-back starts from pole since the German and Indianapolis GPs in 2015.
After a difficult start to the weekend, Lorenzo was relieved to take second place and gave the Marquez something to think about as he got within a tenth of him. It's clear the Majorcan has the pace to stick with Marquez for a lap, but can he do it over race distance?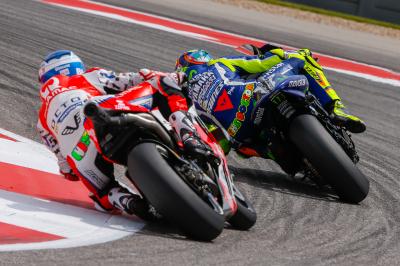 The gap was slightly larger to Valentino Rossi (Movistar Yamaha MotoGP) in third, the Italian 0.387s behind his teammate and 0.456s back on Marquez. He may not have challenged for pole, but Rossi remains adamant that the front row will allow him to stay with the leading duo. Interestingly, Rossi used his bike with winglets to secure third, one of the first times he has used the winglets to achieve a fast lap. This is Rossi's first back-to-back front row starts since the Malaysian and Australian GPs way back in 2013.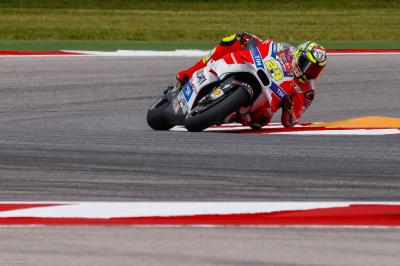 Fourth and leading the Ducati charge in the session was Andrea Iannone (Ducati Team). The Italian has been strong over the course of the weekend and he had been one of the few able to consistently get within a second of Marquez. Unfortunately Andrea Iannone will be demoted to seventh for Sunday's race as a result of his attempted last lap pass in Argentina.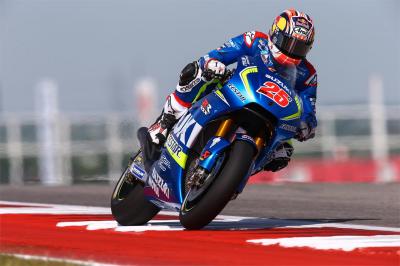 Maverick Viñales (Team Suzuki Ecstar) produced the fifth fastest time and will be moved to fourth as a result of Iannone's penalty. Back in 2015, Viñales started from 12th on the grid at COTA, riding to ninth in the race. If he can again gain at least three places in the race, Viñales could very well be looking at a first visit to the podium. The Circuit of the Americas was the scene of Viñales' first Moto2™ victory in 2014.
Sixth in the session and the leading Independent Team rider, Cal Crutchlow (LCR Honda) will move to fifth on the grid for Sunday's race. After two difficult opening rounds, Crutchlow is out to remain upright and score his first points of the year.
Andrea Dovizioso (Ducati Team), Dani Pedrosa (Repsol Honda Team), Aleix Espargaro (Team Suzuki Ecstar) and Scott Redding (Octo Pramac Yakhnich) completed the top ten. From Viñales in fifth to Loris Baz (Avintia Ducati) in 12th, under a second split the eight riders. While the leading four may be in a league of their own, the battle for the top ten looks tighter than ever.
Jack Miller (Estrella Galicia 0,0 Marc VDS) did not participate in Qualifying due to a broken fifth metatarsal in his right foot after a Friday fall. It was announced during the FP4 session that the Australian will miss the race and return to action in Jerez.
Full results can be viewed here.
The premier class battle commences at 14:00 Local Time on Sunday.