Le Français a remporté sa première victoire de l'année devant Sam Lowes et Jonas Folger à Termas de Río Hondo.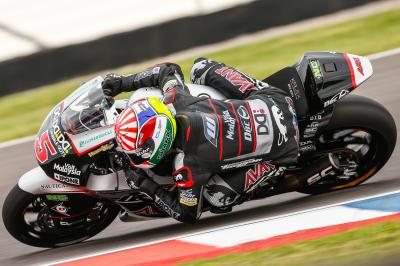 Pénalisé pour départ anticipé et douzième au Qatar lors de la première manche de la saison 2016, Johann Zarco (Ajo Motorsport) a redressé le tir en s'imposant à Termas de Río Hondo, où il avait l'an dernier remporté sa toute première victoire en Moto2™.
Deuxième sur la grille, le Français a conservé sa position au départ de la course et a suivi Jonas Folger (Dynavolt Intact GP) sur le premier tour avant que Sam Lowes (Federal Oil Gresini Moto2), parti en pole, ne s'empare de la tête deux tours plus tard.
Les trois pilotes et Franco Morbidelli (Estrella Galicia 0,0 Marc VDS) n'ont pas mis longtemps à faire la différence pour composer un groupe de tête à quatre, dans lequel Zarco a patienté jusqu'à la mi-course pour ensuite passer Lowes à dix tours de l'arrivée.
Une fois devant, le Champion en titre n'a plus été inquiété par ses poursuivants et a solidement mené pour signer sa neuvième victoire dans la catégorie Moto2™ et réaliser son premier salto de l'année devant le public argentin.
Derrière lui, Lowes a pris la seconde position devant Folger tandis que Morbidelli est tombé dans le virage 1 à deux tours de l'arrivée, alors qu'il tentait de revenir sur le Britannique.
Parti onzième, le vice-Champion Álex Rins (Páginas Amarillas HP 40) a perdu beaucoup de temps en début d'épreuve mais avait le même rythme que les leaders sur la seconde partie de la course et a pris la quatrième place, en finissant à trois secondes du podium.
Onze secondes derrière lui, Dominique Aegerter (CarXpert Interwetten) a pris le dessus sur Hafizh Syahrin (Petronas Raceline Malaysia) pour prendre la cinquième place tandis que Tom Lüthi (Garage Plus Interwetten), vainqueur au Qatar deux semaines plus tôt, Axel Pons (AGR Team), Takaaki Nakagami (Idemitsu Honda Team Asia) et Mattia Pasini (Speed Up) complétaient le Top 10.
Le Belge Xavier Siméon (QMMF Racing) a marqué ses premiers points de l'année en finissant douzième, derrière Marcel Schrötter (AGR Team).
Grâce à sa victoire, Zarco remonte à la seconde place du classement général, avec cinq points de retard sur Lüthi et deux d'avance sur Lowes, avant de partir au Texas pour la troisième manche de la saison 2016.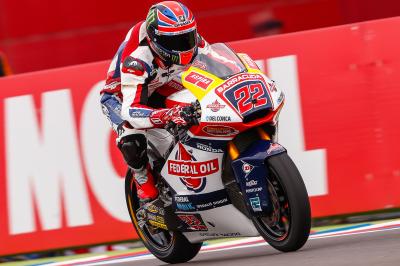 Johann Zarco kept his cool during a hectic Moto2™ race to take his first win of 2016 ahead of Lowes and Folger.
A dry race was declared for the Moto2™ World Championship round at the Gran Premio Motul de la República, the second race of 2016. Conditions were not perfect as damp patches littered the circuit. All the riders lined up on slick tyres, the Moto3™ race before demonstrating this as the clear choice. Everyone chose the medium front and hard option rear tyre, a level playing field for all 29 riders on the grid.
As the lights went out it was Jonas Folger (Dynavolt Intact GP) who charged into the lead at the intermediate class ran down into Turn 1. As in Qatar, the German pushed immediately but had Johann Zarco (Ajo Motorsport) and Sam Lowes (Federal Oil Gresini Moto2) for company. Franco Morbidelli (Estrella Galicia 0,0 Marc VDS) was within touching distance as the leading quartet opened up a two second lead over the rest of the pack.
At the start of lap 2, Alex Marquez (Estrella Galicia 0,0 Marc VDS) slid off at Turn 1, re-joining the race down in 29th before retiring. He has failed to finish both races so far in 2016.
Full Championship standings after round two of the World Championship can be viewed here with race results available here.
Meanwhile the top four closed up, Folger maintaining his lead and perfectly navigating the wet patches out on track. The battle behind was not as calm as the likes of Alex Rins (Paginas Amarillas HP 40) and Hafizh Syahrin (Petronas Raceline Malaysia) tried to gain on the leaders, but the gap continued to grow with each lap.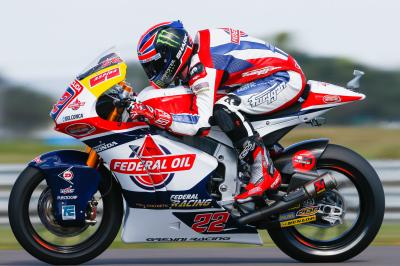 With 20 laps to go, Sam Lowes struck, jumping into the leading and pushing Folger back down into the clutches of Zarco and Morbidelli. Lowes' bike squirmed beneath him as the Brit opened up a gap, half a second clear of Folger as lap four began. Fastest sector after fastest sector came from the leading four, all pushing each other to the limit as they sparred for victory. Turn 1 saw all of the leading four to bunch together with each lap, no one able to open up a lead of more than half a second in the opening stages.
Dominique Aegerter (CarXpert Interwetten) was a man on a mission, the Swiss rider quickly catching and passing Syahrin and Rins with 19 laps to go. But Syahrin upheld his reputation as a rider who shines when conditions are at their most difficult, the Malaysian able to re-pass Aegerter soon after. The pair would duel for the majority of the race.
On lap nine, Lowes was able to drop into the 1'46s and open up a lead of over half a second for the first time in the race. His rivals immediately responded on the next lap, all able to drop into the 1'46s as well. But it was Folger who upped his pace the most, the German able to produce a 1'45.726 to drag himself from a distant fourth to a fighting third as the race approached mid-distance.
After a slow start to the race, Alex Rins rallied and cut past Aegerter, the Spaniard up to sixth. He then set his eyes on Syahrin just ahead, the leading four now almost seven seconds in the lead. But Rins continued to go faster and faster, able to drop into the 1'45s and exceed the pace of the leading riders by almost a second for multiple laps in succession.
A classic slipstream manoeuvre down the back straight on lap 13 saw Johann Zarco charge into the lead. With clear track ahead of him, Zarco went about opening up a comfortable margin from Lowes, the Brit turning his attention to fending off Morbidelli as the laps ticked down. Zarco remained calm in the lead, focusing on staying as smooth as possible, a stark contrast to Lowes' aggressive-sideways style. Just as one of the leading four thought they had their position secure, another would immediately close the gap.
Although Rins had broken away from them, Syahrin and Aegerter continued to push each other and produced a thrilling battle for fifth place. The Qatar GP race winner, Tom Luthi (Garage Plus Interwetten) was unable to close down on the pair and spent much of the Argentina GP in a lonely eighth place.
Fastest laps continued into the closing stages, Alex Rins trying all he could to close down on the leading four and return to the podium, constant battling ahead giving the Spaniard hope. As the final five laps began, the leading four upped their pace; a mistake from Lowes saw the Brit drop down from second to third at Turn 7 on lap 19. This gave Zarco clear track yet again, the Frenchman not wasting his time nor his second opportunity and opened up an advantage of one second on the 20th lap, focusing on slowly growing it in the final stages.
Fastest sectors continued to flow as the leading five dropped into the 1'44s but on the 22nd lap of the race, Franco Morbidelli fell at Turn 1 as he attempted to push past Lowes. The Italian remounted but finished outside the points in 25th. Morbidelli's fall solidified the top three, Zarco's one-second lead unbeatable, despite Lowes' best efforts.
Zarco returns to the top step of the podium for the first time since the Malaysian GP in 2015 and wins the Argentina GP for the second time in his career. Lowes took second, 1.347s behind the Frenchman with Jonas Folger completing the podium.
It was a valiant effort from Alex Rins as he attempted to come back from his poor start, the Spaniard reducing the gap to the podium to 3 seconds as he wrapped up the race in fourth. Dominique Aegerter would eventually get the better of Syahrin for fifth.
Hafizh Syahrin, Thomas Luthi (Garage Plus Interwetten), Axel Pons (AGR Team), Takaaki Nakagami (Idemitsu Honda Team Asia) and Mattia Pasini (Italtrans Racing Team) completed the top ten. Thanks to his seventh place finish, Luthi retains the lead in the Moto2™ World Championship with 34 points, Zarco moving to second after his win.
Sandro Cortese (Dynavolt Intact GP) crashed out at Turn 9 on the 13th lap.