Marc Márquez a réussi la passe de quatre au Circuit des Amériques et s'est imposé en solitaire devant Jorge Lorenzo et Andrea Iannone.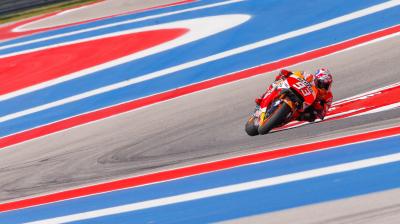 Invaincu aux Etats-Unis depuis 2011, Marc Márquez (Repsol Honda Team) a décroché une nouvelle victoire sur le sol américain à l'occasion de la troisième manche du Championnat du Monde MotoGP™ 2016. Qualifié en pole position pour la quatrième année consécutive au Circuit des Amériques, l'Espagnol a mené l'épreuve de bout en bout et était déjà hors de portée de ses adversaires à la fin du premier tour.
Vainqueur au Texas pour la quatrième année consécutive depuis la première venue du MotoGP™ à Austin en 2013, Márquez s'imposait pour la deuxième fois de suite en l'espace de huit jours et confortait sa position de leader du classement général suite à l'abandon de Valentino Rossi (Movistar Yamaha MotoGP).
Parti troisième, l'Italien a concédé plusieurs positions sur les deux premiers tours et a ensuite perdu l'avant dans le virage n°2, alors qu'il occupait la sixième position.
Son coéquipier Jorge Lorenzo (Movistar Yamaha MotoGP), le Champion en titre, a quant à lui su rebondir après sa chute en Argentine et a pris la seconde place, en ralliant l'arrivée six secondes après Márquez.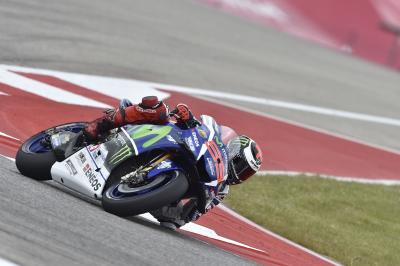 Une semaine après avoir été fauché par son coéquipier Andrea Iannone dans l'avant-dernière virage en Argentine, alors qu'il était assuré d'une seconde place, Andrea Dovizioso (Ducati Team) a de nouveau été terriblement malchanceux. Installé en troisième position, l'Italien a été percuté par Dani Pedrosa (Repsol Honda Team) lorsque ce dernier a perdu le contrôle de sa machine dans le virage n°1 et a une fois de plus été contraint à l'abandon, à l'instar de Pedrosa, qui a pu repartir mais a finalement dû jeter l'éponge.
Ironie du sort, cet accident faisait les affaires de Iannone, qui se retrouvait seul en troisième position et montait sur le podium, mettant ainsi fin à une série de quatre abandons.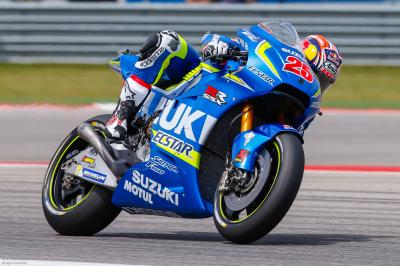 Passé de la neuvième position sur la grille à la quatrième en l'espace de deux tours grâce à l'avantage que lui conféraient ses pneus tendres, Aleix Espargaró (Team Suzuki Ecstar) a fini par se retrouver dans un duel pour la quatrième place avec son coéquipier Maverick Viñales. Suite à une superbe bataille, ce dernier a pris le dessus et a fini avec deux secondes d'avance sur Aleix Espargaró, dont le frère cadet Pol Espargaró (Monster Yamaha Tech3) terminait septième derrière Scott Redding (Octo Pramac Yakhnich), premier pilote indépendant à l'arrivée.
Complétaient le Top 10 Michele Pirro, qui remplaçait Danilo Petrucci chez Octo Pramac Yakhnich, Héctor Barberá (Avintia Racing) et Stefan Bradl (Aprilia Racing Team Gresini).
Tombé dans le premier virage du deuxième tour, Loris Baz (Avintia Racing) aura quand même marqué son premier point de la saison en repartant pour prendre la quinzième place.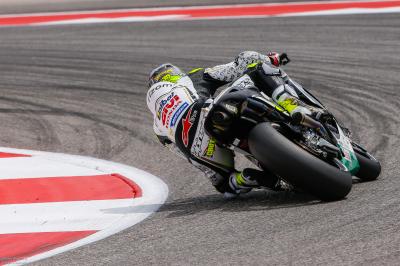 Cal Crutchlow (LCR Honda) et Bradley Smith (Monster Yamaha Tech3) sont quant à eux tombés l'un après l'autre dans le virage n°11 et sont repartis pour terminer seizième et dix-septième.
Seul pilote à être monté sur le podium à chacune des trois premières courses de la saison, avec une troisième place et deux victoires, Márquez conforte son avance au classement général et dispose désormais de 21 points de plus que Lorenzo et 33 de plus que Rossi.
Marc Marquez took little notice of a number of falls behind, cruising to a fourth win in Texas ahead of Lorenzo and Iannone.
All eyes were on Marc Marquez (Repsol Honda Team) as the MotoGP™ World Championship lined up at the head the grid for the Red Bull Grand Prix of The Americas. The Spaniard went into the race with a perfect record on America soil; winning every MotoGP™ race he had started in the United States. While Marquez was quietly confident, there were a number of riders who were looking to return to the front once more.
Amongst them was Jorge Lorenzo (Movistar Yamaha MotoGP), the 2015 MotoGP™ World Champion having suffered an uncharacteristic crash during Warm Up. Andrea Iannone (Ducati Team) was another ready to make an impact, having qualified fourth; he started in seventh after his penalty from the Argentina GP.
All of the factory Yamaha and Ducati riders opted for medium tyres front and rear while pole-man Marquez chose the soft front with medium rear. The Circuit of the Americas has always been a challenging circuit for tyres and all who lined up knew that their choice on the grid would make a significant difference.
Roaring off the line, Lorenzo grabbed the lead into Turn 1 but ran wide on exit, allowing Marquez to move ahead. The field all made it through the opening corners safe, Lorenzo in second with Valentino Rossi (Movistar Yamaha MotoGP) hot on his tail. Andrea Dovizioso (Ducati Team) also made a good start and used the power of the Ducati to slide into second down the back straight.
As Dovizioso came through, so too did Aleix Espargaro (Team Suzuki Ecstar), the Spaniard finding himself in fourth at the start of the second lap after starting in ninth. Espargaro had gone against the norm and opted for soft front and rear, the extra grip giving him a clear advantage in the opening laps.
For the third race in a row, Loris Baz (Avintia Racing) would crash at Turn 1.
The third lap began with Rossi crashing out of the race at Turn 2, losing the front mid corner. All the while Marquez and Dovizioso ran away at the front, Lorenzo defending his third place position. For the first time in 25 races, Rossi failed to finish in the top five.
Marquez continued to hammer home his advantage, leading Dovizioso by a second midway through the fourth lap of the race. Action intensified further down the field as Maverick Viñales (Team Suzuki Ecstar) attempted to make up for a poor start to the race, battling hard with Scott Redding (Octo Pramac Yakhnich).
Lap after lap, Marquez extended his lead and after only five laps his fourth straight win in Texas looked certain. But the remaining two spots on the podium were wide open, Lorenzo getting past Dovizioso with Dani Pedrosa (Repsol Honda Team) waiting patiently behind.
After a strong start, Aleix Espargaro began to drop back and soon Andrea Iannone passed him.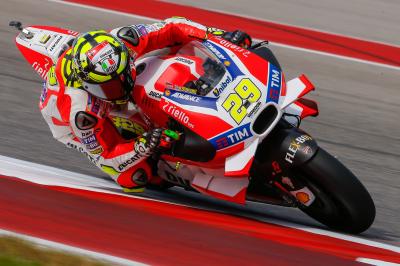 At the start of the seventh lap Pedrosa had a huge moment on the front end going into Turn 1, losing control of his Honda and ploughing into Dovizioso. For the second race in a row, another rider would take down Dovizioso. Pedrosa would be able to re-join, but Dovizioso's race was over, the Italian leaving the circuit distraught but fortunately without major injury.
At Turn 11 on lap eight both Cal Crutchlow (LCR Honda) and Bradley Smith (Monster Yamaha Tech 3) fell off as the crashing continued. Each was able to remount the race but the leading four now had huge gaps between them, separated by at least three seconds. All the falls had also promoted Iannone to a provisional podium in third place. The Team Suzuki Ecstar duo meanwhile continued to dice it out for fourth place, Viñales also running the softer rear but had opted for the medium front, which gave him increased braking stability.
Chaos unfolded behind, but Marquez remained cool, calm and collected as he upped his pace to the 2'04s, almost half a second faster than Lorenzo's laps. Each lap saw Marquez set a new fastest lap of the race. None of the top three were able to make major progress on the rider ahead, unlike the Suzuki pair who continued to slug it out. Viñales would dive up the inside, only to have Espargaro come back past him soon after.
With ten laps to go, Dani Pedrosa would pull into the pits as his bike was too damaged to continue. In a true sign of sportsmanship, Pedrosa went to the box of Dovizioso to apologise for the incident and explain that it was not intentional.
The rhythm of the race continued, Viñales now a second clear of his teammate as all of the top seven riders were spread out on track. Even though he was now over six seconds ahead of Lorenzo, Marquez's pace remained over half a second faster as he asserted his dominance at the Circuit of the Americas with each lap.
As many had predicated, Marquez walked to victory and crossed the line 6.107s ahead of Jorge Lorenzo. For just the second time in his career, Lorenzo takes to the podium at COTA as he ended the race second. Andrea Iannone rounded out the podium with a safe ride to third place.
Maverick Viñales secured his best ever premier class finish with fourth ahead of his teammate Aleix Espargaro, a great day for Suzuki with a double top five.
Scott Redding, Pol Espargaro (Monster Yamaha Tech 3), Michele Pirro (Octo Pramac Yakhnich), Hector Barbera (Avintia Racing) and Stefan Bradl (Aprilia Racing Team Gresini).
As the Championship returns to Europe, Marquez leads with 66 points a solid 21 points clear of Lorenzo in second. After failing to finish the Americas GP, Rossi slips to third with 33 championship points as clear gaps are already emerging.
Full championship standings for the MotoGP™ World Championship can be seen here.
Round 4 of the MotoGP™ World Championship takes place on the 24th of April at the Gran Premio Red Bull de España