Valentino Rossi a battu Jorge Lorenzo et Marc Márquez en qualifications pour remporter sa première pole position de l'année.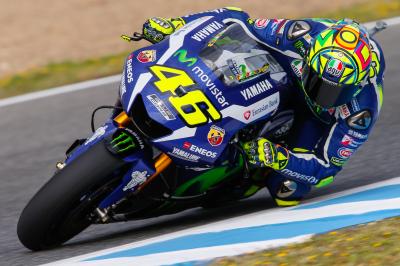 Qualifié en pole position à seulement trois reprises depuis début 2010, Valentino Rossi (Movistar Yamaha MotoGP) a réalisé une performance hors-norme lors des qualifications du Grand Prix Red Bull d'Espagne pour décrocher sa première pole de la saison 2016, la première depuis le TT Assen de 2015.
Alors que son coéquipier Jorge Lorenzo (Movistar Yamaha MotoGP) semblait sur le point de renouveler sa pole de 2015 à Jerez en ayant repris l'avantage sur Marc Márquez (Repsol Honda Team), Rossi avait gardé le meilleur pour la fin et a bouclé son dernier tour en 1'38.736, soit 0.122s de mieux que Lorenzo et 0.155s que Márquez.
Deuxième puis troisième sur les grilles de Termas de Río Hondo puis d'Austin, le nonuple Champion du Monde ne s'était plus qualifié en première ligne trois fois de suite depuis 2009, l'année de son dernier sacre en MotoGP™.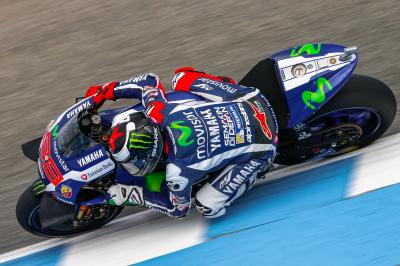 Vainqueur depuis la pole à Jerez l'an dernier, Lorenzo devra se contenter de la seconde position mais se maintient sur la première ligne depuis le début de l'année, à l'instar de Márquez, un peu moins à l'aise que les pilotes Yamaha sur le dernier secteur.
Quatrième à 0.844s de la pole, Andrea Dovizioso (Ducati Team) sera pour sa part en tête de la deuxième ligne, devant les Espagnols du Team Suzuki Ecstar, Maverick Viñales et Aleix Espargaró, qui terminaient respectivement à un et sept millièmes de seconde de l'Italien.
Dani Pedrosa (Repsol Honda Team), Pol Espargaró (Monster Yamaha Tech3) et Héctor Barberá (Avintia Racing) seront quant à eux en troisième ligne tandis que Cal Crutchlow (LCR Honda), pilote le plus rapide de la Q1, a réussi à se hisser à la dixième position. Le Britannique partagera la quatrième ligne avec Andrea Iannone (Ducati Team) et Loris Baz (Avintia Racing), qui participait à la Q2 pour la deuxième fois et égalait donc sa meilleure qualification, réalisée deux semaines plus tôt au Texas.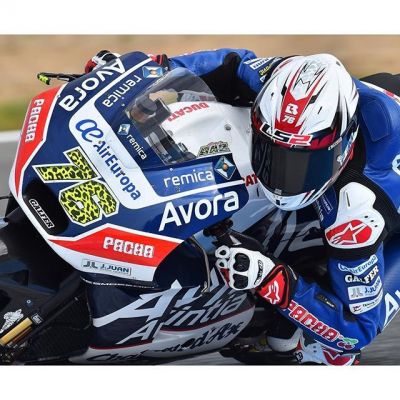 Valentino Rossi banished his Qualifying demons to secure hi 52nd premier class pole position in Jerez, besting Lorenzo and Marquez.
Tension hung in the air as the 12 fastest MotoGP™ World Championship riders zipped up their leathers and pulled on their helmets before stepping out to fight for pole position. Jerez is the shortest circuit of the opening four rounds, crew chiefs and their riders discussing one or two strop strategies until the final moments. As in almost every session at the Gran Premio Red Bull de España, Jorge Lorenzo (Movistar Yamaha MotoGP) was the first out of pit lane. Lorenzo, Marc Marquez (Repsol Honda Team) and Cal Crutchlow (LCR Honda), who had advanced through Q1, were the only riders to head out with the hard front tyre. The entire field had soft rears fitted from the start.
Straight away times were in the mid 1'39s, matching what riders had done during practice as Jorge Lorenzo seized the early lead. Both he and Andrea Iannone (Ducati Team) came into the pits to switch bikes early, the pair looking as though they would opt for a three run strategy. Lorenzo immediately returned to the pits and had the new tyres fitted to his first bike.
Meanwhile Marquez had overtaken the lead of the session with a 1'39.064 and went back into the pits for new tyres, remaining on the same bike. Times were largely unchanged as the rest of the field had also returned for their second set of Michelin tyres.
With new tyres on his preferred bike, Lorenzo put the hammer down straight away and set a 1'38.858 to jump into provisional pole. Hector Barbera (Avintia Racing) was able to benefit from the lap as he expertly stuck in the slipstream.
Marquez tried to respond to Lorenzo's lap but once again the final sector proved to be his downfall. He had just one lap left to do it, fans edged forward in their seats as Valentino Rossi (Movistar Yamaha MotoGP) began his final lap with roaring pace as well. All three traded fastest sectors as the chequered flag came out. Rossi was the first to cross the line, producing a 1'38.736 to push Lorenzo to second. It was all down to Marquez, could he snatch a third straight pole?
Try as he might the Spaniard has unable to overcome the Movistar Yamaha MotoGP duo as Rossi claimed his first pole since the Dutch TT in 2015. This is the first time since 2009 that Rossi has started on the front for three consecutive races and his 52 premier class pole position.
He may be in the best qualifying form in over half a decade, but Rossi won't have it easy on race day as both Lorenzo and Marquez are out for home glory. Lorenzo's time made it a Yamaha 1-2 as the duo were split by 0.122s, clearly the YZR-M1 is working incredibly well at the Jerez circuit. As shown in FP4, Lorenzo is easily able to lap in the 1'39s from the start of a run. This is Lorenzo's fourth front row start of the year, third in Argentina his worst position of 2016.
Completing the front row, Marc Marquez was unable to catch the super smooth Yamahas. Turns 11 and 12 are the source of all of Marquez's problems as he ended 0.155s back on Rossi. All three of the leading trio have had races decided at the final corner in Jerez, will it be three across into Turn 13 on Sunday?
As the battle for pole raged, Andrea Dovizioso (Ducati Team) quietly went about his business as he secured fourth on the grid. It's clear the leading trio are a league above, Dovizioso 0.844s back on Lorenzo and 0.689s off a front row start. Fourth on the grid is a great result for Ducati and Dovizioso as the factory team has struggled massively throughout the weekend.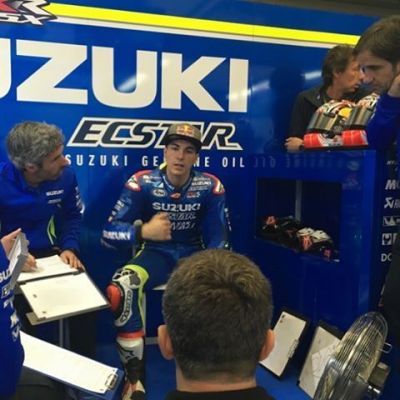 Two Team Suzuki Ecstar bikes completed the second row of the grid, Maverick Viñales out qualifying Aleix Espargaro for the fourth time in 2016. Incredibly Viñales was only 0.001s behind Dovizioso and Espargaro was just 0.007s back on his teammate. The leading three may be set for an exclusive battle for victory, but the fight for fourth place is building to be just as exciting.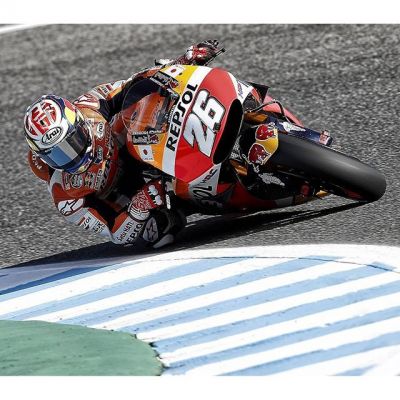 Dani Pedrosa (Repsol Honda Team) will start from the head of the third row in front of Pol Espargaro (Monster Yamaha Tech 3) and Hector Barbera (Avintia Racing). A very Spanish affair.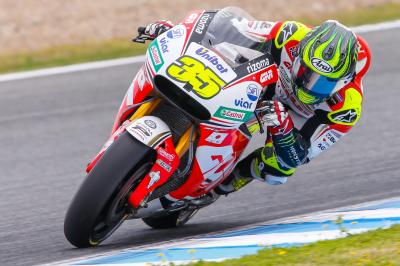 The fourth row will feature Cal Crutchlow (LCR Honda), Andrea Iannone (Ducati Team) and Loris Baz (Avintia Racing). Iannone had appeared to find some speed in Free Practice 3, but was not able to carry it over to Q2 as he qualified outside the front two rows for the first time in 2016.
Warm Up begins at 09:40 Local Time on Sunday with the Gran Premio Red Bull de España commencing at 14:00 Local Time.
Full times from the session can be viewed here.