Après son retour en WRC l'an passé, la Corse accueillera la 10e manche du Championnat du monde des Rallyes FIA 2016. Mais l'épreuve ne passera plus à Corte.
Le Tour de Corse débutera par le Shakedown jeudi 29 septembre, organisé cette année au sud de Bastia sur une base longue de 5,40 km. Le rallye se rendra ensuite à Ajaccio pour la cérémonie de départ et la première étape.
Deux spéciales à parcourir deux fois chacune sont au programme de la première journée autour d'Ajaccio : Acqua Doria-Albitreccia (49,72 km) et Plage du Liamone-Sarrola Carcopino (29,12). Entre les deux boucles, la « Tyre Fitting Zone » se tiendra à Porticcio. L'arrivée de l'étape sera jugée à Bastia, Place Saint Nicolas.
Le lendemain, deux nouvelles spéciales sont au menu, en Castaniccia (Haute-Corse) : Orezza-Valle di Rostino (53,72 km) et Novella-Pietralba (30,80 km). La pause nocturne se tiendra encore à Bastia.
Dimanche, cap au Sud pour la dernière journée avec la plus longue spéciale du Tour de Corse Antisanti-Poggio di Nazza (53,78 km) totalement inédite pour les pilotes actuels. Après un changement de pneus à Porto-Vecchio, les concurrents disputeront la Power Stage (10,42) avant l'arrivée du Tour de Corse 2015 à Porto-Vecchio.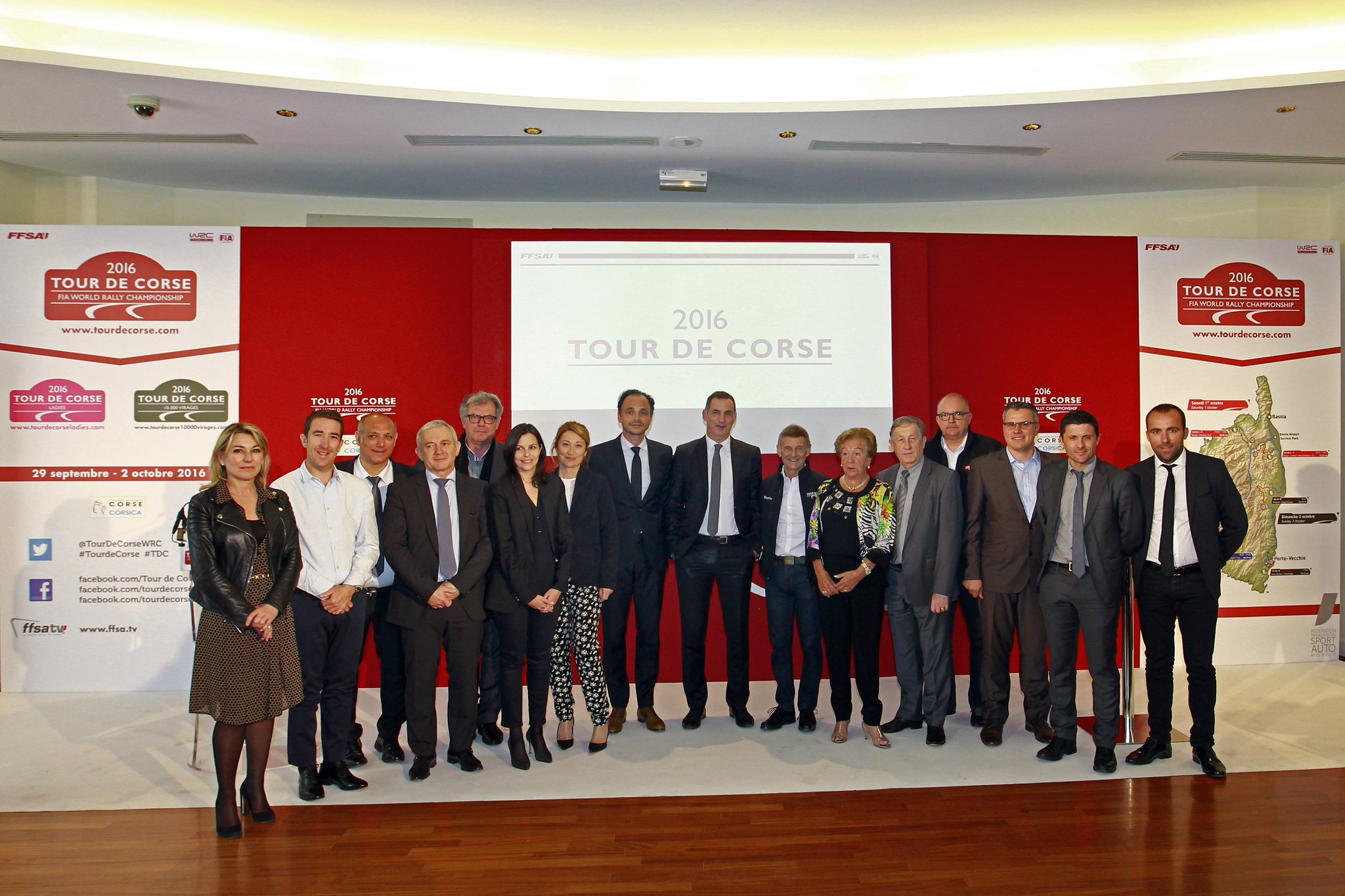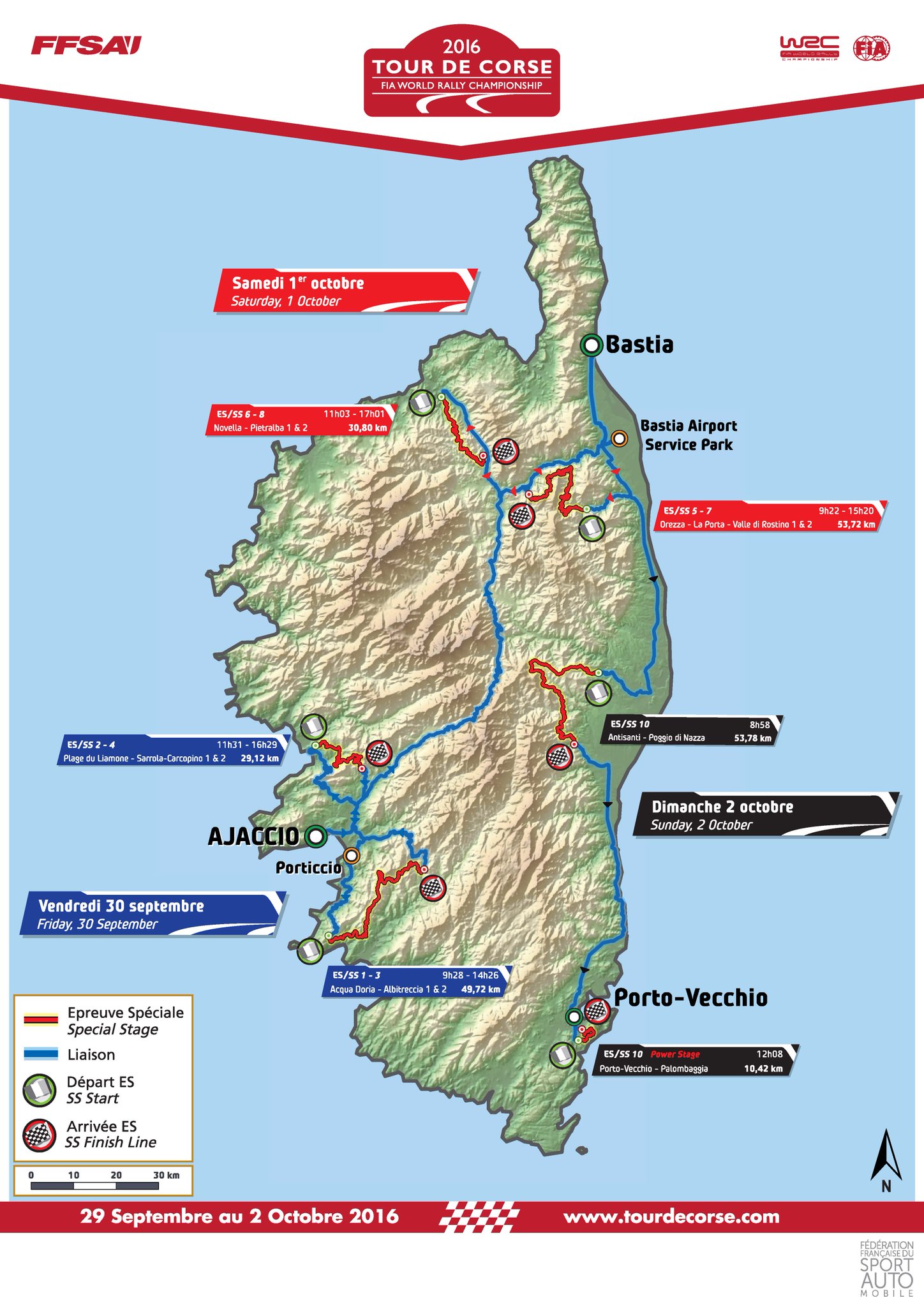 After returning to the WRC fold in 2015, the Tour de Corse has kept its place on the 2016 FIA World Rally Championship calendar, although this time it will not visit Corte.
Action will begin with a 5.4km shakedown test south of Bastia on Thursday, September 29, before competitors travel to Ajaccio for the official start ceremony and the beginning of Leg 1.
Friday's timetable features two stages to be run twice, namely 'Acqua Doria-Albitreccia' (49.72km) and 'Plage du Liamone-Sarrola Carcopino' (29.12km), with a Tyre Fitting Zone between the two loops in Porticcio. The leg will end in Bastia (Place Saint Nicolas).
The next day will comprise two new stages in the island's Castaniccia region – 'Orezza-Valle di Rostino' (53.72km) and 'Novella-Pietralba' (30.80km) – followed by a second overnight halt in Bastia.
Sunday will see survivors head south for this year's longest stage ('Antisanti-Poggio di Nazza', 53.78km) which will be unknown territory for today's crop of drivers. After fitting fresh tyres in Porto-Vecchio, they will then tackle the Power Stage (10.42km) before the official finish in the same seaside resort
.