L'Italien partira devant Maverick Viñales et Andrea Iannone au Grand Prix TIM d'Italie.
Après avoir dévoilé un nouveau casque jaune rendant hommage au Mugello et à son public samedi matin, Valentino Rossi (Movistar Yamaha MotoGP) a fait le bonheur des spectateurs présents dans les tribunes du circuit toscan en leur offrant sa deuxième pole position de la saison, la 63e de sa carrière, qui lui permettait d'égaler son coéquipier Jorge Lorenzo.
Après avoir aidé Maverick Viñales (Team Suzuki Ecstar), qui rejoindra l'Italien chez Yamaha en 2017, à se hisser en première ligne, le Docteur a pris l'aspiration sur son futur coéquipier pour boucler un chrono de 1'46.504 qui lui attribuait la pole position sur un circuit où il n'avait plus été en pole depuis 2008, date de sa dernière victoire au Mugello.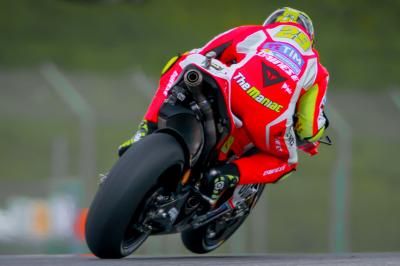 Menaçant de reprendre l'avantage, Viñales a terminé en seconde position après un dernier tour qui le plaçait à moins d'un dixième de seconde de Rossi et devant Andrea Iannone (Ducati Team). Dominateur lors des essais libres, ce dernier s'était installé en pole provisoire en début de séance, en prenant lui aussi une roue, celle de Lorenzo, mais a plus tard été devancé et devra se contenter de la troisième position alors qu'il espérait renouveler sa pole de 2015.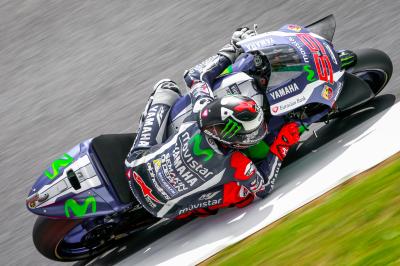 Seuls autres pilotes à être passés sous la barre des 1'47, Marc Márquez (Repsol Honda Team) et Lorenzo ont, contrairement aux trois pilotes de la première ligne, réalisé leurs temps de qualification sans personne devant eux et retrouveront sur la deuxième ligne leur compatriote Aleix Espargaró (Team Suzuki Ecstar).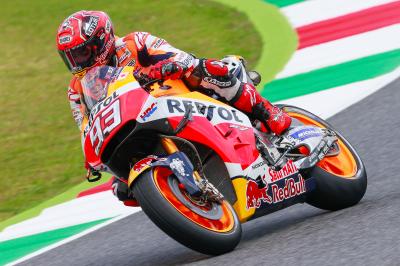 Auteur du deuxième temps en Q1, ce dernier faisait un important bond en avant pour se hisser à la sixième position devant Dani Pedrosa (Repsol Honda Team), Bradley Smith (Monster Yamaha Tech3) et Danilo Petrucci (Octo Pramac Yakhnich).
Scott Redding (Octo Pramac Yakhnich), l'autre pilote promu de la Q1, a lui aussi réalisé une bonne opération en prenant la dixième position devant Michele Pirro (wildcard avec Ducati) et Yonny Hernández (Aspar Team MotoGP).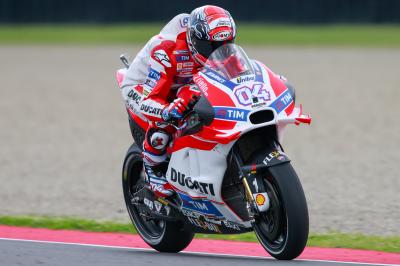 Andrea Dovizioso (Ducati Team) et Pol Espargaró (Monster Yamaha Tech3), qui est le premier pilote privé au classement général, seront respectivement treizième et quatorzième sur la grille de départ suite aux deux principales contre-performances de la journée et à deux chutes dans le cas de l'Espagnol.
Loris Baz (Avintia Racing) demeurait quant à lui en difficulté et a, comme vendredi, terminé en dernière position tandis que Tito Rabat (Estrella Galicia 0,0 Marc VDS) s'était fracturé la clavicule gauche le matin et était donc forfait avant même les qualifications.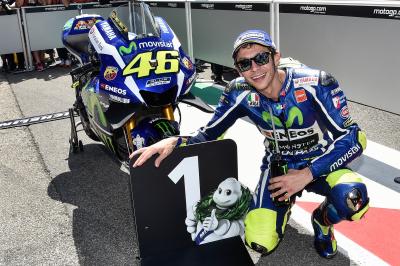 The hills of Mugello exploded as Rossi took pole position for the Italian GP, holding off Viñales and Iannone in a gripping session.
The last eight races have seen the pole setter go on to take victory, the stat looming in the back of all the MotoGP™ riders' minds as they headed out for Q2. Andrea Iannone (Ducati Team) was the man of the moment having topped both Free Practice 3 and 4, the Italian immediately sliding in behind Jorge Lorenzo (Movistar Yamaha MotoGP) for a tow. He was straight into the 1'46s with Marc Marquez (Repsol Honda Team) also getting under the 1'47s barrier immediately.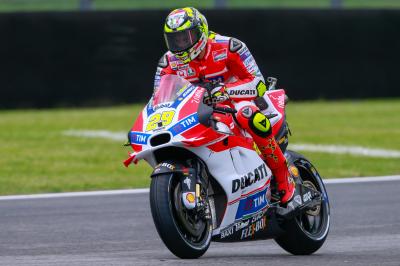 Iannone remained locked to Lorenzo and improved to a 1'46.607 but the times were just starting to drop. Seemingly out of nowhere Valentino Rossi (Movistar Yamaha MotoGP) produced a 1'46.504 and moved into provisional pole. The crowd was whipped into a frenzy but there were still hot laps to come. Both Marquez and Viñales were rapid in their final runs but neither could best 'The Doctor'.
For the first time since 2008, Rossi will line up on pole position in Mugello. 2008 was the last time he won at the Italian track and with the winner of the last eight races coming from pole, it certainly seems like the planets are aligning for Rossi. For the first time since 2009, Rossi has managed two poles in a single season.
Right with Rossi for most of his laps was Maverick Viñales (Team Suzuki Ecstar), the future teammates each taking turns to lead and follow, to teach and learn. The lessons clearly paid off for Viñales as the Spaniard set a 1'46.598 to end 0.094 behind Rossi and begin Sunday's race in second. Viñales continues to ride a wave of confidence after taking his first MotoGP™ World Championship podium and securing his future for the next two years. This is just Viñales' second front row start since joining the class in 2015.
Favourite before the session, Iannone was unable to quite deliver on his potential as he was only able to take third position. A front row still puts him in prime position to battle for victory, he and Rossi having shown incredible race pace in Free Practice 4. Returning Ducati to the top step of the podium in Mugello would be a dream come true for both Iannone and Ducati.
There were four different bikes in the top four as Marquez set a 1'46.759 to lock down fourth and head the second row of the grid for the race. Marquez's fastest lap was hindered somewhat but a small mistake towards the end. For the first time since the Catalan GP back in 2015, Marquez will start off the front row of the grid.
Before the weekend had even started, everyone was expecting Jorge Lorenzo to fly in Mugello. But the Majorcan has so far had a quiet weekend, rarely able to challenge for the top spot during practice. For the first time in 2016 he will start off the front row, fifth his worst grid position in 16 races. All of the top five were able to produce 1'46s in Q2. Lorenzo swapped front tyres just before his final run on track, an uncommon sight in Q2.
Aleix Espargaro (Team Suzuki Ecstar), Dani Pedrosa (Repsol Honda Team), Bradley Smith (Monster Yamaha Tech 3), Danilo Petrucci (Octo Pramac Yakhnich) and Scott Redding (Octo Pramac Yakhnich) completed the top ten. As is becoming increasingly common, under a second divided all of the top 12 riders in the Q2 session.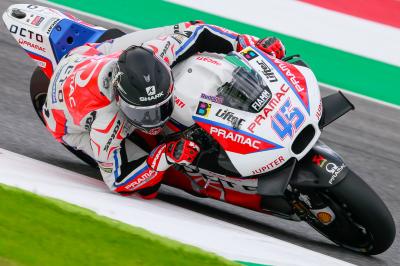 Everything is in place for a legendary Italian GP on Sunday. Could Rossi break Spain's domination of his home track and claw back even more championship points?
Tito Rabat (Estrella Galicia 0,0 Marc VDS) did not participate in the session and will not race after breaking his left collarbone in FP3.
Racing begins at 14:00 Local Time on Sunday with the premier class first hitting the track at 09:40 for 20 minutes of Warm Up.
Complete results from the thrilling 15 minutes session are available here.