L'auteur de la pole position signe un nouveau record du tour en s'emparant de la victoire.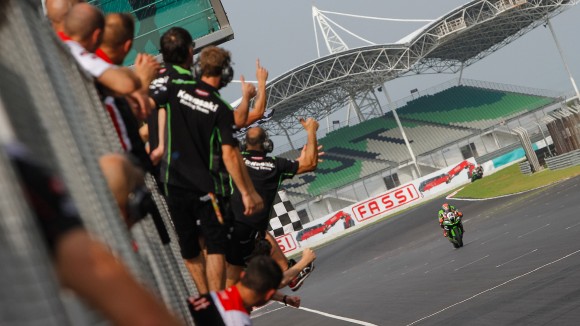 Tom Sykes, pilote de l'équipe Kawasaki Racing, remporte une incroyable victoire depuis la première place sur la grille à Sepang après avoir battu le record du tour en Tissot-Superpole. Son coéquipier et Champion en titre Jonathan Rea conclut la course en seconde position devant le double vainqueur à Imola, Chaz Davies.
Les grands vainqueurs sur la ligne d'arrivée de la première course sont le pilote Pata Yamaha Alex Lowes et la Honda de Michael van der Mark. Lowes a pris le commandement dès le départ depuis la seconde place sur la grille. Van der Mark est progressivement remonté jusqu'en sixième position avant que le duo Kawasaki vienne reprendre le commandement de la course. Nicky Hayden, qui a manqué son départ, est lui aussi remonté jusque dans le top 5 à la chasse des leaders.
Sykes a ensuite creusé l'écart sur son coéquipier qui s'est retrouvé dans le sillage de Chaz Davies. Sykes a aussi signé le record du tour au deuxième tour, son deuxième tour rapide sur le chemin de la victoire.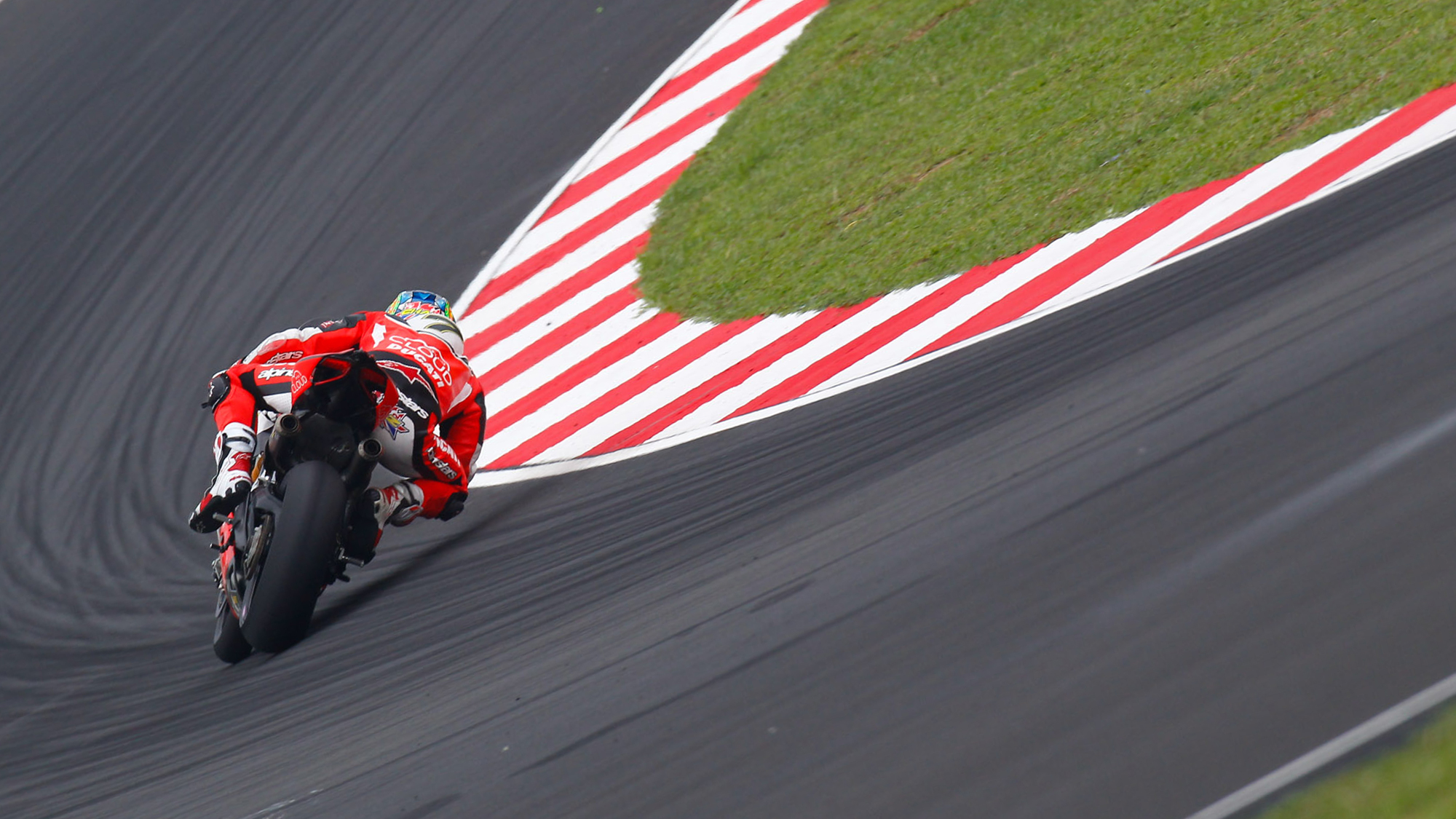 Davies a été le chef de rang des Ducati en Course 1 une nouvelle fois. Le Gallois a complété le podium de la première course et se maintient dans la course au titre. Son coéquipier, Davide Giugliano, qui n'avait pas roulé sur ce tracé depuis 2014, a rallié l'arrivée en 6e position.
Markus Reiterberger, débutant sur ce tracé, a impressionné au guidon de la BMW de l'équipe Althea. Il conclut la course sur un problème mécanique après s'être battu pour la 4e place. Son coéquipier Jordi Torres a lui aussi montré un rythme rapide en Course 1. C'est lui qui termine finalement en 4e position au pied du podium.
Alex Lowes, après un excellent début de course, est sorti de piste. Il est parvenu à combler l'écart pour rallier l'arrivée en 5e position. Seul représentant de l'équipe Yamaha, il rapporte de précieux à la firme japonaise.
Le duo Honda de Nicky Hayden et Michael van der Mark a connu une destinée différente. L'Américain a souffert jusqu'en fin de course alors que le Néerlandais a pu remonter. Il termine devant son coéquipier en 7e position.
Anthony West, remplaçant de Sylvain Barrier, termine cette première course en 9e position pour sa première fois au guidon de la Kawasaki de l'équipe Pedercini.
Leon Camier, au guidon de la MV Agusta, a souffert en début de course. Il est néanmoins parvenu à compléter le Top 10. Lorenzo Savadori est Alex De Angelis ont été les grands perdants de cette course. Savadori, leader vendredi, n'a pas été en mesure de passer sous le drapeau à damier, tout comme son coéquipier.
La deuxième course se tiendra dimanche à 16h heure locale (GMT +8). D'ici là, les pilotes analyseront les données collectées durant cette Course 1.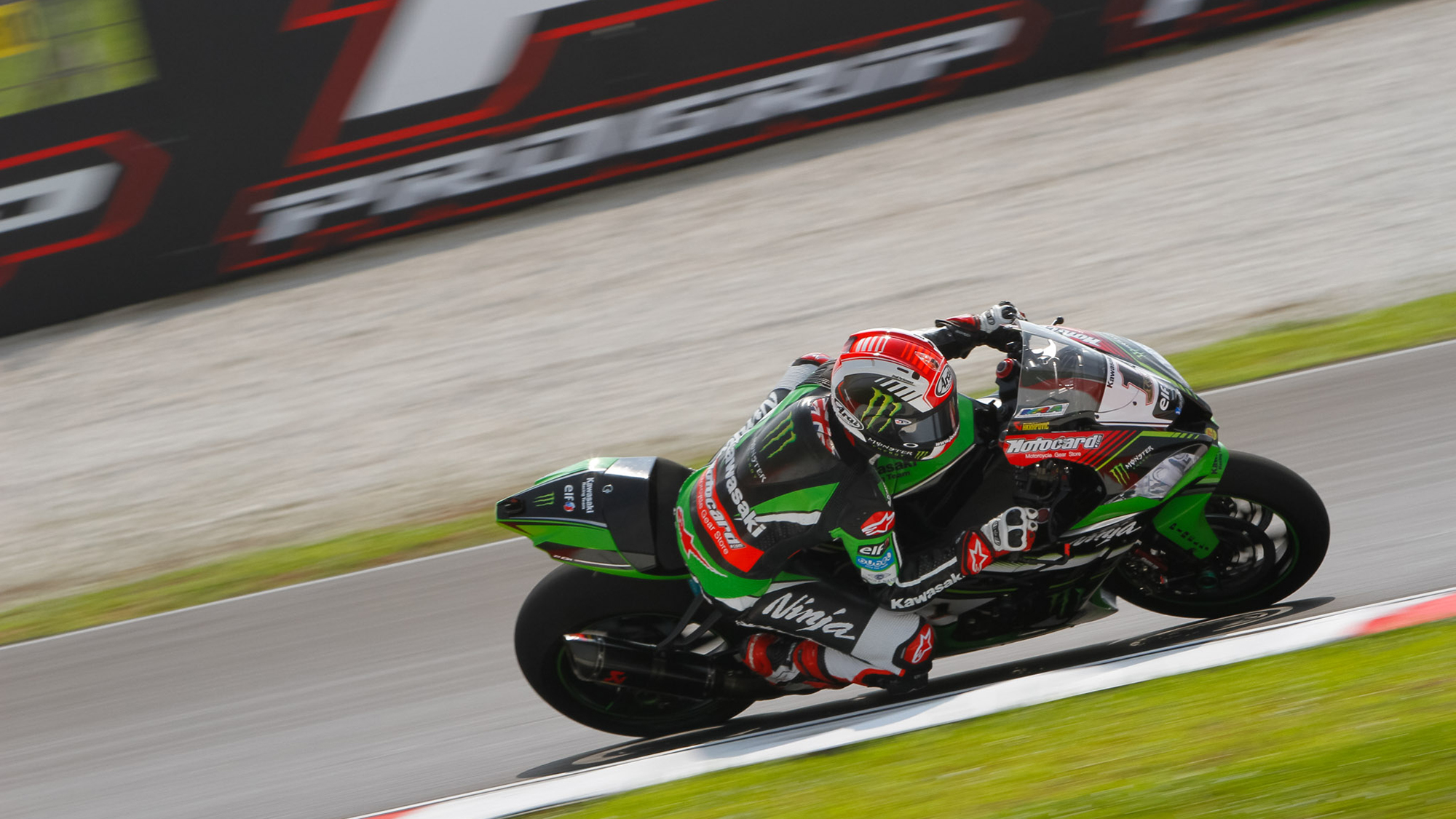 Pole sitter sets new lap record in commanding victory
Kawasaki Racing Team rider Tom Sykes took an incredible win from P1 on the grid in Sepang, after smashing the Best Lap in Tissot-Superpole. Teammate and reigning Champion Jonathan Rea came home second for a KRT 1-2, ahead of Aruba.it Racing – Ducati rider Chaz Davies.
The big winners off the line in Race 1 proved to be Pata Yamaha's Alex Lowes and Honda's Michael van der Mark, with Lowes taking the lead from P2 on the grid and van der Mark slicing through from tenth to P6, before KRT duo Rea and Sykes moved through on the Yamaha. Sepang veteran Nicky Hayden, after initially losing out off the line, soon fought back up into the top 5 to chase down the lead group.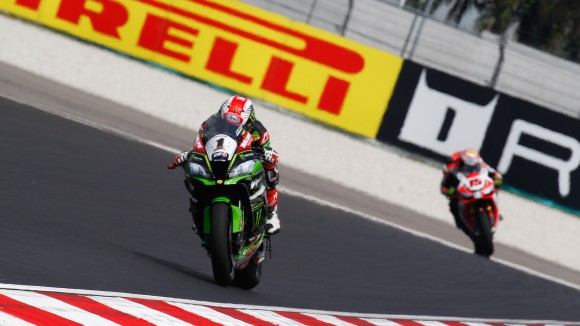 Sykes began to pull a gap on teammate Rea, who found himself chased by key Championship rival Chaz Davies. The Yorkshireman also set a new Lap Record on Lap 2, his first flying lap of the track, on his way to a commanding lead and victory. Jonathan Rea on the sister ZX-10R followed his teammate home to P2 after eventually shaking off the challenge of Ducati's Chaz Davies.
Davies was the lead Ducati in Race 1 once again as the Welshman took his Aruba.it machine to yet another podium to cement his consistent challenge, and teammate Davide Giugliano, after missing the Round in 2015 due to injury, fought for position in the second group before crossing the line in P6.
Markus Reiterberger made good on his promise in Sepang as the rookie of the track and impressed for Althea BMW, leading a charge back up the field to P4 in a stunning show of pace, until suffering a mechanical problem that forced him to retire. Teammate Jordi Torres also found great pace in Race 1 in Sepang as the Spaniard fought to the front of the second group to take P4.
Alex Lowes, after a run off in the first half of the Race, staged an impressive fight back to take P5 and score a good haul of points for Pata Yamaha as the team run only one bike after Sylvain Guintoli's crash in Imola.
Honda duo Nicky Hayden and Michael van der Mark had a race of opposites as the American suffered more towards the end of the Race and his Dutch teammate moved up the through the field. After the duo met in the middle on track, van der Mark was able to take his veteran teammate on the penultimate lap to come home just ahead of Hayden in P7.
Anthony West, riding for injured Sylvain Barrier at Pedercini, moved up in the Race from his grid position to come home in P9, an incredible result after only getting on the bike for the first time on Friday. MV Agusta rider Leon Camier suffered in the early part of Race 1 in Sepang but fought back steadily to close out the top 10 and Aprilia duo Lorenzo Savadori, fastest on Friday, and recovering teammate Alex De Angelis, were both running in the points before being unable to see the flag due to separate incidents on track. Josh Brookes beat Sepang veteran Karel Abraham over the line in the Milwaukee BMW inter-team battle, ahead of Lucas Scassa, a replacement rider, and Xavi Forés for Barni Racing Team. Grillini rider Josh Hook was the final points scorer, with the Australian rookie closing out the top 15.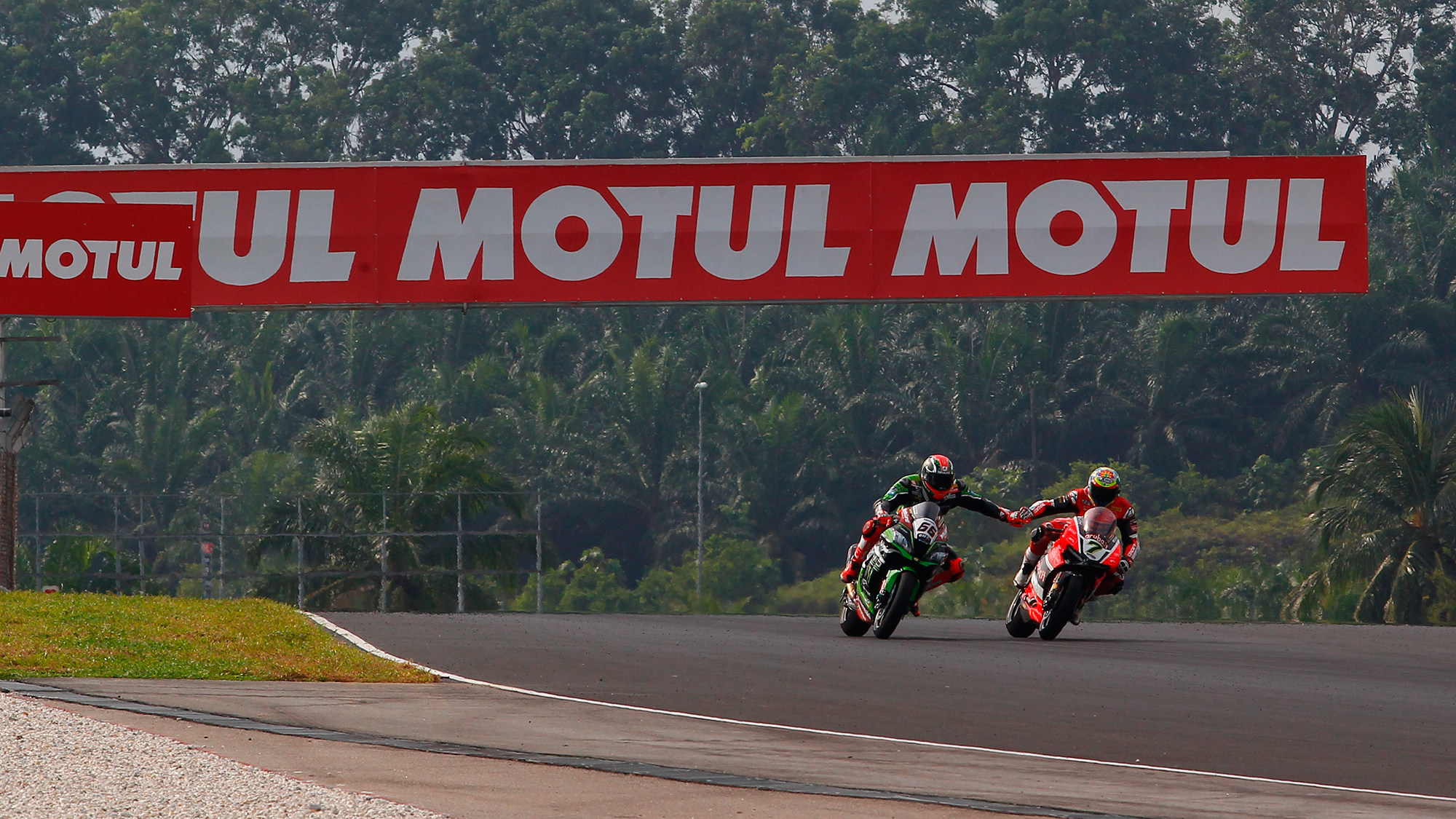 Race 2 will see lights out on Sunday at Sepang at 16:00 local time (GMT +8) once again, as the teams and riders analyse the data from the first challenge and ready for the second.