Le pilote de l'équipe Honda World Superbike Nicky Hayden s'est emparé de sa première victoire en World Superbike. L'Américain, qui fait ses débuts cette saison, a maitrisé et contrôlé la course malgré des conditions de piste difficiles. Davide Giugliano a placé sa Ducati sur la deuxième marche du podium devant le Champion en titre Jonathan Rea qui s'est une nouvelle maintenu sur le podium.
Le soleil laisse place à des pluies diluviennes au Sepang International Circuit ce dimanche matin juste avant le départ de la course WorldSSP. Alors que les conditions météo empirent, la course World Supersport est programmée après la course WorldSBK. Les pilotes profitent du temps imparti pour préparer au mieux cette course sur le mouillé.
Le départ est prudent pour la première ligne composée de Sykes, Rea et Lowes. Les trois leaders sont rejoints par la Honda de Nicky Hayden qui s'élançait depuis la deuxième ligne. Hayden connait bien ce tracé de Sepang. Il prend l'avantage et creuse l'écart sur la Kawasaki de Rea.
Dans ces conditions, seul l'Américain semble au-dessus du lot sur les premiers tours. Rea conserve sa deuxième place alors que Sykes et Lowes souffrent beaucoup plus. Hayden mène alors devant Rea et Davies. Giugliano, second pilote de l'équipe Aruba.it Racing - Ducati, imprime son rythme en signant le tour le plus rapide. Il comble ainsi l'écart sur son coéquipier Davies qui vient de passer Rea pour la deuxième place. Après s'être débarrassé du Gallois, Giugliano continue son festival pour tenter de s'approcher de Nicky Hayden. Rea assure la dernière place sur le podium devant Davies. Le Champion WorldSBK en titre est le seul pilote à avoir terminé sur le podium de toutes les courses depuis le début de la saison.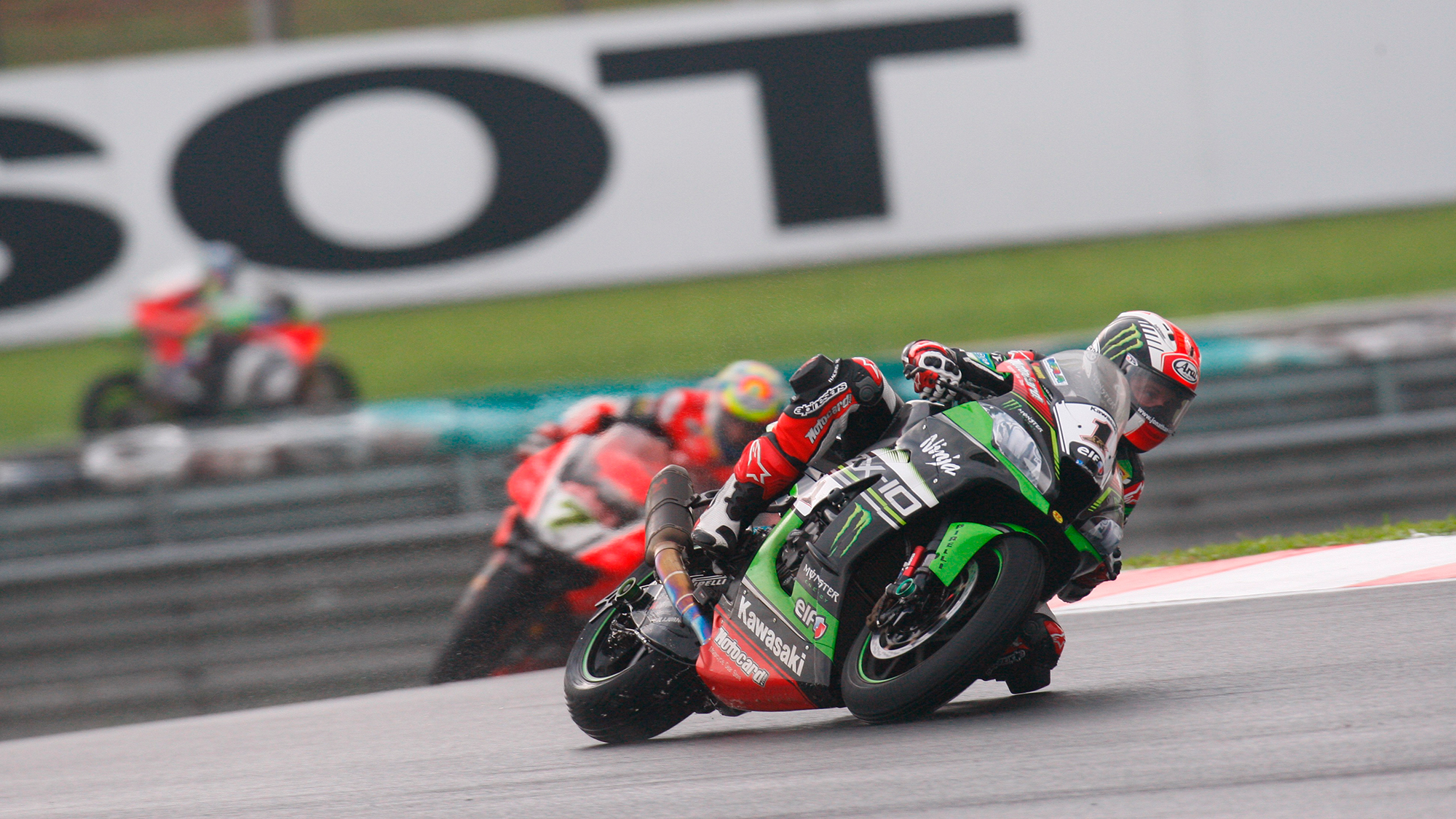 Michael van der Mark, coéquipier de Nicky Hayden, conclut la course en 6e position après s'être élancé depuis la 10e place sur la grille. Le Néerlandais a mené une lutte tonitruante face à l'Aprilia d'Alex De Angelis jusque dans le dernier virage.
Tom Sykes est le grand perdant de cette course. Auteur de la pole position, le Britannique rallie l'arrivée en 8e position. Anthony West, dont la réputation n'est plus à faire sous la pluie, complète le top 5 de la course et offre le meilleur résultat à l'équipe Pedercini cette saison.
Avec cette victoire de Nicky Hayden devant Davide Giugliano, Rea fait une bonne opération au Championnat en creusant davantage l'écart sur ses rivaux avant son arrivée à domicile à Donington Park.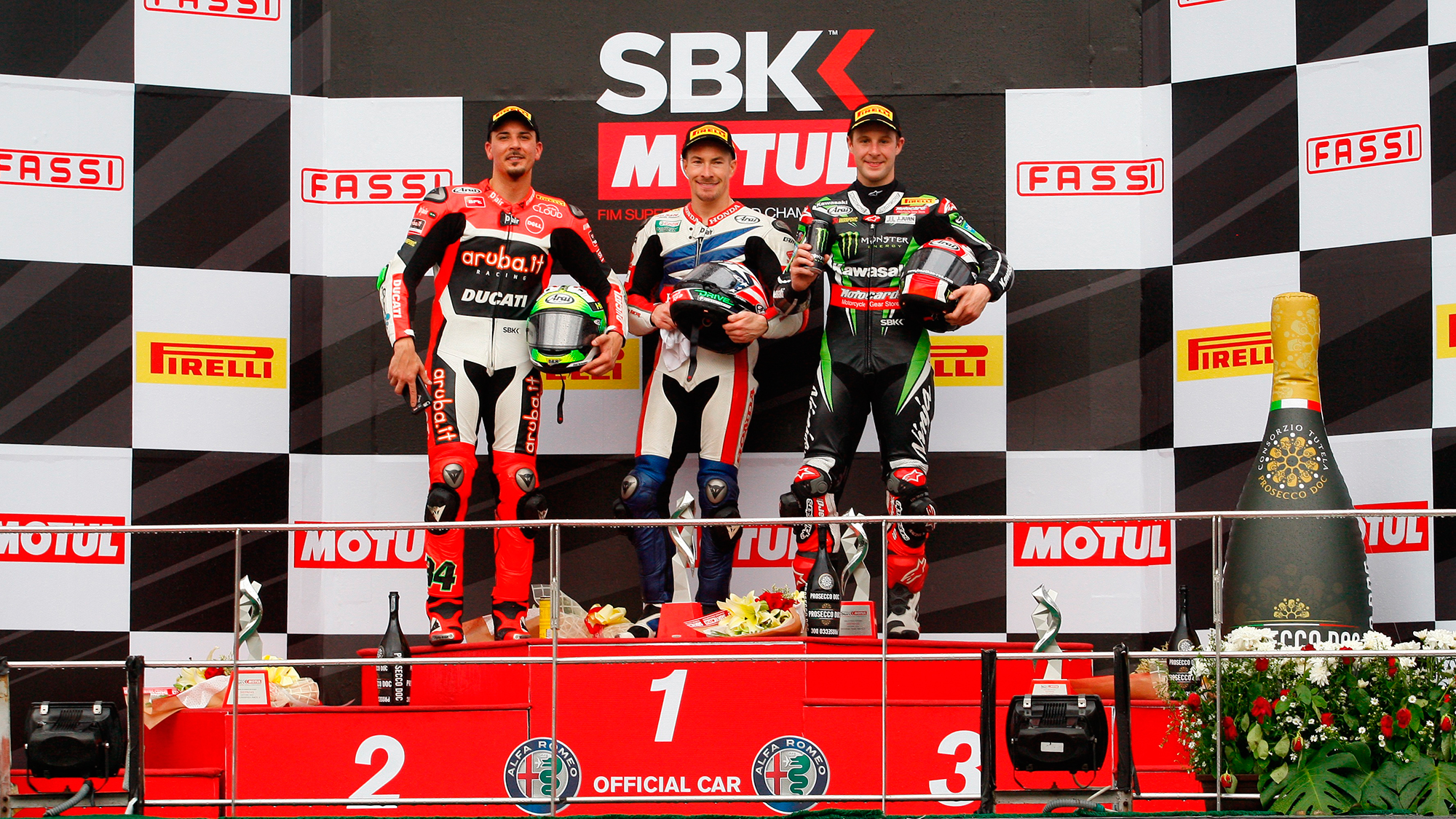 Honda World Superbike Team rider Nicky Hayden crossed the line in Sepang on Sunday to take his first ever win in World Superbike. The American, a rookie in the class, took off from the pack in a supreme display of speed and control in difficult conditions. Ducati's Davide Giugliano came home second after a late charge, ahead of reigning Champion Jonathan Rea.
Sunday in Sepang saw sun replaced by rain as a downpour hit the circuit just before the WorldSSP Race was due to start. As the weather conditions worsened and the World Supersport Race was postponed until after WorldSBK, the riders had a long look at the sky in preparation for a Wet Race.
A cautious line up threaded through turns 1 and 2 for the first time as the front row of Sykes, Rea and Lowes was joined by Honda rider Nicky Hayden from the second row. Hayden, who is a veteran of the track but a WorldSBK rookie, then began to pull a gap on second placed Rea as riders behind battled for position.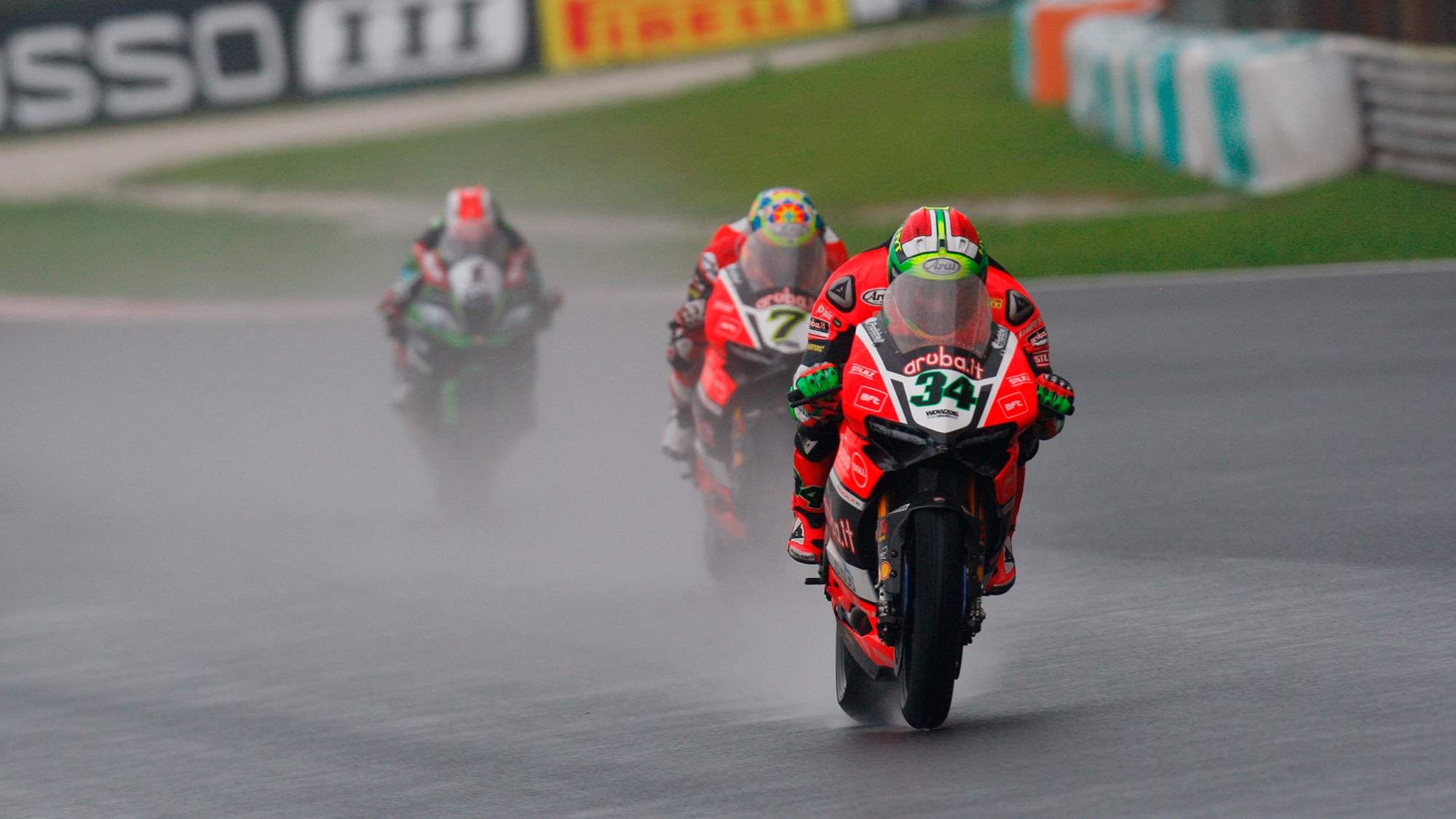 With grip tricky to judge, only Kentucky Kid Hayden seemed confident in the initial laps, with Rea remaining behind in P2 as Lowes and Sykes struggled to find similar pace. With the top three settled as Hayden, Rea and Davies, it was second Aruba.it Racing – Ducati rider Davide Giugliano who then began to set the fastest laps of the track and caught teammate and title contender Davies. After shadowing the Welshman, Giugliano then made his move and took the position, then heading off after Nicky Hayden in pursuit of a victory. The Italian came home P2 after the late charge, as Rea passed Davies to lock out the podium in P3, ahead of his Welsh title rival who crossed the line in P4. Defending Champion Rea remains the only rider on the grid to have been on the rostrum in every race.
Honda's Michael van der Mark moved up from his P10 grid position to end the race in P6 after a spectacular last corner against Alex De Angelis after a race of spectacular duels, with Aprilia rider De Angelis also making good progress from his starting position as he recovers from injury.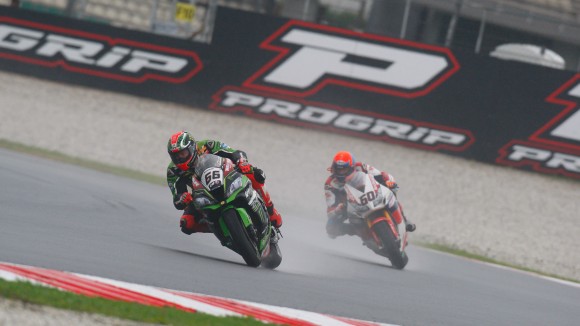 Tom Sykes, after starting from pole, suffered in the conditions in Race 2 in Malaysia and eventually crossed the line in P8. Anthony West, riding as replacement for Sylvain Barrier at Pedercini, lived up to his reputation as a maestro of wet conditions as the Australian came home in the top 5, giving the team their best result of 2016 so far and proving second Kawasaki on Sunday.
Leon Camier, after another top ten result in Race 1, came home P9 in the wet on Sunday afternoon, with Markus Reiterberger completing the top ten for Althea BMW after a mechanical problem forced the German to retire in Race 1 on Saturday. Pata Yamaha rider Alex Lowes, after starting from his best qualifying position, suffered a crash in Race 2 and has been diagnosed with a closed fracture of his collarbone.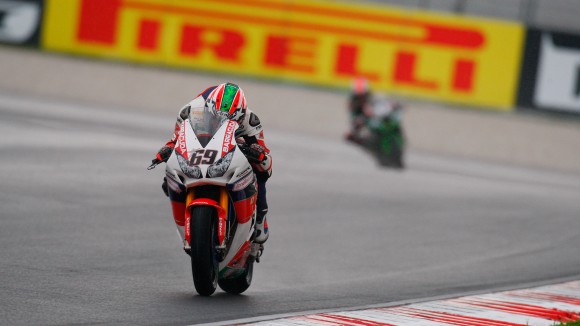 "It feels pretty good to be up here and to win the race," said winner Hayden after Race 2. "In the first laps I tried to get in front, try to get clear track and pull a bit of a gap. We had no idea what the tyres were gonna do in the wet. As the track started drying I was a little worried and it wasn't easy. I'm very happy to get this win. I want to thank my team and all my supporters and I want to dedicate this win to my Dad. He asked for a podium this week as he has had a rough week and I told him I would see what I can do. I went a little bit better so I hope he is having fun."
Hayden will be back out to try and repeat the feat in two weeks as the paddock now heads to Donington Park for Round 7.