Course 1 :
Une course à rebondissements dans les premiers tours, mais Jonathan Rea s'en sort avec les honneurs.
Le pilote de Kawasaki Racing Team, Jonathan Rea, a remporté sa première victoire depuis sa dernière à Assen à l'issue d'un jeu du chat et la souris au Misano World Circuit avec son coéquipier Tom Sykes. Le Champion en titre est parvenu à contenir les assauts de son rival jusqu'à l'arrivée et renoue de nouveau avec la victoire. Michael van der Mark a placé sa Honda sur la dernière marche du podium en 3e position après une Superpole 2 délicate en fin de matinée.
Une fois le départ de la course donné, celle-ci s'arrête prématurément pour Lorenzo Savadori qui chute dans le premier tour derrière le groupe de tête. L'Italien ne parviendra pas à reprendre la piste et devra mettre un terme à sa première course WorldSBK sur ses terres à Misano. Chaz Davies est exclu du Top 10 alors que Torres, Camier et Savadori sont pris au piège dans le chaos du premier tour. Les plus grands vainqueurs sont la Honda de Michael van der Marke et la Kawasaki Pedercini d'Anthony West qui se placent dans le Top 10. Van der Mark, auteur d'un excellent départ, boucle le premier tour à la cinquième place. Davide Giugliano part à la faute et laisse ses chances de victoires s'envoler. L'issue est la même pour Nicky Hayden qui finit sa course dans le bac à gravier au dernier virage.
Davies se retrouve ainsi seul, alors que son coéquipier se bat pour retrouver des places au classement. Giugliano conclut la course en 14e position. Davies garde son sang-froid et remonte progressivement sur le groupe de tête pour se placer dans le Top 5 au 11e tour. Le Gallois donne tout pour marquer un maximum de points au classement. Il réussit à prendre l'ascendant sur Torres pour rallier l'arrivée au pied du podium.
Torres complète le Top 5 à l'arrivée de l'épreuve à domicile de l'équipe Althea juste devant son coéquipier Markus Reiterberger. Niccolo Canepa, remplaçant de Sylvain Guintoli ce week-end, passe en 7e position sous le drapeau à damier devant la MV Agusta de Leon Camier. Romano Ramos termine la course à la 9e position devant West. Josh Brookes place sa Milwaukee BMW en 11e position devant Alex De Angelis, héros local. La deuxième Pata Yamaha d'Alex Lowes conclut la course en 13e devant Giugliano.
Le Champion en titre creuse davantage son avance au classement avec cette nouvelle victoire.
Jonathan Rea, pilote Kawasaki Racing Team, s'est emparé d'un nouveau doublé au Misano World Circuit, battant son coéquipier Tom Sykes à 5 tours de l'arrivée et terminant avec près de 3 secondes d'avance. Davide Giugliano a fait amende honorable de sa chute de samedi en complétant le podium de ce cette deuxième course.
Le ciel bleu a laissé place aux nuages et à la menace de la pluie ce dimanche à Misano. Fort heureusement, la pluie n'est pas venue perturber les hostilités de la Course 2 sur la Riviera di Rimini. Rea réalise le meilleur départ suivi par la Yamaha d'Alex Lowes qui surgit pour virer en seconde position au premier virage. Sykes réplique aussitôt au virage suivant pour prendre le commandement de la course et ne plus le rendre.
Markus Reiterberger est victime d'une chute spectaculaire en début de course. L'Allemand de l'équipe Althea BMW parvient à sortir de la piste sans trop d'encombres. Au troisième virage, c'est au tour de Chaz Davies de partie à la faute juste sur la trajectoire de Michael van der Mark qui chute à son tour. Les deux pilotes réussissent à repartir. Alors que le Néerlandais renoue le contact avec le reste du peloton pour conclure la course en 10e position, le Gallois doit abandonner et faire une très mauvaise opération au championnat avant la prochaine manche à Laguna Seca.
Davide Giugliano, victime d'une chute similaire à son coéquipier en Course 1, commence à se débarrasser de Xavi Forés de l'équipe Barni Racing afin de se frayer un chemin vers un nouveau podium cette saison. Il rallie l'arrivée en troisième position et marque de précieux points pour l'équipe Aruba.it Racing - Ducati. Forés termine au pied du podium devant Lorenzo Savadori de l'équipe IodaRacing.
Savadori, qui a remporté les deux dernières courses STK1000 à Misano, montre son potentiel au guidon de l'Aprilia après manqué l'occasion de briller en Course 1. Il marque les points de la 5e place sur ses terres pour son équipe et le constructeur italien. Le pilote Althea BMW, Jordi Torres, conclut la course sur une solide 7e place au terme d'une lutte acharnée face à Nicky Hayden qui l'emporte dans les deux derniers tours.
Alex Lowes quitte Misano avec la 8e place. Le Britannique souffre toujours de sa récente fracture de la clavicule survenue à Sepang. Il devance son coéquipier du week-end Niccolo Canepa, remplaçant de Sylvain Guintoli, sur les terres de l'équipe Pata Yamaha.
Leon Camier de l'équipe MV Agusta Reparto Corse a été contraint à l'abandon sur problème mécanique au 13e tour après une excellente remontée en Course 1. Anthony West marque les points de la 11e place pour l'équipe Pedercini.
La prochaine manche WorldSBK se déroulera au Mazda Raceway Laguna Seca en Californie du 8 au 10 juillet
Race 1:
Toil and trouble in the first few laps on the Riviera di Rimini as chaos reigns before the calm, before the storm…
Kawasaki Racing Team's Jonathan Rea has taken his first victory since Assen in a classic game of cat and mouse at Misano World Circuit, holding off intense pressure from teammate Tom Sykes throughout the Race to cross the line for another win in 2016 – ending his longest drought before moving to Kawasaki. Honda's Michael van der Mark, after a storming start, completed the podium in P3 as the Dutchman moved back up the grid to where he belongs after a more difficult Superpole 2.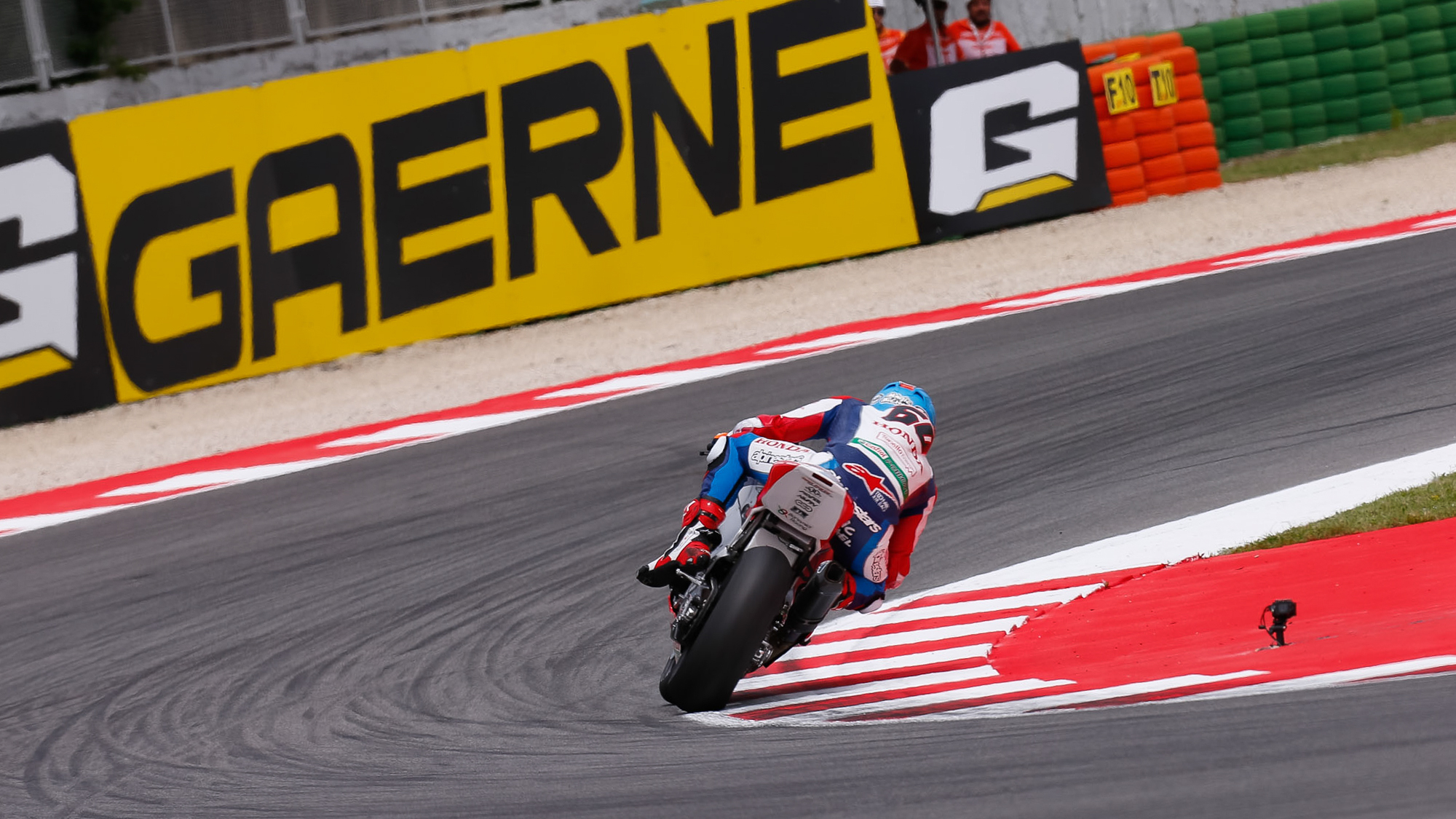 A drama filled first part of Lap 1 saw Lorenzo Savadori fall foul of a tussle just behind the front few bikes, with the Aprilia sliding off into the gravel and sadly seeing the Italian rookie unable to finish his first WorldSBK Race in Misano. Chaz Davies was pushed down outside the top ten as Torres, Camier and Savadori got caught up in chaos, and the biggest winners off the line were undoubtedly Honda's Michael van der Mark and Pedercini's Anthony West, with the Australian moving well into the top ten. Van der Mark, who pulled through the field with a stunning launch and first lap to cross the line at the end of Lap 1 in P5, then saw Ducati rider Davide Giugliano lowside off the track in front of him, before Honda teammate Nicky Hayden suffered a spectacular trip through the gravel at the final corner.
Davies was left with a fight back after having needed to sit up, and Aruba.it teammate Giugliano got going again to also face the uphill battle through the field at the Ducati team's second home Race of the year, with the Italian eventually coming home in P14. Head down and focused, Davies fought back into the top 5 by lap 11, on course for a good haul of points to salvage from what had seemed a disastrous start and hunting down Jordi Torres to end Race 1 just off the podium in P4.
Torres ended Althea BMW's Race 1 in P5 for the team at home, just ahead of Althea teammate Markus Reiterberger, who debuted as a wildcard at Misano last year and crossed the line in P6 in another good rookie showing, competing a fantastic first Race of the home round for the Althea BMW team.
Pata Yamaha's Niccolo Canepa, riding in place of recovering Sylvain Guintoli, crossed the line in P7 at his and Pata's home race in an impressive showing, ahead of MV Agusta rider Leon Camier, who after getting tangled up at the start rode a solid recovery for MV at their home Round.
Roman Ramos put in an impressive performance to take P9 for Team GoEleven, ahead of Anthony West on the Pedercini Kawasaki who rounded out the top ten. Milwaukee BMW's Josh Brookes crossed the line in P11 in a solid performance, ahead of Aprilia's Alex De Angelis at his closest circuit to home. The second Pata Yamaha machine of Alex Lowes crossed the line in P13 after the Brit suffered a run off early on, an impressive showing nonetheless as the former British Champion recovers from a broken collarbone, with Giugliano in P14 ahead of Pawel Szkopek completing the points in P15.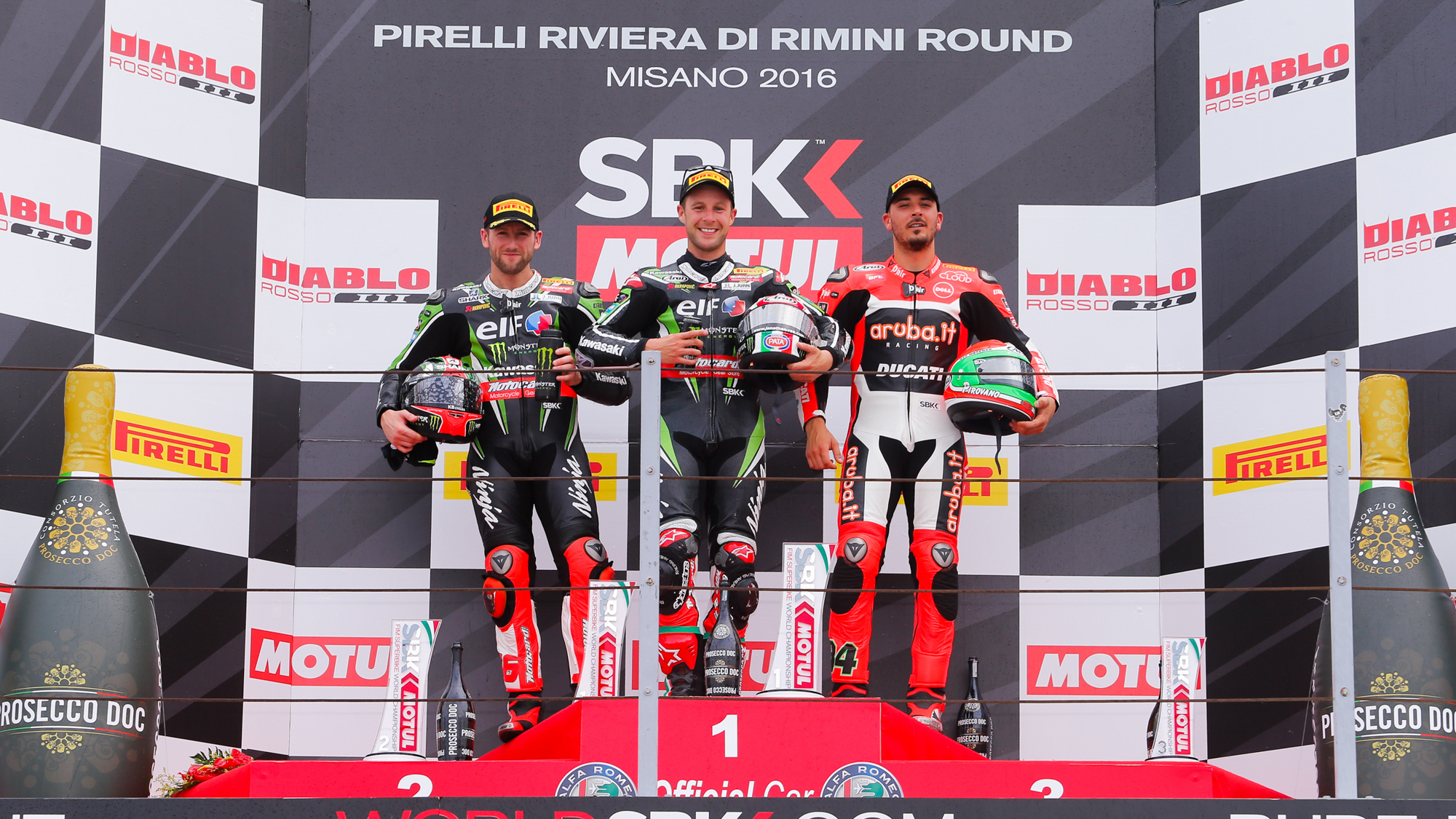 Race 2:
The Championship lead extends after an incredible show of pace and precision from Rea
Kawasaki Racing Team rider Jonathan Rea has completed a double at Misano World Circuit, stalking teammate Tom Sykes until pulling away with 5 laps to go and crossing the line with a 3 second margin in an impressive display from the reigning World Champion. Davide Giugliano made amends for a home crash in Race 1 to complete the podium for Aruba.it Racing – Ducati.
Sunday dawned in Misano with blue skies despite the threat of rain, and the weather held off for another incredible Race on the Riviera di Rimini. Rea got the jump on Sykes off the line as Yamaha's Alex Lowes tried to muscle through on the inside of the Yorkshireman, before Sykes swooped around the outside to take back P1 and the KRT duo started to pull a gap on those behind.
An early, spectacular incident saw Althea BMW rider Markus Reiterberger highside out of the race on the first lap in a midfield tussle at Turn 8, with the German walking away from the incident unaided. A further fall on Lap 3, this time a lowside for Chaz Davies, then interrupted the midfield rhythm again as Honda rider Michael van der Mark was forced to shut off the gas to try and avoid the fallen Ducati, making contact enough to cause the Dutchman to fall before both were able to get back on their bikes. Van der Mark then faced a fight back through the field, as Davies was forced to pull into the pits. The Dutchman put his head down and pulled back the deficit to the points, then focusing on the top ten and crossing the line in P10.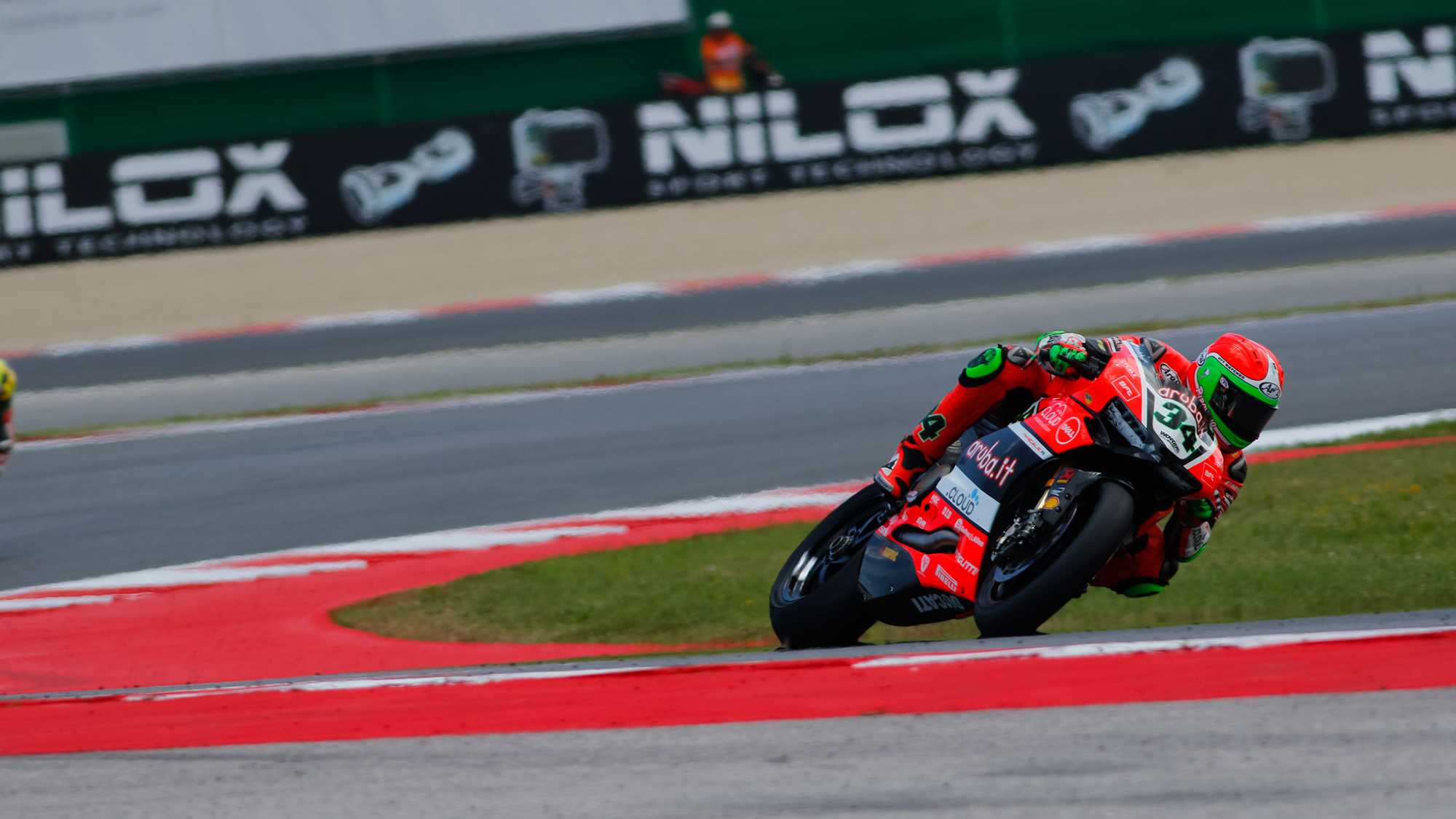 Davide Giugliano, after having suffered a similar crash in Race 1 to that of his teammate in Race 2, began to pull away from Barni Racing's Xavi Forés in a bid to add another podium finish to his tally in 2016, keeping a healthy gap to the Panigale R behind to cross the line in P3 for some home glory. Forés followed the Italian home in P4 in an impressive ride, ahead Lorenzo Savadori for IodaRacing.
Savadori, who has won the last two ST1000 races at Misano, was able to show the potential of his Aprilia after having his Race 1 cut short, coming home in P5 for another impressive rookie result, and a great haul of points at the home Round of rider, team and manufacturer. Althea BMW rider Jordi Torres had a solid ride into P7 in the tightly packed mid-field, just losing out to Honda rider Nicky Hayden as the American took the Spaniard with two laps to go.
Alex Lowes came home in P8 for Pata Yamaha at Pata's home Round despite still suffering the after-effects of his broken collarbone in Sepang, ahead of stand-in teammate Niccolo Canepa, who collected another impressive top ten in P9, ahead of charging van der Mark.
MV Agusta Reparto Corse rider Leon Camier, after an interrupted Race 1 followed by an incredible comeback, was sadly unable to finish Race 2 at the team's home Round after a technical problem caused his retirement on lap 13. Anthony West got more points for Pedercini in P11, ahead of Roman Ramos for GoEleven in P12 and San Marinese rider Alex De Angelis in thirteenth. Milwaukee BMW pairing Josh Brookes and Karel Abraham completed the points positions in P14 and 15 respectively.
The next Round of WorldSBK will take place at Mazda Raceway Laguna Seca in California, from the 8th-10th July as the paddock prepares to attack the corkscrew.