Rossi a triomphé de Márquez suite à une superbe course à Barcelone, où Lorenzo a abandonné après avoir été percuté par Iannone.
Très malchanceux au Mugello, où il avait été privé de sa course nationale par un problème technique, Valentino Rossi (Movistar Yamaha MotoGP) s'est brillamment relancé lors de l'épreuve suivante, au Grand Prix Monster Energy de Catalogne, où il a mené durant presque toute la course avant de s'imposer sur Marc Márquez (Repsol Honda Team) dans un duel des plus intenses.
Vainqueur sur les terres de ses rivaux pour la seconde fois de l'année suite à sa victoire en solitaire à Jerez, Rossi prenait donc sa revanche après sa déception du Mugello et profitait de l'abandon de son coéquipier Jorge Lorenzo (Movistar Yamaha MotoGP) pour rattraper une bonne partie de son retard au classement général, dont la première place passait des mains du Majorquin à celles de Márquez.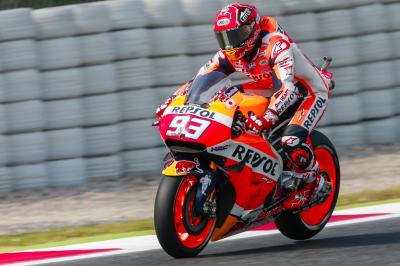 En pole position pour la première fois en MotoGP™ à Montmeló, ce dernier avait été devancé par Lorenzo au départ et avait suivi Rossi lorsque ce dernier était passé en tête. Contraint à suivre la cadence du nonuple Champion du Monde durant presque toute l'épreuve, le pilote du team Repsol Honda s'est rapproché à cinq tours de l'arrivée et s'est vaillamment battu avec l'Italien jusqu'à commettre une petite erreur qui a permis à son rival de creuser l'écart sur le dernier tour. Deuxième pour la seconde course d'affilée, Márquez réalisait une bonne opération malgré la défaite infligée par Rossi et reprenait la tête du Championnat du Monde MotoGP™ 2016 avec dix points d'avance sur Lorenzo et vingt-deux sur Rossi, qui était arrivé à Barcelone avec trente-sept points de retard.
Qualifié en première ligne pour la première fois de l'année, Dani Pedrosa (Repsol Honda) a suivi son coéquipier en début de course et s'est très vite retrouvé isolé en troisième position. Plus rapide que Lorenzo mais pas suffisamment pour éviter l'échappée de Rossi et Márquez, le Catalan accédait au podium pour la seconde fois de la saison et renouvelait sa troisième place de 2015 devant ses fans. En finissant devant Maverick Viñales (Team Suzuki Ecstar), il prenait quelques points d'avance en plus sur son compatriote dans leur duel pour la quatrième place du classement général, que Pedrosa conserve avec désormais dix points d'avance sur Viñales.
Iannone met Lorenzo KO en Catalogne
En difficulté dès le début de la course malgré un brillant départ qui lui avait valu le holeshot, Lorenzo a mené pendant six tours mais a ensuite été passé par Rossi, Márquez, Pedrosa puis Viñales en l'espace de quatre tours. Tournant près d'une seconde moins vite que les leaders avec un pneu avant déjà très usé à la mi-course, le Majorquin s'est retrouvé en ligne de mire d'Andrea Iannone (Ducati Team) à moins d'une dizaine de tours de l'arrivée. Alors qu'il avait un rythme nettement supérieur à celui de l'Espagnol et qu'il aurait pu se contenter de le doubler à l'aspiration sur la ligne droite des stands, Iannone a complètement manqué son freinage à l'approche du virage n°10, celui de la chicane adopté le samedi suite au tragique accident de vendredi, et a percuté Lorenzo de plein fouet. L'Italien a freiné tellement fort pour éviter la collision que sa roue arrière avait décollé au moment de l'impact avec la Yamaha du Majorquin, nouvelle victime de Iannone, qui avait déjà fauché son coéquipier Andrea Dovizioso (Ducati Team) dans une manoeuvre très mal jugée en Argentine.
A race full of drama saw Rossi win a thrilling battle over Marquez as Iannone takes out Lorenzo.
Anticipation for the MotoGP™ World Championship race at the circuit de Barcelona – Catalunya continued to grow as the riders sat on the grid, hiding from the scorching sun beneath their umbrellas. Marc Marquez (Repsol Honda Team) was on pole position, but both Valentino Rossi (Movistar Yamaha MotoGP) and Jorge Lorenzo (Movistar Yamaha MotoGP) seemed to have found something on the new layout in Warm Up. High track temperatures had riders cautious about tyre life, everyone expect for the Monster Yamaha Tech 3 riders, Dani Pedrosa (Repsol Honda Team) and Tito Rabat (Estrella Galicia 0,0 Marc VDS) lined up with hard tyres.
From fifth on the grid, Rossi was shuffled back in the opening melee and found himself down in seventh as the first lap began to play out. At the beginning of the second lap he and Maverick Viñales (Team Suzuki Ecstar) made an incredible pass on Andrea Iannone (Ducati Team), demoting the Italian to sixth. 'The Doctor' was on fire and was almost immediately on Pedrosa's tail, passing him into the new Turn 10 on the third lap. On lap seven he took the lead from teammate Lorenzo with a classic move into Turn 1. Marquez came back at Rossi in the last five laps; the battle was fierce with no love lost between the two.
Marquez launched from pole position for the first time at his home race, managing to hold onto second into the first corner. The local rider soon found himself with Rossi for company, the Italian slipping up the inside on lap six. Marquez was not deterred and soon followed Rossi through on Lorenzo, right back with his great rival. Five laps from the end and they were right together, Marquez doing all he could to wrestle past Rossi. He may have been unable to battle for victory, but Marquez moves to the head of the championship and is ten points clear of Lorenzo in second.
Two perfect final laps saw Rossi glide to his second win of the season and return the championship to a three-way battle. A mistake at Turn 7 on the penultimate lap cost Marquez the chance of winning, taking second and moving to the head of the championship. Handshakes were exchanged between the two in Parc Ferme, the thrill of a great battle burying any hard feelings that may have lingered. All of the riders took to the podium wearing shirts to honour the memory of the late Luis Salom.
A reasonable start from Dani Pedrosa saw him within touching distance of his teammate during the opening laps. Both Lorenzo and Marquez were working hard to break away, Pedrosa happy to match their pace and try and break away. Try as he might he was unable to fend off the aggression of Rossi and Viñales, the experienced Spaniard working hard to take back a hyper aggressive Viñales. A mistake from the Suzuki man gave Pedrosa a lap of calm, the lifelong Honda rider able to pass Lorenzo for third on lap nine. It proved a lonely end to the race for Pedrosa, his second podium of the year going largely unnoticed to the action out front.
Jorge Lorenzo made a perfect start and rocketed off the line to lead into Turn 1, holding the advantage as the field completed the first lap. The triple MotoGP™ World Champion looked comfortable at the front but his lead wouldn't last. On lap seven he went from first to third within just a few corners. His pace continued to drop and he found himself in fourth as Pedrosa went past, Viñales following soon after.

o
The situation grew worse with each lap but on lap 17 the almost unbelievable happened as Andrea Iannone left his braking too late at Turn 10, smashing into the back of Lorenzo. Both riders went down, Lorenzo clearly furious with the Ducati rider. Iannone attempted to apologise but Lorenzo was distraught, his championship lead gone. He may have been out of contention for victory, but could have certainly scored points were it not for Iannone.
Viñales was more aggressive than ever in the opening laps, slamming himself and his GSX-RR up the inside of any rider ahead of him. His aggression would be his downfall as he made a number of mistakes forced to concede positions and briefly losing contact with the podium battle in the process. The 2013 Moto3™ World Champion rallied found himself battling with the 2015 MotoGP™ World Champion Jorge Lorenzo for fourth. After laps and laps of trying, he finally got past his fellow Spaniard to move into fourth, where he would finish.
Cal Crutchlow (LCR Honda) worked his way to sixth to seal top Independent Team rider honours and take his best finish of the year and his first top ten since Valencia 2015.
Hector Barbera (Avintia Racing) was demoted a position at the end of the race for exceeding track limits. This granted Jack Miller (Estrella Galicia 0,0 Marc VDS) his first ever-top ten in the premier class.
Bradley Smith (Monster Yamaha Tech 3) was forced to retire on the sixth lap, technical problems dropping him down the field.
Aleix Espargaro (Team Suzuki Ecstar) was also forced to retire, his rear tyre offering no grip by the 19th lap of the race.